Award winning author Peter Bowerman is the author of The Well-Fed Writer (2000), TWFW: Back For Seconds (2005), The Well-Fed Self-Publisher (2007) and the 2010 edition of The Well-Fed Writer - which combined and heavily updated the content of both original WFW titles. The WFW books are how-to "standards" in the lucrative field of commercial freelancing – writing for businesses, large and small, and for hourly rates of $50-125+.
Welcome to Writers in Business. Peter, Can you tell us more about freelance commercial writing?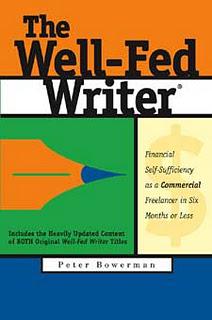 Commercial writing is writing for corporations or other business entities on a freelance basis. That means marketing brochures, ad copy, newsletters, direct mail campaigns, speeches, trade articles, video scripts and about a zillion other types of projects. Because the business world generally has a lot more money than magazines or other organizations that might hire writers, the pay is considerably higher than in those fields. Hourly rates range from $50-125, with seasoned practitioners commonly making far more than that.
That's a great niche for writers. Is commercial writing different from freelance magazine or newspaper writing?
Very different. If you're reading to this and you've done some magazine writing, you'll relate to this. Imagine the editor of a publication you've been writing for saying, "OK, for this next piece, add up all the hours you think it'll take for research, background reading, travel, brainstorming, interviewing, writing, and editing. Then multiply it by $75." You'd think he lost his mind. But, that's pretty much how it works in commercial writing. Project fees are calculated based on those hourly rates of $50-100+ and all time counts. Unlike magazine writing, it's not just these flat project fees with potentially vast, open-ended commitments of time.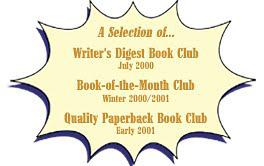 What sets the Well-Fed Writer apart from other books on this topic?
Most writing books either concentrate on the craft of writing or discuss arenas of freelancing with dubious and unpredictable financial potential (i.e., magazine article writing, novels, children's books, etc.) The Well-Fed Writer focuses on the lucrative and surprisingly accessible arena of commercial writing - freelancing for Corporate America.
While The Well-Fed Writer avoids romanticizing the field (while many commercial projects are fun, interesting and creatively rich, there IS more fulfilling writing out there), it doesn't apologize for its emphasis on writing that makes money - good, steady money - an often off-limits subject in the eyes of those who would preserve the artistic "purity" of writing.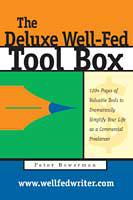 Your success in the field is inspirational. In addition to the Well-Fed Writer series of books, you have also created companion ebook publications. This is a great idea!
Ask yourself this question: "What other information could I package and sell along with my book as a companion ebook for which people would be willing to pay an additional $5, $10, $20 $30 or more?" For example, in the case of my main book, The Well-Fed Writer, I created two ebook products: a Tool Box (full of contracts, letter/email templates, and a lot more), and a Time line with action steps for various phases of building a commercial writing business. Together, they sell for $28on top of the $20 for the book, and probably 75% of people eventually buy them. Pure profit - no costs for storage or shipping.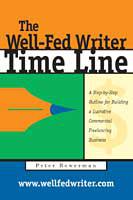 Peter, I understand you offer mentoring, group coaching and teleseminars. How can we learn more about your work?
You can find me online at WellFedWriter.com, WellFedSP.com and my blog.