The Philippine Educational Theater Association opens its 45th theater season this August with a stage adaptation of the classic film "Bona".
Originally directed by National Artist for Film and one of PETA's founding members Lino Brocka, "Bona" is about a young schoolgirl, played by Nora Aunor, who became a die-hard fan of Gardo, a wannabe actor (Philip Salvador).
Aunor's portrayal of "Bona" won her the Best Actress Award in the 1980 Gawad Urian Awards. The film, written by Cenen Ramones, was also an official entry in the 1981 Cannes International Film Festival Director's Fortnight and was cited as one of the "100 Best Films of the World" by The Museum of Tolerance in Los Angeles.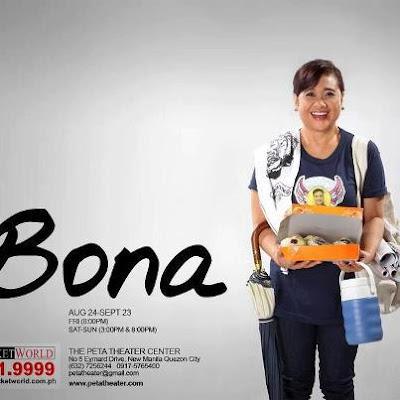 PETA's stage adaptation of "Bona" has updated the material by setting the story in contemporary Manila. Eugene Domingo, playing the Aunor role, is now as a spinster call center agent who becomes a fan of Gino Sanchez (Edgar Allan Guzman), a contestant in the talent search "Star of Tomorrow". Blinded by her obsession with Gino, Bona turns her back on everything she values, with tragic results.
Layeta Bucoy, who wrote the stage adaptation, underlines the difference between this "Bona" and the film: "Eugene's Bona is more empowered; she is financially independent and even supports her family. As a fan, she lays claim to empowerment, as she believes the inclusion of fan votes in a talent search on TV affords her to choose tomorrow's next big star. Since her admiration is also stamped with pity and blinded by altruism, she gives the aspiring star her all."
Domingo and Guzman are joined by a strong cast of theater actors: Phil Noble, Joey Paras, Jeff Henson-Dee, She Maala, Olive Nieto, Dudz Teraña, Junevir Tabor, Juliene Mendoza, Raffy Tejada, Jason Barcial, BJ Forbes and Anna Luna.
The stage adaptation is directed by theater stalwart Soxie Topacio.
"Bona" will run from August 24 to September 23 at The PETA Theater Center. For more information, contact 7256244, 0917-5765400. Visit www.petatheater.com or www.ticketworld.com.ph.