William Shakespeare has written a hundred sonnets and plays about the irony, tragedy, and splendor of love. He wrote about love from all angles, encompassing all ages, status and cultures. He has looked at love from a perspective of a desperate lover, an aging father or a loyal servant.
This love month of February, Philippine Educational Theater Association (PETA) has three Shakespeare offerings for all love moods and persuasions.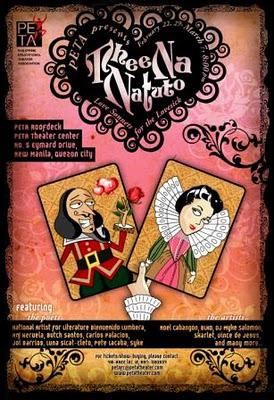 "Thee Na Natuto: A Sonnets Concert for the Lovesick" is a musical experience that transforms Shakespeare's sonnets into Filipino songs featuring 12 Filipino poets translating the verses (National Artist for Literature Bienvenido Lumbera, Pete Lacaba, Joi Barrios, Luna Sicat-Cleto and many more), as well as several artist-musicians (with the likes of Noel Cabangon, Vince de Jesus and DJ Myke) composing and performing the tunes.
The sonnets concert will happen on the nights of February 22, 29 and March 7, 2012 at the PETA Theater Center Studios.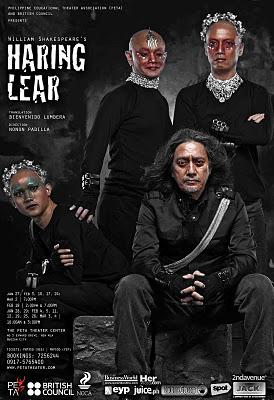 PETA's contemporary adaptation of William Shakespeare's evocative masterpiece, "King Lear", is now on its second weekend. National Artist for Literature Bienvenido Lumbera translates the text into prose while retaining the rhythm, texture and elegant brutality of Shakespeare's tragedy.
Acclaimed theater director Nonon Padilla then turns the epic classic into a modern-dress contemporary family drama, while World Stage Design awardee Gino Gonzales establishes the dark aesthetic, settings and styles of the play.
"Haring Lear" features a traditional Shakespeare all-male cast helmed by theater stalwart Teroy Guzman who plays the role of the aging monarch, Haring Lear. The play runs every Friday (7 p.m.) Saturday and Sunday (10 a.m./3 p.m.) from January 27-March 4 at The PETA Theater Center. "Haring Lear" is produced by PETA in partnership with the British Council and National Commission for Culture and the Arts.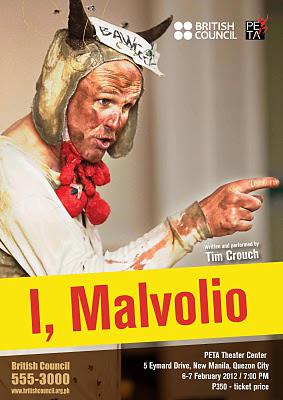 For children, UK theater artist Tim Crouch re-imagines "Twelfth Night" through the eyes of Shakespeare's most pent-up steward. "I, Malvolio" is a wild, hilarious and unsettling rant from a man adrift in front of a cruel audience, a man notoriously abused.
In this story of bullying and practical jokes, Malvolio enters the madness of Shakespeare's comedy and makes it his own. A story of lost dignity, prudery, practical jokes and bullying, this one-man act of storytelling alchemy draws us deep into the madness of Shakespeare's classic comedy.
Tim Crouch's latest play, "I, Malvolio" premiered at the Brighton Festival last May 2010, and will be in Manila by the second week of February as a joint project of PETA and the British Council.
Whether you are young lovers like Romeo and Juliet, or someone suffering unrequited love like Helena and Demetrius in "A Midsummer Night's Dream" or a love fool like Malvolio, there's something for you at PETA this February.
For tickets, contact 7256244, 4100821 to 22, 0917-5765400, [email protected] or www.petatheater.com.