Today we are so excited to share with you two products from
Pet Naturals of Vermont
,
Flea + Tick
 towelettes and
Hip + Joint
chews and a
special offer
for our fans and followers!!!
First lets start with the
Flea + Tick
since we all know it's that time of year again when we as pet owners will do anything from letting those pesky pests invade our pets and homes, and most importantly we want to do it the safest way possible without all those harmful chemicals.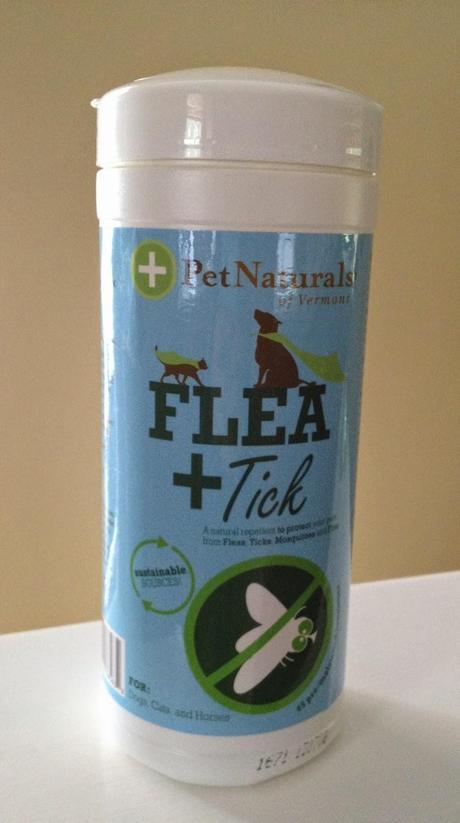 Flea + Tick is a natural repellent to protect your pet from
Fleas
,
Ticks
,
Mosquitoes
and
Flies
. They are pre-moistened towelettes that contain high quality, natural ingredients that naturally creates pest avoidance and is also great for cats and horses.
Flea + Tick towelettes contain the following:
Lemongrass Oil
- a perennial grass oil that is a natural pesticide
Cinnamon Oil
- an oil derived from the spice obtained from the inner bark of several trees that is used as a natural insect repellant
Sesame Oil
- an edible vegetable oil derived from the sesame seeds that replenishes moisture to the skin and acts as a natural shield to unwanted pests.
Castor Oil
- a vegetable oil obtained by pressing the seeds of the Castor plant that helps mask the scent of your dog's skin and coat.
All you do is wipe the towelette on your pet's fur, legs and stomach and work it into the coat. making sure to avoid the nose, mouth and eyes. You can reapply every 2-3 days or as needed depending on how often and how long you pet spends outside. This is also safe for puppies and kittens. Each canister contains 60 pre-moistened towelettes.
According to the Pet Natural's website: 
Flea + Tick Towelettes:
Do not contain and drugs or synthetic chemicals.
No known toxic effects from licking the skin.
Safe for use on beddings and could be applied to collars that are able to soak up oils.
Towelettes are biodegradable. 
So here is Miley getting wiped down.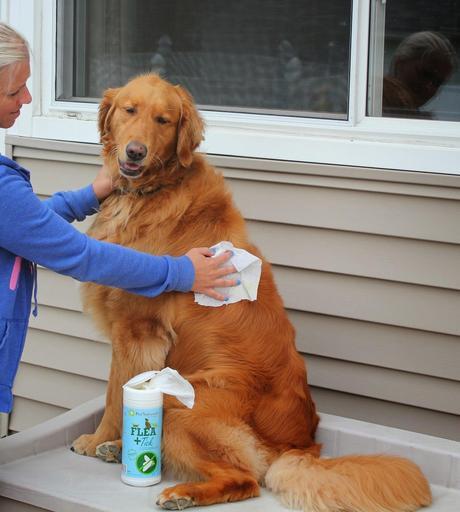 These towelettes definitely have a strong, but pleasant odor so I can see how they would repel pests. They feel nice to the touch, not sticky at all. 
Not crazy about using towelettes? It also comes in a spray!
So far we are happy with this product:
It contains safe, natural ingredients - no harsh chemicals.
It is easy to use and has a pleasant scent.
It has been a week and so far we haven't found any fleas or ticks on the dogs. We will do a quick update post in about a month to see if this keeps up.
To purchase
Flea + Tick
click here to find an online retailer or a store near you.
Chewy.com
carries it for $11.19.
Now for the Hip + Joint supplements. As many of you know, our golden lab, Maggie was born with severe hip dysplasia and although surgery was not an option for us, after lots of research and wonderful advice from our readers we began giving Maggie supplements to help ease her pain. We are happy to report that we have had great success.
So when we were approached by Pet Naturals of Vermont to try the Hip + Joint supplements we were thrilled. We've seen tremendous results that Maggie has had with these ingredients and wanted to share them and hopefully help another dog with hip and joint problems.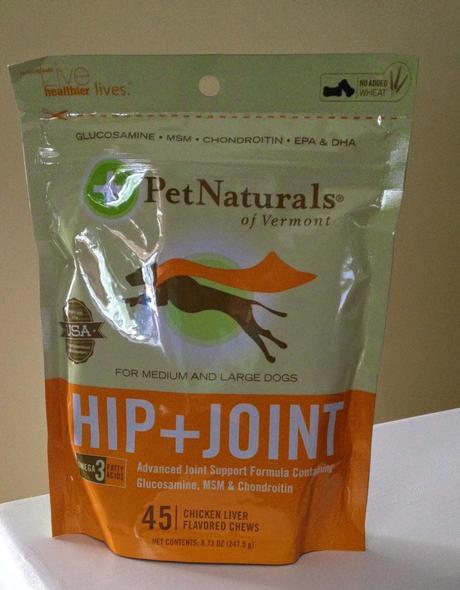 First, here's a little information directly from
Pet Naturals
:
"Hip + Joint for Dogs is an advanced formula designed to improve and support hip, joint, and connective tissue function in dogs. As every day wear and tea is common among active and less active pups alike, Pet Naturals Hip + Joint products are designed to support hydration, mobility and overall comfort by promoting connective tissue strength. "
Hip + Joint for Dogs contain high quality, natural ingredients:
Glucosamine HCI
- a natural anti-inflammatory substance derived from shellfish that is used to help form and repair body tissues such as cartilage, and improve joint health naturally, increasing mobility.
Methylsulfonylmethane (MSM)
- a natural sulfur compound thought to help improve joint flexibility and reduce pain and inflammation.
Chondroitin Sulfate
- another natural substance found in your dog's cartilage that, when paired with glucosamine, has an even more beneficial effect on your dog's joints.
N,N-Dimethylglycine HCI (DMG)
- an intermediary metabolite, increases oxygen utilization in tissues.
As you can see they are a nice size, chicken liver-flavored soft chew. This particular soft chew is for medium to large dogs, each package contains 45 chews.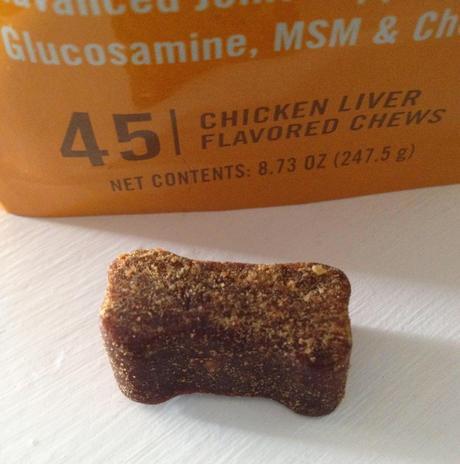 Maggie loves them, she actually thinks she's getting a "treat". Little does she know all the good it is doing for her.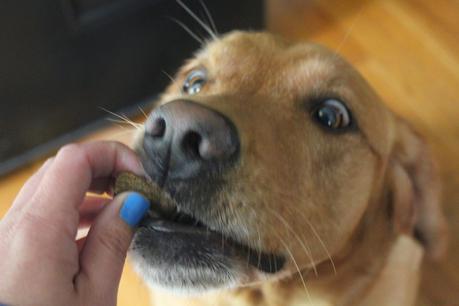 We have only been giving the Hip + Joint to Maggie for one week and so far so good. Her activity level is nice, she doesn't appear to be having any hip pain and no limping as she normally would had she not been taking the supplement.
*We will doing an update post in about a month to see if any changes have occurred.
If you'd like to purchase Hip + Joint click here for a list of online retailers or a store near you.
Chewy.com
has them for sale for $15.99
If you'd like to learn more about their products please visit and connect with Pet Naturals of Vermont:
Website Facebook Twitter
The lovely folks at Pet Naturals of Vermont have a SPECIAL OFFER* for our followers and fans!!!
They are offering a FREE 8 oz. bottle of Flea + Tick Spray ($21.99 value) and FREE bag of Hip + Joint Chews(retail value $29.99) to the first 100 dog lovers that go to their website and sign up. After the first 100 entries, they will email back a coupon for others.
Go here to enter for the Flea + Tick Spray Offer
Go here to enter for the Hip + Joint Chews Offer
*This offer is only available in the USA.
Disclaimer: We received these products in return for a review. All thoughts and opinions are 100% our own.