Several months ago, I met Marga from the Newman Hotel Group at a lunch in downtown Portland. She invited me to come visit after the coldest part of winter was over.
"Are your properties dog-friendly?" I asked, expecting the answer to be no.
I was surprised by her answer. "All our properties are pet-friendly! Your pooch will love Southern Oregon," she wrote.
Really? At an historic hotel? Okay!
So, on a weekend in March, the three of us piled into the car and headed south for a pet-friendly road trip to southern Oregon.
Ashland is a little under five hours from Portland, which for us, meant we'd stop halfway in Eugene (which feels like "big Olympia" and it makes me want to hang out there for a whole weekend!) for lunch and to get the wiggles out of Stanley.
We also needed a good podcast. Since I don't listen to many podcasts (which, I know makes me a big weirdo, especially given the success of Stacking Benjamins in the last six months!), we listened to the podcast that brought podcasts to the masses: Serial.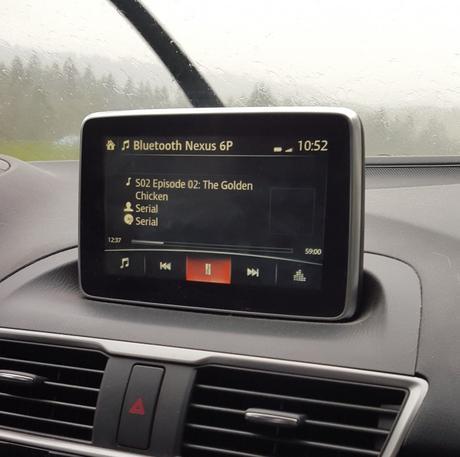 Who needs music when you can listen to a great story?
We stopped at the hippiest restaurant in Eugene (okay, probably not, but it was really hippie, to the point where they asked if we wanted butter on our waffles, which the only acceptable answer other than "yes" is if you are actually a vegan, which the waffles were before we adulterated them) to refuel.
Stanley went from ridiculously stressed out to remarkably calm after he got to run around a bit.
Proof: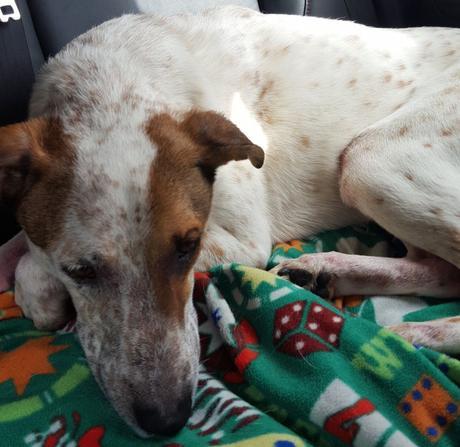 We arrived in Ashland mid-afternoon on Thursday, and the day was gorgeous. We walked around with sweaters but no coats and got ourselves oriented with the town.
Then we checked into the Ashland Springs Hotel, which I thought would turn us away due to our four-legged friend. But no! Instead, they put us on the pet-friendly floor.
They do charge a $25 room fee if you bring pets, and they give you what I can only call "the most reasonable requests of any hotel for pets" rule sheet that said don't groom your dog in our rooms, don't give them baths, and don't leave them alone too long, which all seemed perfectly reasonable.
Plus, the rooms were gorgeous: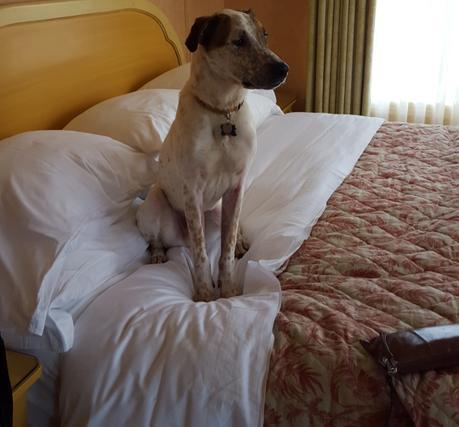 As you can see, Stanley had no trouble making himself at home. We realized quickly that we did not need to bring him a dog bed. He liked having his blanket, but had no need whatsoever for his bed and didn't set foot in it the three nights we were away. Now that we're back home, he and the bed are back to being buddies, but that was an unnecessary item in our trunk. Now we know.
We stayed two nights at the Ashland Springs Hotel, which featured things like afternoon tea (which the nice front desk person told this pregnant lady that yes, of course tea means "and cookies"):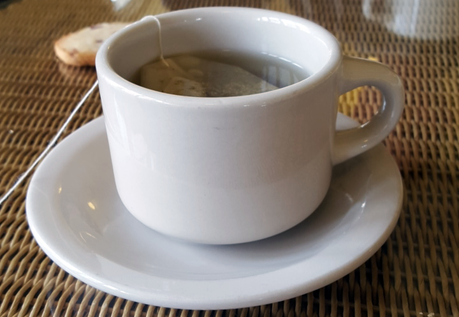 and a secret garden: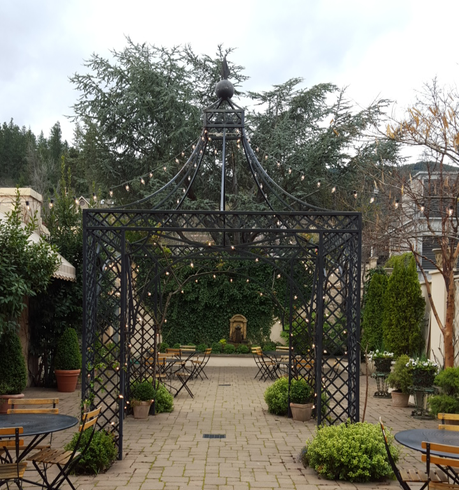 Ashland is home to the Oregon Shakespeare Festival, which has an awesome history. In 1935, a 26-year-old with big dreams decided to run outdoor theater in his hometown. He was given a small amount of money from the city, and nobody believed in him. The story I was told says that the townspeople held boxing matches during the day to raise money to help cover the losses from the loan, and by the end of the first weekend (where they did two outdoor plays: Merchant of Venice and Twelfth Night) they made enough money in ticket sales to not only pay back the loan, but to cover the losses from the boxing match.
I love stories like these, even if they sound like a little like a children's book.
We bought tickets for Twelfth Night, coincidentally run in 2016 (it's one of their more popular plays, so it sees the light of day more often than others) for Friday afternoon.
On Friday morning, after our romp in the dog park, we went to the box office to pick up our tickets.
"Do you want a backstage tour?" the woman behind the will-call desk asked. "It starts in 15 minutes and there are only two other people signed up," she said.
We were sold. This $20 per-person impulse purchase sounded like a lot of money at the time, but it was worth every penny. An actor, Ted Deasy, who we'd see later that afternoon as Malvolio, took us backstage and told us about OSF, the way their plays are put together, what actually happens backstage, how they sometimes have less than a minute to change costumes, and what the red lights mean.
He talked for two hours, and it felt like 25 minutes. If you get down here, try to get a backstage tour. You'll learn so much about what the festival means to Ashland, and you'll see a play through a different lens.
Twelfth Night
We read up a little about Twelfth Night before we saw the play because Shakespeare, unlike modern playwrights, sometimes likes to make things confusing, and I wanted to be able to keep up.
This version was set in 1930s Hollywood, where the duke of Illyria gets translated into "Duke" Orsino, head of Illyria studios. I loved how they translated and updated the set without editing the script at all.
If you come to Ashland, you should see a play.
If you're "not really into Shakespeare," I feel you. It's a bit above my normal level of entertainment, too. I'm glad I went, but if you want to skip the bard, see something else! They run new plays, musicals, all kinds of other things as well. If we had stayed longer (or planned better), we would have seen more.
This year, they're showing The Wiz, Great Expectations, The River Bride, Roe, and Vietgone for some of their non-Shakespeare shows.
If we had stayed longer (or planned better), we would have seen more.
Around Ashland
On Saturday, we checked out of the Ashland Springs Hotel and decided to wander. Our first stop was, again, a park where we thought Stanley could get his wiggles out.
We were, of course, mistaken.
Lithia Park is this awesome downtown park right behind the theatres, so we went early with the hopes we could wear Stanley out a bit.
We found a completely enclosed tennis court (actually two side-by-side), complete with a stick and an old, flat tennis ball. Perfect!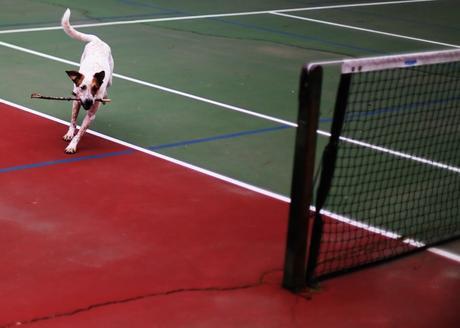 Or… it was, until we were told that not only is Stanley not allowed in the tennis courts, he's not allowed in the park at all.
Oh, well. He loved playing fetch so much that we're actively seeking new friends with big fenced yards, preferably in our neighborhood.
After checkout, we headed to Central Point, Oregon (though it was never made clear what the town was the central point between) to visit a place I've been wanting to visit for years: Rogue Creamery.
It was everything I'd hoped for… and more. I didn't take pictures, because by that point, the weather had turned on us and it was pouring rain. Plus, my mind was on cheese. Can you blame me?
Rogue Creamery wins international awards for their blue cheese, and rightfully so. But I learned while visiting that they make cheddar, too. And cheese curds.
Good golly, I'm getting hungry writing this recap!
Also, according to their website, they have a cheese social. You can sign up for three, six, or nine months of cheese delivery. That's 1.5 pounds a month for up to nine months: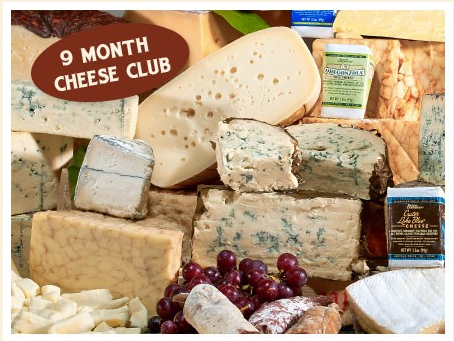 Anyway, I digress. Actually, it appears digress isn't a strong enough word for what just happened here.
We bought some cheese (Rogue River Blue, Habanero Cheddar, Morimoto Soba Ale Cheddar, and jalapeno cheese curds), a loaf of bread, a jar of jam, and some fancy pop and decided we'd have a picnic lunch.
Since the rain hadn't let up (and wouldn't, for days), we took our picnic indoors to the next hotel we stayed in.
Medford
The Newman Hotel Group arranged for us to stay Saturday night in Medford, a town I'd never stopped in, so I was excited to see what they had to offer.
The one thing I knew about Medford was that it was home to Harry and David, the fancy fruit and gift basket place that does a swift business around the holidays.
Turns out, they have a physical store. Which we went into. Which was having a "friends and family discount" weekend where the entire store was 20% off. Where someone asked if we wanted to taste chocolates for a survey they were doing.
So, between the cheese shopping and the store full of things in jars, I was feeling my mom, and it was a wonderful feeling. She would have loved this part of the trip. I'm not sure she would have loved the play, but I know she was smiling at us as we were buying ridiculous things.
Harry and David have this adorable truck outside their store, which helps separate this store from all other grocery store parking lots: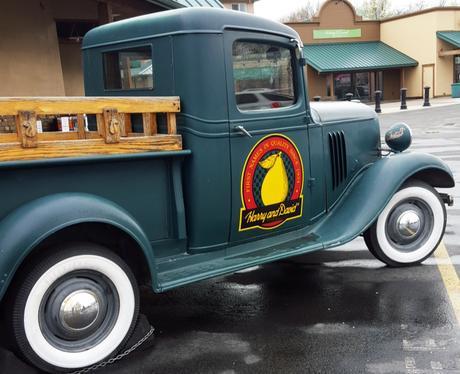 The Inn at the Commons
We were ready for our picnic, so we checked into the Inn at the Commons. We were early, so the king room wasn't ready, but they let us have a queen room, and it was huge: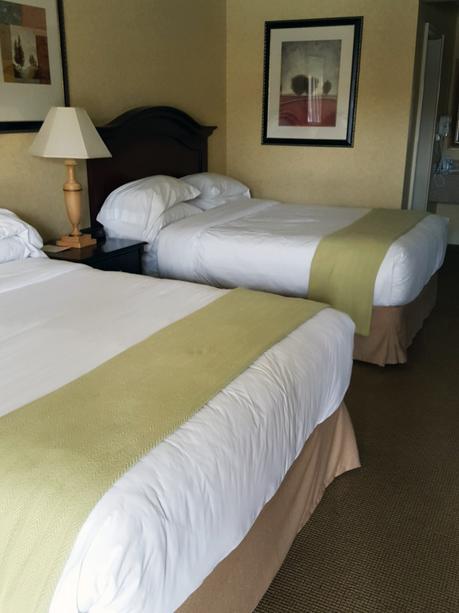 We decided we'd have one bed for Stanley and one for us, but we ended up sleeping in separate beds (like it's 1940 or something) and the dog spent the night on a comfy chair, so everyone won.
I loved our indoor picnic, and learned that there is, in fact, an upper limit on how much cheese I can eat in one sitting without feeling sick, and it's a lot less than I thought it would be.
After lunch, we decided to walk around downtown Medford. The Inn at the Commons looks like a normal roadside hotel, but is within walking distance to the downtown corridor (and also, walking distance to yet another dog park!), so we set off to see what there was to see.
You can't tell from this picture, but the weather was gross: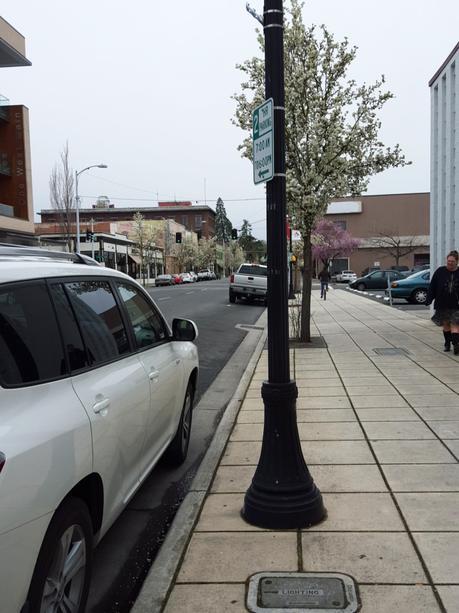 It was cold and rainy, and after a few blocks, we realized we'd made a mistake with our picnic. When you're not hungry, and you don't love shopping, there isn't much for you to do in a small town. We didn't need anything, we didn't want to stop off at antique stores, and we were chilled.
So, we did what we do when we see a gap in the afternoon: we saw a movie!
When we were wandering around, we wondered where all the people were.
When we walked to the movie theater, we found them.
Clearly, seeing a movie on a gross afternoon is not a novel idea.
After the movie, we debated on where we should go for dinner. Pizza won (pizza usually wins in our house) the coin toss, and we found the other place where everyone in Medford was: Kaleidoscope Pizzeria. We shared a pizza with funny ingredients on it, and left with happy tummies.
The drive back, though, was rough.
Sunday's weather was even worse than Saturday's, and we had to travel hundreds of miles home. The first part was white-knuckle treachery: we were headed up Grant's Pass, so we're at an incline; the freeway was two lanes and curvy; it was I5, so there were trucks driving faster than they should; and we had our windshield wipers going as fast as they could. Visibility was bad. I was a white knuckle passenger (which is like a backseat driver, only better).
Here was my view: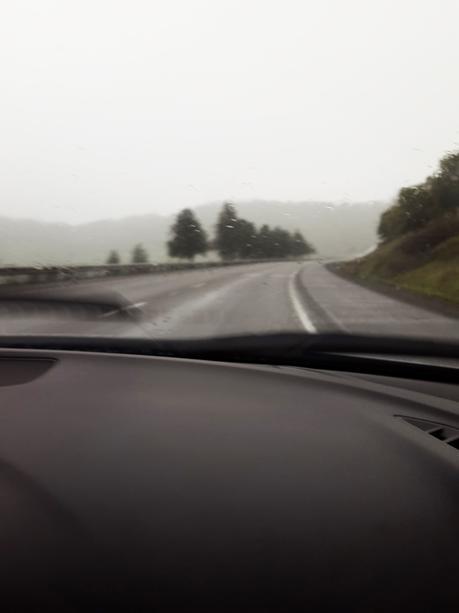 It didn't let up for about 150 miles.
Overall Notes on the Trip
I loved this trip! It proved that I could take Stanley on weekend vacations, but that if I did, I'd be doing a lot more dog things (which, duh). It was a fun way to see another part of Oregon. It was awesome to work with the Newman Hotel Group (thanks so much!).
But if I were you, I'd tell you to spend Saturday night in Eugene. That breaks up your drive home into completely easy chunks. Plus you get to see Eugene. Ashland and Medford are ten miles from each other, so you woudln't need to switch things up and move hotels.
I'm excited to see more of Oregon!