The world is your oyster… Oyster.com claims that they know the best hotels and the difference between what the hotel websites say and look like and what the real deal is when you get there in person.  This is important because when you register for a venue sight unseen you want to know that you are going to get to the location destination and not get a crappy hotel for a big price. And hotel websites often feature their amenities in the best light, even photoshopping photos and making their hotel look better than they do in person, up close and personal. Oyster has other categories besides best pet friendly hotels… luxury, romantic, kid friendly, best value and best period.  They show photos and prices and provide info about policies and amenities.
Unlike here at our blog, they only seem to have covered BIG CITIES… there are no listings for Mendocino, Carmel, Monterey nor Palm Springs, for example. GIven that Mendocino and Carmel are both known as THE PET FRIENDLIEST cities in the USA, besides a few other cities, Portland and Seattle, come to mind, this seems strange. But also they do NOT list Best Pet friendly hotels for San Diego, nor Silicon Valley (San Jose area) either. And they also do not list best pet friendly hotels for Chicago, and big cities in Florida (Orlando, Fort Lauderdale), not to mention other states like Texas, Georgia, and the rest of the USA. And they do NOT list B&B's. And they also do not list pet friendly dining, dog parks and other dog friendly activities in the area like we do here.
Well, apparently, on their blog, they have more info on pet friendly hotels and places…such as this photo and info about one hotel in Carmel….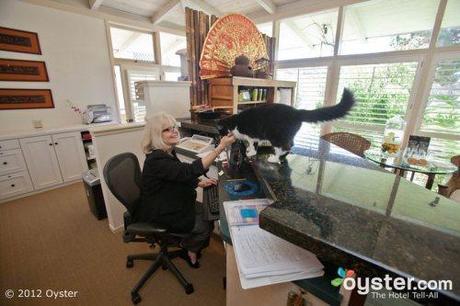 It's just not a "home away from home" unless we have our four-legged friends by our side. But luckily for us, the staff at the Tradewinds Carmel in Monterey County is about as pet-friendly as they come. In fact, Furball and Foofers consider the boutique more of a human-friendly spot where they can bring their owners along if they so choose. At check-in, you'll have to make sure the front-desk puts room keys into the right paws!
Below are links to the pet friendly destinations that they do list:
Los Angeles
http://www.oyster.com/los-angeles/hotels/roundups/best-pet-friendly-hotels-in-los-angeles/
San Francisco
http://www.oyster.com/san-francisco/hotels/roundups/best-pet-friendly-hotels-in-san-francisco/
Las Vegas
http://www.oyster.com/las-vegas/hotels/roundups/best-pet-friendly-hotels-in-las-vegas/?newsletter=1
New York
http://www.oyster.com/new-york-city/hotels/roundups/pet-friendly-hotels/
Miami
http://www.oyster.com/miami/hotels/roundups/pet-friendly/
Boston
http://www.oyster.com/boston/hotels/roundups/best-pet-friendly-hotels-in-boston/
Oyster Half Dozen for Pet Lovers
http://blog.oyster.com/oyster-half-dozen-hotels-for-pet-lovers-video-26332/