Guest blog post by John, the founder of EzyDog. He is an outdoor enthusiast, and an even bigger dog enthusiast.
Note: if you have a pit bull type/mixed breed, please be aware that although pit bulls are not banned in Colorado Springs, they are in Denver, and other nearby cities. Colorado Springs is about an hour south of Denver on I-25. There seems to be some prejudice against the dogs and also an underground of "illegal" dogs from Denver. Be aware and keep your dogs safe at all times.
Here are some dog-friendly spots in outdoorsy, beautiful Colorado Springs—home of the gorgeous Garden of the Gods, spectacular mountain views, and, as you might have guessed, dog-friendly patios, hiking trips, and even puppy pool parties (we'll get back to this one in a moment).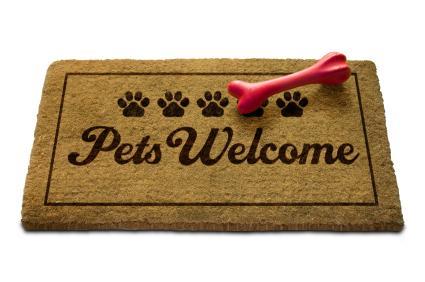 If you're planning a vacation (or a move) to Colorado Springs, here are some of our team's dog's favorite spots—to stay, to play, and to relax.
Dog-friendly housing
Our absolute favorite area hotel is, of course, The Broadmoor, with its perfectly manicured gardens, sunny patio spaces, and really tasty (though pricey) cocktails. Luckily, the Broadmoor is pet-friendly—allowing you up to two pets per room at $50 per pet per night.  Note: seems like a very steep pet fee, so Cici and I would consider this more of a dog tolerant hotel rather than a pet friendly one, just because of the pet fee…
The Broadmoor also offers things like gourmet food and treats and special bedding and bowls. And prices per room start around $175.
There are also Hilton hotels for about $90 a night.
Drury Inn Pikes Peak is about $60 a night.
More pet friendly Colorado Springs hotels and attractions…
If you are traveling on a tighter budget, consider renting an apartment through a site like Airbnb. Often even if the ad says no-dogs, people will make exceptions for well-behaved animals (one of our team members has a 75% success rate in asking for exceptions; she recommends sending emails to a handful of great spaces and seeing what opportunities arise, particularly if your dog is a Canine Good Citizen or is therapy trained).
Dog-friendly eating
Our absolute favorite dog-friendly place to eat is the big, sunny patio over at Nosh. It's a wine and tapas bar located in the heart of downtown and its patio is decidedly dog friendly. In fact, during the summer, Nosh encourages dog owners to gather on Sundays for a puppy pool party complete with water dishes, kiddie pools, and goodie bags full of treats.
If your dog is a social creature, it's really the perfect outing.
(It's always a good idea to check with Nosh about the days and times for their puppy pool parties, as they can vary from summer to summer.)
While Nosh is our favorite, there are plenty of other dog-friendly patio options around too—like Ted's Montana Grill, Champps, and Pizzeria Rustica—so you won't run out of new places to eat with your fuzzy friends in tow.
More pet friendly dining choices…
Parks and the great outdoors
In addition to the famed Garden of the Gods, which allows leashed dogs in the park and on the restaurant patio, there are a number of parks, trails, and camping areas available for you to get outside and enjoy the wild beauty of the Rocky Mountains.
Here are just a few options (we haven't been to these specific spaces, but we've heard great things through the grapevine): Red Rock Canyon (spaces for both on- and off-leash dogs), Seven Falls, Bear Creek Dog Park (we've heard this called the best dog park in the country landscape-wise, but we've also heard tell of some aggressive dogs there, so be careful).
Dog parks
A big thanks to Celia Sue for letting us guest post here. We hope this information is useful and that you have an amazing time exploring Colorado Springs with your four-legged family members.
About the author/bio
John Hatcher is a dog lover, outdoor enthusiast, and world traveler. In 2003, he started EzyDog—a company that makes products for active dogs and their owners. He lives in Sandpoint, Idaho with his wife and Vizsla mix and spends as much time outside as possible.