There is more than enough Love, Compassion, Kindness, and Generosity to Change the status quo…
http://vimeo.com/48445902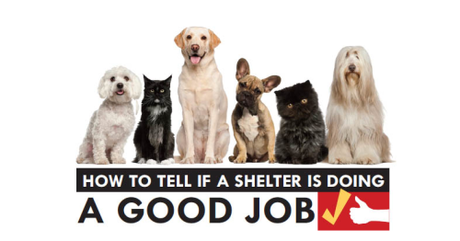 "Animal abuse at local shelters is not an isolated anomaly caused by "a few bad apples." The stunning number and severity of these cases nationwide lead to one disturbing and inescapable conclusion:
our shelters are in crisis
."
For the past couple of years, ever since I got involved with the Patrick movement, I have also participated in a few other high profile cases of animal abuse. In those other cases, Lennox, Wicca, for example, the problem became clear. It was a stubborn, bureaucratic system of people who REFUSED to send those dogs to sanctuaries, that were willing with open arms to even PAY for the dog's rescue and rehab. All pleas fell on deaf ears and the innocent pups were killed. It was heartbreaking, to say the least.
It is easy to turn away, shut down, and refuse to read or look at ugly photos of animal abuse, in order to stop the pain you feel at the horrors inflicted upon innocent animals. Just leave it to someone else to care. It can be hard to face the truth of what is going on. But the brave and courageous are willing to learn and educate themselves and do the work that needs to be done, for the rewards… the love of animals.  It is time to take off the rose colored glasses. To save even one life is worthwhile.
Those cases took place in other countries, northern Ireland and Montreal, Canada. We here in the USA have similar problems. And thankfully, people who love pit bulls and are true animal lovers, have begun to see the light and identified the true culprits of a shelter system that is broken and kills healthy, treatable animals every day in our local neighborhoods…
Nathan Winograd spells it all out in no uncertain terms in his latest book Friendly Fire, which was available for FREE this weekend on Amazon as an e-book… This is a book that many animal advocates have been waiting for. Winograd and his wife wrote the book not only to expose the cruel system of abuse and death but also to give animal advocates, the media, legislators and others the tools to make necessary shelter reform a reality.
http://www.nathanwinograd.com/?p=10949
Winograd says that either a shelter is No Kill or it is a slaughterhouse. And the public is not at fault but we are too often blamed by the very organizations that are refusing to change. They spend our money not on saving animal lives but on their own salaries and false marketing schemes.  He gives numerous examples and scenarios. He names names and answers excuses. And shows us there are creative PROVEN ways to save lives.
http://www.nokilladvocacycenter.org/shelter-reform/no-kill-equation/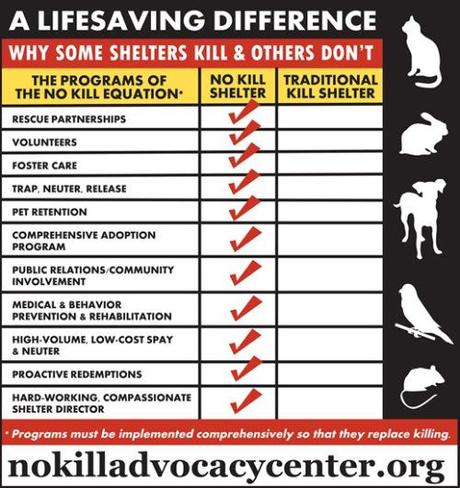 Try to ladle a bowl of soup out of a pot into a bowl. Go ahead. Notice that either you DO IT or you don't. Or let me put it another way, either you are pregnant or you are not pregnant. Either a shelter is No Kill or it is not. This is important because some shelters and organizations are trying to fake it by using the words No Kill. Just like some companies whitewash or greenwash, pretend to offer products they say are healthy and natural, eco friendly and/or organic in order to compete in the market place. Just calling yourself No Kill is not a matter of semantics. True No Kill shelters DO NOT KILL healthy and treatable animals.
Winograd has been in the trenches, head of shelters, and has DONE IT himself firsthand. He has created the No Kill Equation and No Kill Advocacy Center. Fundamentally becoming a No Kill shelter requires bottom line, the CHOICE to become No Kill, with no ifs ands nor buts (no excuses), a commitment to becoming No Kill and actionable steps to take. It does not take research, five years or ten years or twenty years. A shelter can become No Kill virtually OVERNIGHT.
Americans are generous, good hearted and too often naive and gullible people, who give millions, if not billions of dollars, to causes in hopes of a cure for diseases (that there are already cures for, most diseases), to end drug addiction, homelessness and other society ills. And the most popular charity is animals. We LOVE our pets and we give money every day because we have been duped into thinking that our money is going to make a difference in the lives of animals. But Winograd points out that the big national organizations such as the ASPCA, Humane Society of the USA, PETA and American Humane Association, the ones with the MOST power and money and credibility, have betrayed our trust and too often collude with and enable the old shelter killing system to continue.
In the arms of the angels of death… the story of a three week old kitten… 
http://www.nathanwinograd.com/?p=9285
We must demand accountability and donate to people and organizations that truly are saving lives not just having pretty photo ops. We must be discerning and learn the difference between those who are all talk and no action and those who truly DO THE WORK.   First, we CHANGE and then others follow.
There were a few gripping paragraphs in the book (like the above about the three week old kitten) that were hard to read. Some shocking, to me, info that I did not know. And yet, ultimately, I am glad that I am better informed. With knowledge, comes power. And this book can empower regular every day people like you and me to stand up for the animals in ways we have not done because it gives us the ways and means, a road map of how it is and has been and is being done. And the way the book is written, with graphics and sections, you can read a little or the whole book and gain important information.  Below is some of the info that grabbed me.
Did you know…
"Whether by coming to the defense of regressive shelter directors, working to defeat progressive shelter reform legislation, fighting new and innovative programs to save lives, or calling for the wholesale slaughter of entire groups of animals in shelters, HSUS, the ASPCA, PETA and other animal protection groups are the biggest barrier to ensuring the survival of animals in shelters today."
"The ASPCA and HSUS are not only the richest animal protection charities in the U.S., they are among the overall richest charities in the nation."
"shelter killing is the leading cause of death for healthy dogs and cats in the United States. Today, an animal entering a shelter has only one chance in two of making it out alive, and in some places it is as low as one in ten, with shelters blaming a lack of available homes as the cause of death. And yet, there are over seven times as many people looking to bring an animal into their home every year as there are animals being killed in shelters because they lack one. Half of all animals who enter our nation's shelters go out the back door in body bags rather than out the front door in the loving arms of adopters despite the fact that there are plenty of homes available.
.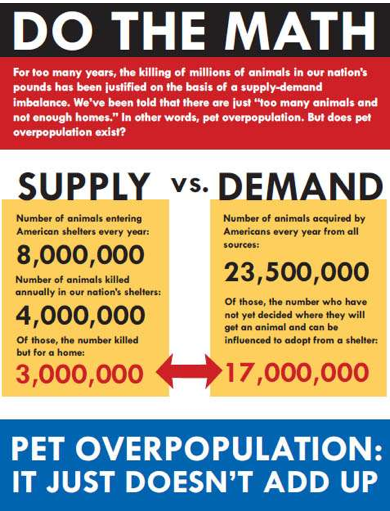 "A CRISIS OF UNCARING Not only are millions of animals needlessly killed in our nation's shelters every year, but they are neglected and abused in the process."
"ASK PEOPLE WHAT it means to "rescue" an animal and every single one of them will tell you it means to deliver an animal from harm's way and into safety. That, after all, is the common sense definition of the word. It's also the dictionary definition. And it's the one that HSUS and the ASPCA hope you think of when they put out fundraising appeals for the animals they claim to "rescue." In their television commercials, in their publications, on their Facebook page and whenever they reach out to the media to announce their latest campaign—all of which are designed to tug on the heartstrings of Americans—they use the word "rescue" to define their involvement in cases involving animal neglect, abuse, hoarding or exploitation. Yet for many of these animals, a "rescue" ASPCA-style or HSUS-style isn't a rescue at all, but a classic case of out of the frying pan and into the fire.

"quite often the shelters to which the ASPCA and HSUS send animals are kill shelters that are as heartless as the circumstances from which many of the animals have been "rescued."
"With their combined 300 million dollars in annual revenues and the support of millions of people who love animals, the ASPCA and HSUS have not only the means to provide their own housing and care for animals but also the ability to find them homes. Yet when they assist in a large-scale "rescue," they often dump the animals at local shelters, pocket the donations meant for their care and then walk away. After the photo ops and the fundraising solicitations have been sent out, the animals get shipped off to shelters across the country, where they are either put to death or local animals are put to death so the ASPCA or HSUS animals can be taken in.
 
"Why doesn't HSUS or the ASPCA find the animals homes themselves among their millions of animal-loving members and what amounts to endless resources? Indeed, not only does HSUS boast over 12 million supporters, but the ASPCA, located in New York City, has immediate access to the single largest adoption market in the country. But HSUS will not place the animals in homes themselves. And despite the millions hoarded in their bank accounts, the ASPCA has a long, sordid history of a paltry level of adoptions in its own shelter and, worse, of neglecting the needs of the animals suffering in the city pound down the street, even sending animals to be killed there. Kittens and puppies have gone from the ASPCA to one of the most abusive pounds in the nation, only to end up on its nightly "kill list" (see pages 85-88).
"in spite of the feel-good headlines, many of the so-called "rescued" animals actually end up dead or displace others who are then killed—we are left to ask one, inescapable and obvious question: What the hell kind of rescue is that?"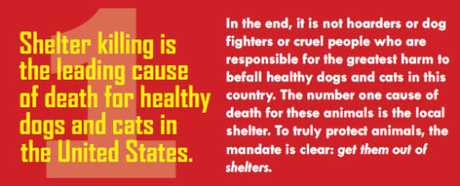 "Many Americans believe that HSUS and the ASPCA own and operate shelters across the country. In reality, HSUS does not operate a single shelter, nor is it officially affiliated with any of them. The ASPCA runs one shelter in New York City which saves fewer animals a year than many rescue groups operating on a fraction of the ASPCA's budget.
"Local and state organizations have complained about such misleading fundraising tactics, even asking the Attorneys General of their states to open an investigation, as was done in Louisiana in the aftermath of Hurricane Katrina. Then, it was HSUS that was the worst offender, raising over 30 million dollars but spending only seven million before their President Wayne Pacelle announced "Mission: Accomplished" and headed out of town, leaving behind thousands of animals in need who were then shipped off to kill shelters nationwide (they had a policy of not working with No Kill shelters), sticking the money Americans donated specifically for Hurricane Katrina animals into HSUS bank accounts.*
"In 2010, ASPCA revenues exceeded 140 million dollars. They only adopted out 3,389 animals. That is roughly $41,000 per animal. By contrast, during the same time frame, a New York No Kill shelter and sanctuary took in $635,000 and saved 2,932 animals. That is $216 per animal—or the equivalent of the ASPCA saving 645,040 animals. A No Kill animal control shelter in New York took in $439,000 and saved 2,315 animals. That is $190 per animal—or the equivalent of the ASPCA saving 736,842 animals. This amounts to one-fourth of all animals being killed in shelters nationwide, but for a home."
Winograd outlines specific cases of dogs like Oreo, Fay, Zephyr, Scruffy, Ace and others mistreated or killed or who died at a shelter because of the shelter staff.
If you bring an animal to the local shelter, within minutes, that animal may be put to death. 
"No chance at adoption. No food, water or shelter, just a trip from the front counter to the gas chamber or to be poisoned with an overdose of barbiturates."
"Scruffy was an orphaned kitten rescued by a man named Daniel in Phoenix, Arizona. Daniel bottle-fed Scruffy several times a day, every day, until she was old enough to eat on her own. Every night, Scruffy slept on Daniel's pillow. Daniel credited Scruffy with helping him overcome a long-term addiction to drugs. After all, Scruffy needed him. And he needed Scruffy.
"In 2011, the nine-month-old Scruffy cut herself on fencing and Daniel took her to the Arizona Humane Society veterinary clinic for treatment. Unable to immediately come up with four hundred dollars to pay for it, Daniel asked if they would accept his mother's credit card by telephone (she lived in a different state) or accept cash the following day when she was able to wire it to him. The Arizona Humane Society refused to do either. They told him that the only way they would treat Scruffy was if he signed over "ownership" to them. With a heavy heart but desperate for Scruffy to get the care she needed, Daniel agreed. But instead of treating Scruffy as promised, the Arizona Humane Society put her to death.
HSUS and our beloved Vicktory dogs

"HSUS also fraudulently fundraised off of the Vick dogs, telling people that the dogs were in HSUS custody, when they were not. Shortly after the case broke, HSUS contacted the U.S. Attorney prosecuting Vick and asked if they could see the dogs, then being held at six animal control shelters in Virginia. The U.S. Attorney agreed but only on condition that they take no photographs and not publicly talk about the dogs, citing fears of compromising the case, sensitivities involved in the prosecution and issues surrounding rules of evidence. HSUS agreed and then promptly violated that agreement. HSUS staffers took photographs of the dogs with people wearing HSUS shirts to make it appear that HSUS was directly involved in their care and then used these photographs to fundraise. Not only was that a lie, not only did they want the dogs dead, not only were they not going to use the money for the Vick dogs, but the U.S. Attorney's Office felt so betrayed that they did not want to work with any animal groups."
Why do HSUS and PETA hate pit bulls?
"While PETA was busy killing over 95 percent of the animals they took in, Wayne Pacelle defended them in Newsweek magazine by arguing that while No Kill might be noble, it was essentially impossible. But with cities and towns across the country having already achieved it, how could No Kill be "unachievable"? In fact, an HSUS-financed study proved that despite four million animals killed every year, the number of Americans looking to bring a new dog or cat into their homes topped 23 million. If there was an imbalance between supply and demand, Pacelle's own study showed it went in the other direction."
"Most people have no idea that at many animal shelters across the country, any pit bull that comes through the front door doesn't go out the back door alive. From San Jose to Schenectady, many shelters have enacted policies requiring the automatic destruction of the huge and ever-growing number of 'pits' they encounter. This news shocks and outrages the compassionate dog-lover… Here's another shocker: People for the Ethical Treatment of Animals, the very organization that is trying to get you to denounce the killing of chickens for the table, foxes for fur or frogs for dissection, supports the shelters' pit-bull policy…"
Is PETA a cult?
"PETA systematically seeks out, then kills, roughly 2,000 animals every year. Over 27,000 animals have died at the hands of PETA employees over the last decade alone. While communities across the country are ending the killing of healthy and treatable animals, with save rates as high as 98 percent, in 2011, PETA killed 96 percent of all dogs and cats and 93 percent of other companion animals such as rabbits that it took in, despite revenues of over 30 million dollars a year and millions of animal-loving members.
PETA seeks out and takes in animals for primarily one purpose: to kill them.
"Ingrid Newkirk founded PETA after a job working at the Washington Humane Society where she killed animals. It was a job she has admitted to doing with relish, explaining how she often came into work early to do it (see pages 178-179). She has stated that she does not believe that animals have a right to live, and that, in fact, animals want to die, calling killing "a gift" (see pages 179-180). Perhaps most disturbing of all, she has recruited a legion of cult-like devotees who actively seek out then kill thousands of animals every year at her behest."

"In a cult, any information from outside the cult is considered evil, especially if it is opposing the cult. Cults train their members to reject any critical information given to them, and to not even entertain the thought that the information might be true.
"PETA is letting loose upon the world individuals who not only maniacally believe that killing is a good thing and that the living want to die, but who are legally armed with lethal drugs which they have already proven—27,751 times in the last ten years—that they are not adverse to using.
"Newkirk wrote that PETA is not an animal rights organization, stating in no uncertain terms: "We do not advocate 'right to life' for animals."
"PETA is an organization that publicly claims to represent the best interest of animals—indeed their "ethical treatment"—while at the same time engages in a campaign to exterminate them."
CHANGE IS A GOOD THING
"it is the public's love and compassion for companion animals that could create profound social and legal precedents that would benefit all animals, such as laws making it illegal to kill them. A recent survey revealed that three out of four Americans already believe that shelters should not be allowed to kill healthy animals."
"A great thing happens when you remove a regressive director and appoint new leadership that immediately and comprehensively implements alternatives to killing: the killing stops.
"The truth is it doesn't take five years to implement alternatives to killing. It doesn't take five years to set up a foster program, to recruit volunteers or to set up offsite adoption venues. All of these things can be done in a matter of weeks, or even days; whatever need dictates to prevent killing. No Kill requires action, not endless planning and five years of fundraising."
"In 2010, the Governor of Delaware introduced a bill called the Delaware Companion Animal Protection Act. The proposed law included a rescue rights provision. It made foster care official state policy, required posting "all stray animals on the Internet with sufficient detail to allow them to be recognized and claimed by their owners" and more. Like all legislation, it involved compromise. But it was a fairly strong, comprehensive bill mandating progressive protocols statewide.
"The bill outlawed some of the most egregious sheltering practices that cause animals to be killed and it mandated common sense procedures that gave them every opportunity for life. And no one thought doing either of those things would be a bad or controversial idea. Why? Because there was no one to confuse them into thinking it was. The large national animal protection groups had no idea this legislation had been introduced. Wisely, activists who worked with the legislators to draft the language did not publicize their efforts, knowing that to do so would be to invite opposition. And not being informed, the opposition never materialized and the bill sailed through the Delaware legislature effortlessly."
"it is a generous and animal-loving American public that pays their salaries. And the more Americans hinge their donations on an organization's sincerity, integrity and performance rather than its superficial label, the sooner our nation's large animal protection groups will be forced—by sheer necessity—to start building, rather than blocking, the road to a brighter future for America's animals.
what can U do?
"THE LARGE ANIMAL protection groups have never created a single No Kill community in the U.S. because that has never been their goal. But smaller organizations have. Individuals have. If you want to help animals, do it yourself: like the activist who started a No Kill movement in his community where he took on not only an entrenched shelter director, but also the mighty ASPCA—and won.
"Or the animal rescuer who singlehandedly created the infrastructure necessary for her local shelter to go No Kill. Or the husband-and-wife team that began marketing shelter animals, resulting in adoption rates of over 95 percent. Or the long-time animal welfare professional who took over a shelter known for cruel treatment of animals and high rates of killing and overnight turned it one of the safest communities for homeless animals in America.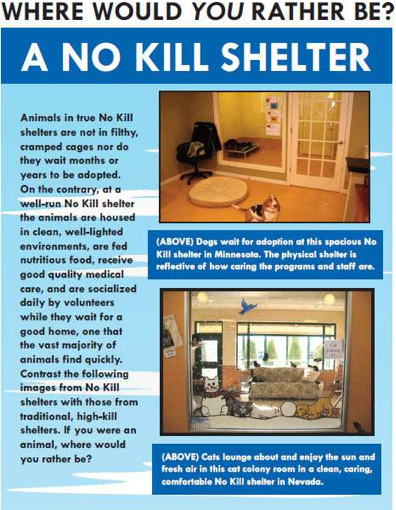 Their story can be your story. You'll be amazed at what you can accomplish if you grant yourself the authority.