Having had the opportunity to immerse myself in reading zillions of articles and reports about food labels over the past couple of months, there's more to them than I realised. I am, admittedly, starting from a low base of knowledge and interest. Until this research project I never looked at labels. I am guilty both of complacency (I am confident I know enough about the good and bad stuff that can be found in food), and smugness (I tend to cook from scratch and unpre-packed food (till now) has not been labelled up in the way packaged food is).
So what's make me inspired to write a post about food labels? Well, it's to do with a new (voluntary) combined GDA-traffic light system being launched by the Department of Health. The hope is that the scheme will be widely adopted and thus provide much needed consistency and reduce confusion.
The spotlight will be on salt, sugar, fat and calories. It is undeniable these are important, but looking at only these gives a narrow view of what the food is about, which can lead to some perverse thinking. Nutritionists have carried out analysis of typical foods and found that olives and cheddar cheese come out with lots of red lights on their label, whilst Diet Coca Cola would score straight greens all the way through. As might be expected, there is a suitably incendiary Daily Mail article entitled "Why traffic light labels on food will make us all fatter AND ruin our farmers".
Reading all this inspired me to go on a mission to find the worst kind of food possible. I don't think I have found it yet, but I have discovered that crisps are a particularly good category for playing around with juggling different health goals. For those who worry about saturated fat, then it makes sense to go for low fat options, such as these Pop Chips. However, they are not a straightforward "good choice" as to make up for the poor quality taste experience that often comes with lower fat, the salt content is upped. Per 100g, there's 14.1g of fat (relatively low) but 0.79g of sodium (relatively high).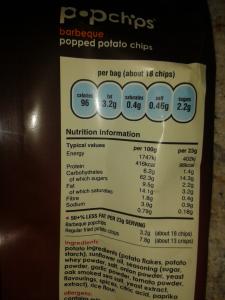 Compare that to these Tyrells crisps, which are only lightly salted, which would be pleasing to some, but they are definitely high fat. Per 100g, there's 24.4g of fat and 0.2g of sodium.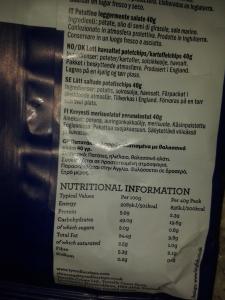 This brings me to my worst food – a packet of own label crisps from Tesco. They are the posh sort – hand cooked and nicely high fat and high salt. Its their flavor that makes them special: salt and cider vinegar. The latter means they actually come up red for sugars. And boy, do they taste good.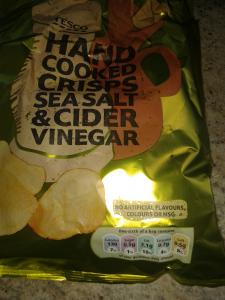 Now you know what to look for in food labels.