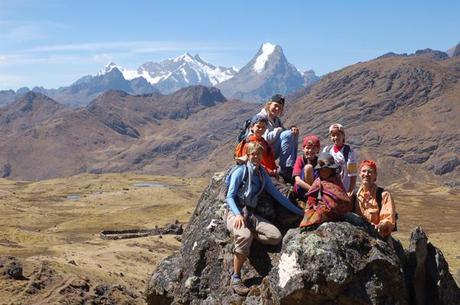 If you're considering options for Peru tours, it's easy to get overwhelmed by choice. Something that can narrow things down for you is deciding between a custom designed vacation or a group tour. This article explains the differences and the benefits of each option so you can choose the best one for you.
Group Peru tours – what are they?
Group tours are fixed routes with set dates that are filled by travel agents or tour operators. They generally have a large capacity and the people booking onto the tour will not know the other travelers in the group (unless a large group books together and fills up the tour).
What are the benefits of group Peru tours?
Lower cost – as many people are doing the same thing, it should normally be possible for the tour agency or tour operator to get a lower price for the tour per person particularly when using larger chain hotels.
Good for visiting very popular sites – most countries where tourism is popular like Peru, have sites that everyone visits such as Machu Picchu. If you'd like to base your trip around these sites and don't mind a fairly generic visit and the possibility of being in a crowd, group tours can be a good option for you.
Meet other people – if you're up for meeting new people on your travels, then a group tour could be for you. You're going to be spending the duration of the tour with other travelers that you've never met. You have to be lucky with who ends up in your group, but you could end up making some great new friends.
Custom designed Peru tours – what are they?
Custom Peru tours are those which you design in conjunction with your Peru tours operator. You decide how long you travel for and when, where you visit, what sort of accommodation you use and how much time you spend in each place. Your Peru tours operator will offer you advice and expertise on your options, but you ultimately get to decide. By having complete flexibility in your vacation planning the tour will be tailored to your tastes and interests.
What are the benefits of custom Peru tours?
Flexibility – you get to control all the elements of your tour. Instead of fitting in with the fixed schedule of a group tour, you can leave out places you don't want to visit or spend more time in places that you're excited about visiting.
Accommodation – on group tours operators tend to use large hotel chains. If your preference is for smaller more personal hotels with local character then a custom tour can accommodate this.
Visit places not on major tourist routes – group tours tend to only take people to the big tourist sites, but if you've got a lesser-visited location that you want to include on your Peru tour, a custom tour operator can make it happen. Also if you want to visit somewhere a bit different but aren't sure where, a good custom Peru tours operator can suggest less popular places that are more off the beaten track.
Follow your interests – maybe you are an archeology buff or wildlife is your thing. A custom tour operator will design your Peru vacation to fit with your specific interests rather than the generic interests of a large group.
Great for families – typically families have a very specific set of needs and schedules and prefer to be their own group rather than part of a bigger one. If you are planning a family trip to Peru, consider going with a custom Peru tours operator. This will allow you to stay in family friendly hotels and set the itinerary and pace to suit you and your family.
Go at your own pace – the classic example is a hiking trip. In a group there will be fast and slow people, which can be a source of frustration for all concerned if people have to wait around for others or feel pressured by the rest of the group. In custom tours this isn't a problem as you define the pace of your trip during the planning process. Equally on an excursion if you want to spend more time in a certain place, you have more flexibility and don't have to convince anyone else to stay!
Custom tour operators may also be able to combine the best of both worlds. A tailor made vacation may include certain shared services such as a trek, excursions or shared transport where appropriate in order to lower costs and to allow you to share those experiences with a group. That way your overall itinerary is customized to your needs whilst taking advantage of some shared services.
Which option is the best for you? What other benefits are there for group Peru tours and custom Peru tours?
Author: Gary Sargent – Escaped to Peru / Escaped to Latin America