Since the beginning of time, our ancestors have been carving on caves and rock boulders. Today, this art form has been refined to the point where you can now create very sophisticated and personalized rock boulder yard art by working with a boulder sign company.
If you have recently built a new home, or simply want to beautify your existing home or garden, then a residential stone sign can create that perfect look. Unlike vinyl, plastic or metal, a rock boulder sign blends in seamlessly with your current landscaping and is often approved by HOA's when traditional signage is not.
Add style and functionality for your home or apartment with a custom-crafted rock boulder address or welcome sign.
Why a Boulder Sign Company and Rock Boulder Signage
A residential rock stone sign allows you to truly unleash your creative instincts. The possibilities are virtually endless on the text, graphics & fonts that are available with a landscape custom sign. Just tell us the rock size, shape, color, text, font, logo and graphics that you want!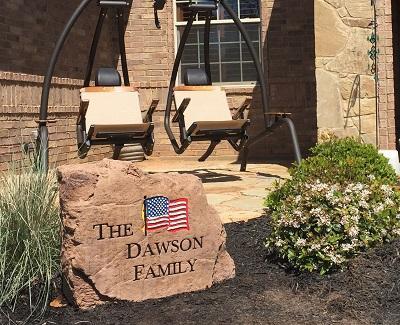 An environmentally friendly boulder sign is a great choice when compared to vinyl, metal or plastic. These days, you can easily get in touch with a boulder design company which will create your design or signage that is not only exactly tailored to your suggestions but are also in tune with the style and functionality required for your residential landscaping needs.
These boulders and rocks are custom-crafted and can be just ideal for specialty requirements such as benches, golf course markers, fire pits, flagstones, pet memorials, flag poles and even large scale residential and commercial landscaping. Rock boulders are not only beautiful and affordable, but they are also competitively priced when compared with other signage options.
With custom-crafted yard signs, you can truly enhance your existing landscaping with a one-of-a-kind rock boulder sign.
You can further enhance your new rock sign by adding flowers and decorative plants around the boulder area and create a location for some of your best family photos!
How are these Boulder Designs and rock signs made?
The boulder sign company utilizes a proprietary process involving proprietary processing equipment, materials and techniques. The techniques utilized create a 100% solid rock boulder with no hollow core and has the beauty of natural stone with a strength that lasts a lifetime. Often, it is a challenge to convince people that what they are looking at is not natural (quarried) stone.
The weight of the rock boulder is the same as natural rock and depends upon your size. A typical rock signage boulder can weigh from 100 pounds up to 5,000 pounds or more.  Additionally, rock boulders require almost no maintenance. In order to get your boulder or rock signage designed, the rock boulder company will typically require you to fill out a Design Questionnaire. This questionnaire includes relevant details such as boulder size, text required, font, color, as well as graphics desired. In about 48 hours they will email back a color proof, and quote, based on your Design Questionnaire answers. There is no cost or obligation for the proof and quote.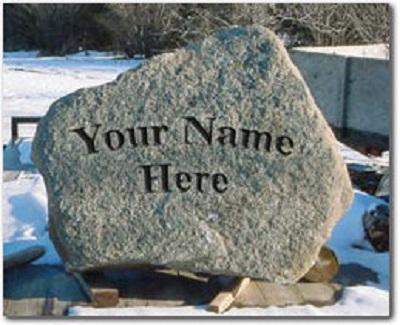 Conclusion
If you're looking to enhance your landscaping then these yard-art residential outdoor signs are a good choice. A Boulder Designs product is a very cost-effective way to add a custom-crafted and unique look for your property and landscape design. Let a Boulder Design company help you create something that sets you apart from your neighbors and "marks your territory".