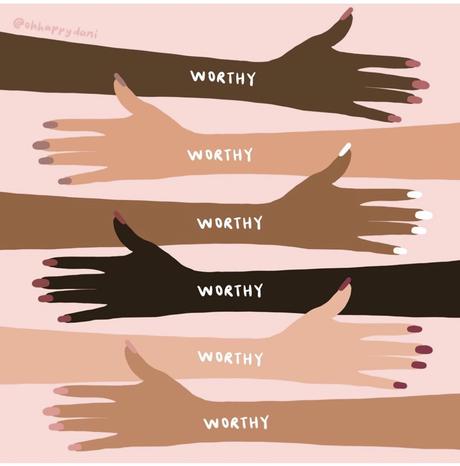 // image from Oh Happy Dani //
Hello GlamFam! I hope everyone is staying well despite everything going on in the world. It's been a truly unforgettable 2020 with a pandemic and major humanity issue converging. I truly feel there is a positive and powerful change happening in our country.
It's been hard to find the right words for fear of saying the wrong thing, but I realize that saying nothing is actually worse. I didn't know what to say to discrimination targeted at me for being Asian, so how was I supposed to say something about Black Lives? I have been taking some time to pause and educate myself and my family. I'm learning how to bring up things that may be uncomfortable since I'm a non-confrontational person. I will probably make some mistakes along the way, but we stand for LOVE. We do not support racism and we support equality.
Also, I wanted to clarify something that I didn't fully understand. The #BlackLivesMatter was succinctly explained to me in a graphic and photo. It would be like going to a Breast Cancer benefit and screaming "All Cancer Matter". It is a given, and no one is saying that it isn't. However, the issue is that social injustice is happening more prevalently in the Black community right now.
In the photo, a little girl is holding a poster that states the following:
WE SAID > Black Lives Matter
NEVER SAID > ONLY Black Lives Matter
WE KNOW > All Lives Matter
We just need YOUR HELP with #BlackLivesMatter for Black lives are in DANGER!
If you need further understanding, here is a comedian's take on it: * E for explicit* Michael Che stand up act
I have been taking the time to listen, learn, and pray and will continue to do so. I've learned that this won't be fixed in a day or week since this is a battle we've dealt with for hundreds of years. In this blog post, I wanted to share some of the things that have helped me, and how we can learn to be better allies, and some of my favorite Black-owned businesses and creators. I learned so much from Danielle of Oh Happy Dani on her IGTV series to look upward toward Christ ( HERE), inward ( HERE), and then outward ( HERE). She spreads her message with love and kindness.
LOOKING UPWARD
In Danielle's IGTV about seeking the words of God, she lists 4 different Bible verses that address injustice and oppression.
Pope Francis addresses racism in the United States in this video.
Here are some quotes and pearls that I've been holding close to my heart.
Tabitha Brown: Instead of being quick to judge, BE QUICK to love, understand, listen, be helpful, make a change, speak up when things are wrong. Whatever it is you are quick to do, be mindful and do it in the right light.
Meghan Markle: Always remember to put others needs above your own fears.
LOOKING INWARD (EDUCATION)
It starts at home with education and inward reflection to check our own biases and learn more. As parents, we have a responsibility to teach our children to be compassionate and stand up for good. I thought that teaching color blindness was the correct way, but I've been taught that it's better to celebrate diversity and appreciate our differences. This is just a short list and there are many resources with bigger lists but I wanted to touch on a few.
BOOKS FOR CHILDREN
ARTICLES/BOOKS TO READ
LOOKING OUTWARD (TAKING ACTION)
Here are lists of Black owned businesses and creators - those that I personally know and/or follow! Support them by following, purchasing, or engaging with them.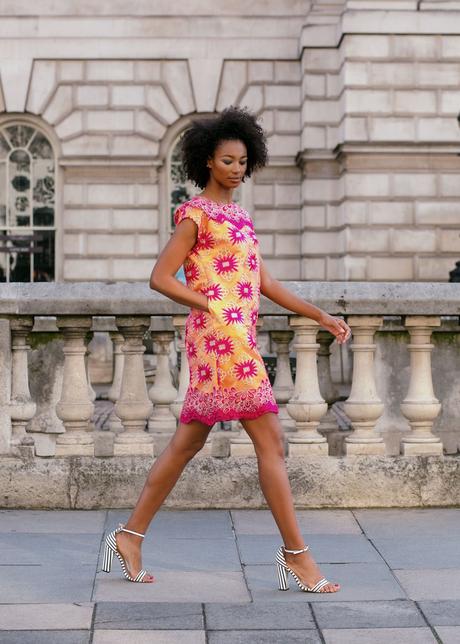 // image from NeobantuBanta blog //
BLACK OWNED BUSINESSES
If you are local, then Visit Fort Worth has a list of locally owned businesses that you can support.
Neobantu (dress in above photo) - Tendai is a pharmacist and took fashion love to the next level as a fashion designer!! She won the FGI award for her collection in 2019! I LOVE it so much! She had to pause before her most recent collection as she battled melanoma. Pieces are now available for sale!! We knew about each other through the blogging world, and I was so happy to meet her in person at that event. I own a past season Apollo Clutch suit set (shown in this article).
Josephine Cosmetics - I met the founder, Sholyade, briefly at the Neiman Marcus Indie Beauty pop up years ago. The first thing I noticed was the fabulous colors in her collection. I purchased the AMAZING eyeliner and two eye shadow palettes. Check out the eyeliner under running water in this post. I just ordered some of the lip glosses and cannot wait to try them.
Chloe Digital - I met Chloe at a RewardStyle conference, and she blew me away with her tech knowledge. She's basically a tech genius and has grown from a solo business to an international team. It's no wonder that she's an important manager for many major bloggers for tech support and strategy management. Her team handles the behind-the-scenes monthly maintenance of my own blog too!
Marrica Evans - Marrica is a Dallas based photographer and content creator that I met through Angie! She has shot some of our Chic at Every Age photos and creates stunning pictures. She also just released some new presets that are AMAZING!
Grit Fitness - Britt is the founder of Dallas based Grit Fitness and her blog Grit by Britt. She has grown her company from an idea and now has 3 brick and mortar locations in Dallas. She even offers virtual memberships and online classes to make getting fit at home a cinch. We met at a PAIRR event where we were both speaking on the panel. I love her story about the journey to get fit while working crazy hours in the corporate world.
Beneath Your Mask - I also discovered Dana's clean beauty brand at the Indie Beauty Expo in Dallas. Her journey with her own health problems led her to create these wonderful body treatments that heal and nourish.
Brooha Market - I met the founder at a Moon Meditation Night (sounds crazy but was cool - we made our own face masks!) and fell in love with her little shop on Vickery. She has traveled the world and brought beautiful accessories and home goods to Fort Worth!
Black Coffee - I am ALL ABOUT COFFEE! Literally, it the first thing I reach for when I wake up. My friends actually own this east Fort Worth coffee shop. Although I still haven't been (thanks #MomLife and COVID), that's my next coffee shop stop when I have the chance!
Franklin & Anthony - Last but not least is F&A, a bespoke suit company based here in Fort Worth. Black Coffee (above) and Franklin and Anthony are owned by the same family, and I happen to love them! Although I don't own a F&A bespoke suit, I can tell you that Franklin, one of the cofounders, always looks IMPECCABLE when I see him! We met during the Visit Fort Worth trip to NYC! He is totally awesome, and we've worked on another project together! Unfortunately, COVID put Fort Worth Fashion Week on hold but I can't wait for it to happen!
Cushnie - This is a beautiful designer label known for gorgeous colors and elegant silhouettes loved by the likes of Michelle Obama, Beyoncé, Cynthia Nixon, and Gwyneth Paltrow. You can find current pieces on her website. For a more wallet-friendly collection, she has a collaboration with Target, and I am LOVING all the pieces!
BLACK CREATORS & ARTISTS
Okay, y'all know I LOVE fashion, art, and music so I cannot wait to introduce you to some of my friends and fellow bloggers as well as just some cool people to check out and follow.
Quite Frank - I mentioned Franklin above multiple times! He is my friend, a father of two, business owner, and community activist. He co-founded Community Frontline, a non-profit whose mission is to mobilize men to enter and alleviate suffering in the community, beginning with east Fort Worth. I literally cannot say enough great things about him. If you are lucky enough to meet him or know him, then you will understand what I mean!
Ruthie Ridley - I met Ruthie during a SOMA blogger trip! She is so loving and has the brightest personality. She shares about family, affordable fashion, and Jesus!
Awed by Monica - I also met Monica during the SOMA blogger trip and was so impressed with her business mindset and style. She is so smart! She is a lifestyle blogger and shares about fashion and home.
Sassy Teacher Chic - Jennifer is a Fort Wort friend and teacher! We were milk + honey ambassadors together, and she is a smart and beautiful woman. She is a wife, mom, and expecting her 2nd child soon! I love that she has a " Teacher's Corner " on her sight to share special discounts and stories!
Style Ageless - I met Adriana during a Southlake fashion panel that we both spoke on for Spring Trends! She is a girl genius and has also cofounded Taxes with Adriana and Shattering Ceilings. I don't even know what I was doing at that age let alone managing 3 businesses.
Where Did You Get That - I've been following Karen, a Brit in New York, for years. She is one of the coolest chics and is also a vintage lover. In fact, I found one of my fave pairs of vintage ruffle pants from a shop that she recommended in New York years ago!
LoweCo Petite - I found Chelsea through another blogger, and I want her to be my new best friend! (Don't worry best friends - I still love y'all the MOST!) She is a petite style blogger who shares affordable fashion, loves Jesus, and has the cutest Southern charm.
Simply Cyn - Cynthia is a Brooklyn based attorney by trade, but shares the most beautiful and colorful images. I love love love all of her pictures on Instagram, and she is expecting TWINS soon!
Stephanie Taylor Jackson - Stephanie is a Dallas based fashion and lifestyle creator. She is super chic, boy mom, and also expecting another soon!
Disco Daydream - Lauren is a California transplant in Dallas. She is super cool and a mom of two. Her feed is like those cool girls - bc she is one - and very edgy and minimal. She is so sweet and we've chatted at a couple of Dallas events.
Abraham Alexander - He is a Fort Worth based musician (also met during the Visit Fort Worth trip to New York) who won my heart when I heard him sing the cover of Chris Isaak's Wicked Game. We went to see him at Party on the Porch at The Amon Carter Museum and since then, he has come out with a namesake EP. Not only is he an amazing musician, but he also has a medical background as a physical therapist.
Kehinde Wiley - OMG!! His exhibit was at the Modern Museum of Art in Fort Worth, and I was obsessed. He creates the most BEAUTIFUL and magnificent paintings. If you ever have the chance to see one of his exhibits, then go!
Leon Bridges - Just in case you've been under a rock (me most times), you MUST listen to Leon Bridges. He is from Fort Worth, and his music is WONDERFUL and BEAUTIFUL. I love every song on his debut album, Coming Home. You can check out his other music here too!
I hope you will take a moment to check out some of the businesses and creators I've listed above! If you know of any that I've missed, then let me know in the comments! Thank you for taking to time to read this. Stay well. xx
Thank you so much for stopping by and supporting SOS!
CHECK OUT MY INSTAGRAM SHOP HERE TO SHOP ALL OF MY INSTAGRAM LOOKS!
// STAY CONNECTED //
stay glam, do good