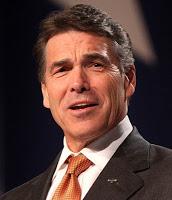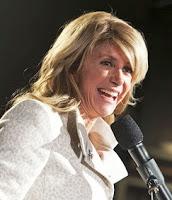 A few days ago, State Senator Wendy Davis (D-Fort Worth) stood up for women's rights in Texas by filibustering a Republican bill that would have closed 37 out of 42 clinics in the state that perform abortion procedures.
In doing that, she embarrassed both Lt. Gov. Dewhurst and the GOP senators -- who tried to pull every sneaky trick in the book to stop her. They failed, because the Democratic senators and the Crowd in the capitol gallery took up Davis' fight when it looked like her filibuster might fail because of the underhanded tricks of the GOP. Time ran out on the GOP bill, and it died.
Not being smart enough to let sleeping dogs lie, Rick Perry decided he would take up the fight against Senator Davis. And as usual, he took the low road by trying to humiliate Davis instead of trying to engage her on an intellectual level (which he probably couldn't do anyway). He brought up the fact that she had been a single teen mother, and said she evidently had learned nothing from that experience.
Well, he probably should limit himself to arguing with those on his intellectual level (although I admit there are not many politicians on that low a level outside of Perry's own party). Senator Davis (who has a degree from Texas Christian University and a law degree from Harvard University) wasn't about to take Perry's insults. She responded:
"Rick Perry's statement is without dignity and tarnishes the high office he holds. They are small words that reflect a dark and negative point of view. 

Our governor should reflect our Texas values. Sadly, Gov. Perry fails that test."
And then she went on to respond to Perry's calling a new special session to try once again to pass the odious anti-choice bill:


"

Misplaced priorities of legislative leaders squandered a tremendous opportunity to make much needed improvements in our transportation infrastructure and help create good jobs and bring businesses to Texas. Despite urging by responsible members of the Senate to bring up the matter of transportation, Lt. Governor David Dewhurst derailed as much as much as $1 billion per year in transportation funding by stubbornly pushing divisive, failed legislation attacking women's health care options. 

If leaders are serious about using this second called special session to improve the lives of Texans by repairing and expanding our transportation networks, they will find no greater ally than me. If they intend to keep pushing their extreme personal political agenda ahead of the interests of Texas families, I will not back off of my duty to fight on their behalf. "