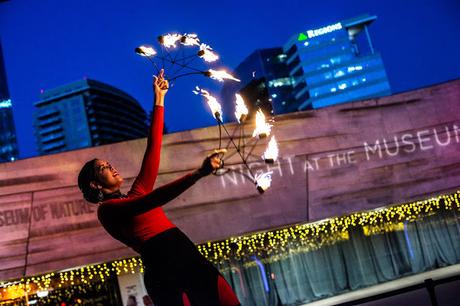 Photo by Turk Studio
The Perot Museum of Nature and Science's Night at the Museum: Ignite illuminated Dallas on Nov. 9 for a gala unlike any other. According to a release, more than 1,000 guests attended, including Congresswoman Eddie Bernice Johnson, Dallas City Councilmember David Blewett, Texas Instruments officials Peter Balyta and Terri West, and philanthropist Sally Hoglund – all on hand to help dedicate the newly reimagined Texas Instruments Engineering and Innovation Hall days before its Nov. 12 public opening. "Thanks to our incredible supporters, this year's Night at the Museum overflowed with opportunities for exploration on every level, igniting imagination and sparking the curiosity of our guests," said Dr. Linda Silver, the Eugene McDermott Chief Executive Officer of the Perot Museum. "As our biggest fundraiser, this evening supports the Perot Museum's mission to inspire minds through nature and science, allowing us to successfully lead the charge for STEM education in North Texas."
Event chairs were Marlene and John Sughrue, and the honorary chair was Mary McDermott Cook. The VIP pre-party for Geode sponsors (at the $12,500 level and above) began at 6 p.m., followed by the main party at 7 p.m. The after-party ran from 9 p.m.-midnight. Upon arrival, guests were welcomed by color-changing illuminated arches projecting simulated fire, lasers, fire eaters, a neon-lit champagne wall and a blue glitter carpet. The Museum's five floors teemed with delectable, science-inspired inspired cuisine from Wolfgang Puck Catering (from flaming cocktails to blueprint food stations), and other mind-igniting activities. As guests were transported up the famed "T. rex-calator" to Level 4, they were greeted with "Mechanical Minded" experiences, cocktails from a moving bolt bar with Asian-inspired small plates served on a conveyer belt, a "space henge" 360-degree photo booth, and the famous "shouting paleontologist." On Level 3, "A Flash of Inspiration" mixed the visual awe of combustion and heat with mid-century modern pizzazz complete with a crepe station, "ignite" hair bar glitter station, neuron-fired photo-ops and futuristic body-art station.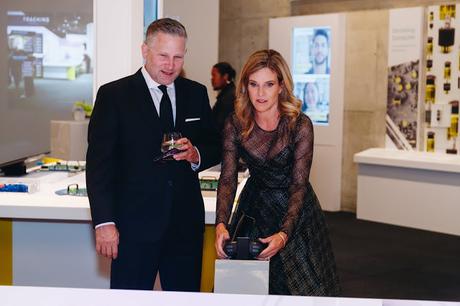 Photo by Kaitlyn Kilpatrick/Perot Museum of Nature and Science
With a "Constructing the Idea" theme, Level 2 took a more modern approach with its roaming robot photo booth, a Rube-Goldberg dessert station, food-aeration station, dry-ice test-tube cocktails and programmable LEGO® robots. Also on Level 2, partygoers got a sneak peek of the newly reimagined Texas Instruments Engineering and Innovation Hall. The Hall boasts a massive LED music code sequencer, ChallENGe Lab, three robotic tables, "Awesome Airways" wind-tunnel activity, "North Texas Innovator Timeline," interactive mechanical art sculpture and more. The Hall was funded by a $1.3 million gift from the Texas Instruments Foundation, and the ChallENGe Lab was supported by The Hoglund Foundation. Decked out with gears, cogs and peculiar mechanics, the steampunk-style VIP pre-party on the Lower Level featured an Inventor's Workshop complete with brassy late-19th century décor and colors. Revelers delighted in the "da Vinci" Negroni ice-sphere cocktails encased in ice and served with a small hammer, a flambéed steak station, and sip-on-a-spoon cocktails topped with gold flakes. A Tilt Brush by Google virtual reality station and festive photo ops completed the scenario.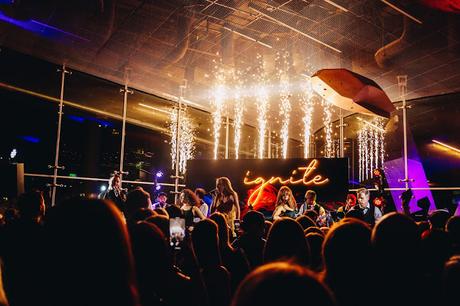 Photo by Kaitlyn Kilpatrick/Perot Museum of Nature and Science
The Museum's world-exclusive exhibition, Origins: Fossils from the Cradle of Humankind, greeted curious guests on the Lower Level. The exhibition, which is open through March 22, 2020, showcases fossils of two ancient human relatives – Australopithecus sediba and Homo naledi – marking the first time that human relative fossils of two different species have ever been displayed together outside of Africa. To round out the night, a blazing after party featuring the Georgia Bridgwater Orchestra brought down the house from 9 p.m.-midnight. Late-night refreshments included chicken schnitzel, wagyu beef burgers and adult milkshakes. Proceeds supported the Museum's mission to inspire minds through nature and science to fund educational programming, student scholarships, Museum operations, traveling exhibitions and groundbreaking research. Save the date! Night at the Museum will return Nov. 14, 2020. Stay up to date at
perotmuseum.org/NATM
.