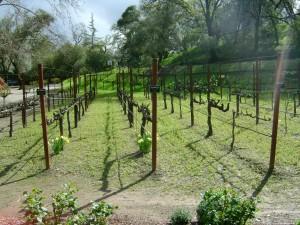 Hello all,
After a birthday hiatus I am back! I went to an amazing hot springs resort in Calistoga, CA called Calistoga Spa Hot Springs. I highly recommend the resort if you are looking to make a trip to wine country, budget friendly and a huge spa and pool to relax at! Not to mention only minutes away from Twomey Cellars, Sterlings Vineyards, Castillo Di Amarosa…just to name a few.
I have been a wine lover for many years and since I live in close proximity to Napa Valley, I frequent wine country about 2-3 times a year. I wanted to share with you other industry folk one of the greatest perks that are associated with our jobs. If you are headed to Napa, Sonoma, Livermore, Temecula…any wine making region really…many of the vineyards and tasting rooms give industry rates if you bring a business card or pay stub that has your name on it and states what restaurant/bar/hotel you work at. My companion even showed her hot schedules profile at Sterling and she got comped.
I will list all the wineries and tasting rooms I have received discounted rates at for future reference for ya'll to get your drink on at…..these rates may have changed due to the fact that it has been awhile since I visited some of these places….
Silver Oak in Oakville comped a tasting but you don't get to keep the tasting wine glass like the full price tasting
Chandon in Yountville comped the entire tasting for two and we got to keep glasses
Sterling Vineyards comped completely for two and included the awesome gondola ride up to the winery (highly recommend taking this tour!)
Duckhorn: Don't know if they comp tasting because I was there with a grower and already got comped but they give 30 percent off bottle purchases.
Mumm Napa: They do 2 for 1 industry rate and also a percent off bottle purchases
Merryvale: 100 % tasting comp and discounted bottle rates
V. Sattui: 2 for 1 tasting
Arrowood: This one I attended a private tasting with my manager and our wine rep but I am pretty sure they also comp tastings
Freemark Abbey: 100% tasting comp
Beringer Vineyards: 50% off comp if I remember correctly this one is worth it because of the beautiful grounds
Matanzas Creek: Also went here with a wine rep so not sure about industry rates but it is so beautiful here they also grow lavender and have their own line of lavender products
Robert Mondavi: 100% comp
Francis Ford Coppola: 100% tasting comp and free tour
These are just to name a few but you get the idea, wine country is basically service industry heaven…it doesn't hurt to ask if they offer industry rates. Our jobs are pretty thankless and stressful at times and there aren't many perks included so wine tasting for free kind of makes up for it right? Also, wine tasting is a great way to learn more about the products you are selling and can eventually help you make more money because you will be able to offer more insights and recommendations to your guests so a wine win for all!
So remember anytime you are headed to a wine region to do some tastings make sure to bring your pay stub or at least some business cards from your place of employment!
Cheers!!!!