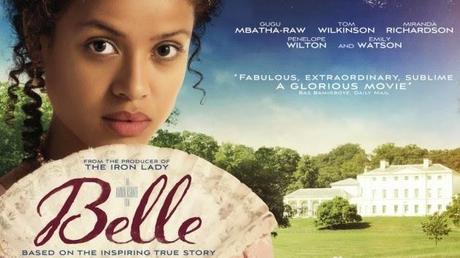 Out on DVD/Blue Ray today, 
Belle
is a movie inspired  by the true story of Dido Elizabeth Belle, a mixed - race woman raised by an aristocratic white family. Three times unlucky in the 18th century English society: Belle was a woman, a
mulatto
and an illegitimate child. 
The daughter of a Royal Navy Admiral and an enslaved African woman, Dido is brought up by the family of her great uncle, Lord Mansfield, in Hampstead, just north of London.
The family social standing affords Dido great privileges and she grows close with her cousin, Lady Elizabeth Murray. But Dido can never escape the color of her skin  and, therefore, never be on the same social standing as her adoptive family. When Lord Mansfield, the Lord Chief Justice, must rule on an important slavery court case, Dido and the idealistic young man she falls in love with, John Davinier, will help to shape his decision, thereby paving the way for the eventual abolition of slavery.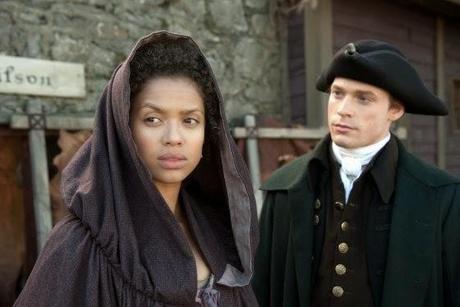 Gugu Mbatha-Raw as Belle and Sam Reid as John Davinier 
Misan Sagay - screenwriter -  was inspired to write Belle after seeing a painting of Dido and Lady Elizabeth Murray at Scone Palace in Scotland: 
"As writer and a black woman I was dedicated to finding these stories of other black women in a time when they had a voice"
Her screenplay was brought to life by British director Amma Asante and producer Damian Jones (The Iron Lady). 
In the cast: Gugu Mbatha-Raw as Belle, Tom Wilkinson and Emily Watson as Lord and Lady Mansfield, rising star, Sam Reid,  as Dido's husband-to-be, John Davinier, and Canadian actress, Sarah Gadon,  as Lady Elizabeth Murray. Miranda Richardson, Tom Felton and Matthew Goode have supporting roles. 
Amma Asante explained what makes her film unique and I agree with her:
"I've never seen a film about the Jane Austen elements we know so well  - the marriage market, the lives of girls growing up into society ladies, the romantic longing - combined with a story about the end of slavery. "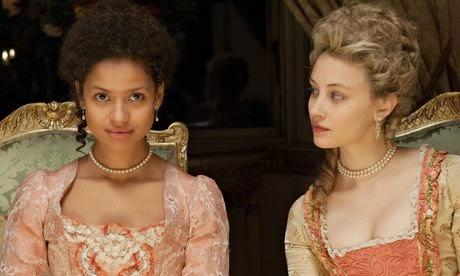 Watch a free 10 - minute preview
The real Dido
Dido Elizabeth Belle was the daughter of Rear Admiral Sir John Lindsay, a successful naval officer who was knighted for his role in the Seven Years' War (1756 - '63). It was during this conflict - a fight with France over colonies - that it is believed he first met Dido's mother, Maria Belle. How and where they met is unsure. Dido's baptism record suggests she was born in 1761. However it happened, Lindsey's fathering of Dido is rarely disputed. His obituary in the London Chronicle of 1788 reads:
"He has died , we believe, without any legitimate issue but has left one natural daughter, a mulatto who has been brought up in Lord Mansfield's family almost from her infancy. A term used to mean mixed race in the 18th century".
Dido lived at Kenwood House, an impressive stately home on the northern border of Hampstead Heath. Lord and Lady Mansfield had no children of their own and Dido was raised with Lady Elizabeth Murray, another great niece taken in by the couple after her mother's death. The two girls were of similar age and it is thought that they grew up close. 
The first real glimpse we have of Dido dates back to 1779, when she would have been 18
: "A black came in after dinner and sat with the ladies and after coffee walked with the company in the gardens, one of the young ladies having her arm within the other",
 writes Thomas Hutchinson, former Governor of Massachusetts, after visiting Kenwood.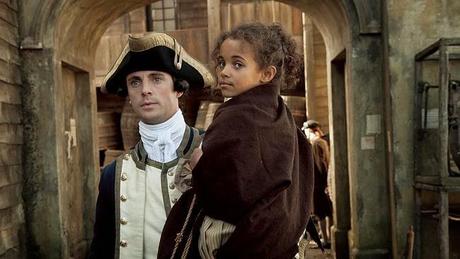 Neither her race nor her illegitimacy could be overlooked, and she would never have been considered Elizabeth's equal. In another of Thomas Hutchinson's observations, he describes Dido as a sort of  "
superintendent": "she was called upon by my Lord every minute for this thing and that, and showed great attention to everything he said". 
Dido and Elizabeth on canvas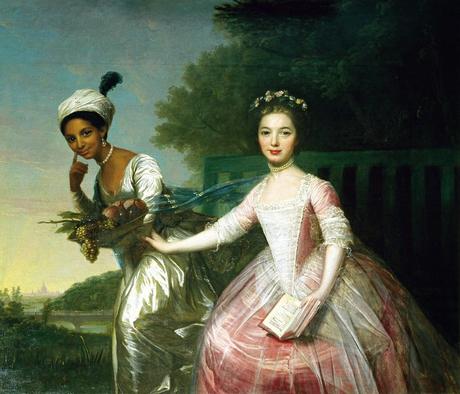 In 1779 Dido and Elizabeth appeared together in a famous painting often attributed to artist Johann Zoffiany. Dido is portrayed wearing a turban, carrying a bundle of exotic fruit. She looks vivacious and intriguing next to Lady Elizabeth, her cousin, who appears, instead, in a more formal pose. The painting now hangs at Scone Palace in Scotland. It belongs to the current Earl of Mansfield. It was one of the first portraits to show a black person on an equal eye-line with a white artistocrat.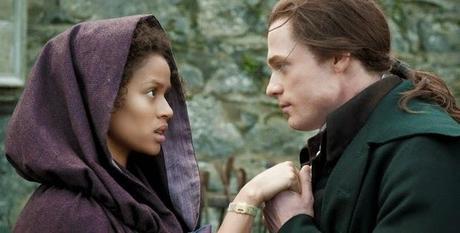 Mrs Davinier
Lord Mansfield was well aware of the need to legally protect Dido from slavery after his death. When he passed away in 1793, his will stated :
"I confirm to Dido Elizabeth Belle her freedom". 
 Dido left Kenwood House soon after and in December 1793 married John Davinier, a 

Frenchman who worked as a gentleman's steward, on 5 December 1793 at

St. George's, Hanover Square

.

Dido and John

 had at least three sons: twins Charles and John, both baptized at St George's on 8 May 1795; and William Thomas, baptized there on 26 January 1802.
Sadly Dido Belle Davinier died in 1804 at the age of 43.

This is a movie worth watching for the original perspective on Georgian England.  We well know that world and that society, thanks to classic novels like Jane Austen's or Georgette Heyer's. This movie deals with some of those familiar themes and issues, seeing them from a very original point of view, Dido's, and facing   themes which are unusual in those novels. I'm thinking of  England's slave trade or the abolition of slavery.
Interesting, visually beautiful, engaging and touching, Belle is a movie I want to recommend to all my Janeite friends and period drama  lovers.



Clips from the movie on Youtube:
Clip 1 - I Am Not an Unwanted Maid
Clip 2 - You Will Not Be Dining with Us
Clip 3 - Mabel and Breakfast
Clip 4 - Hair Combing
Clip 5 - You Are Beneath Him