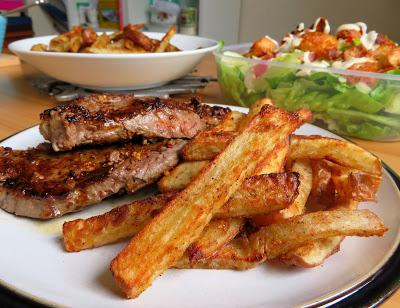 As I have often said and as anyone who has been reading me for a while knows, the potato is my favorite vegetable. I love them in any way, shape or form. One of my favorite of course is chips, or fries as they are also called, and the Perfectly Seasoned Chips/Fries are one of my favorite ways to prepare them.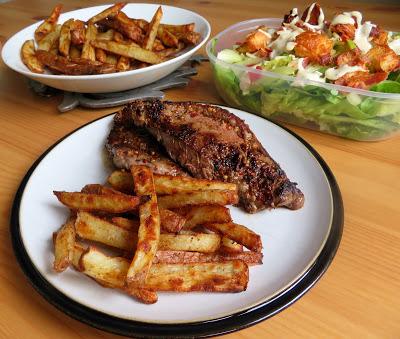 This recipe is a great way of enjoying chips without having to drag out the deep fryer and they turn out crisp and wonderfully favoured every time.  A little bit spicy and a whole lot of tasty!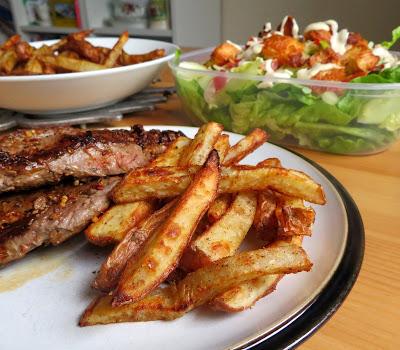 You will want to use a nice floury/baking/mashing type of potato for these. My mother always said you couldn't make mashed potatoes with new potatoes, and this is true. New potatoes are not ideal for mashed or baked or chips. They are too waxy and the consistency is just not right. You want a "fluffy" type of potato.  I recommend here in the UK that you use a Maris Piper, or King Edward. In North America a Russet. These will give you the best results.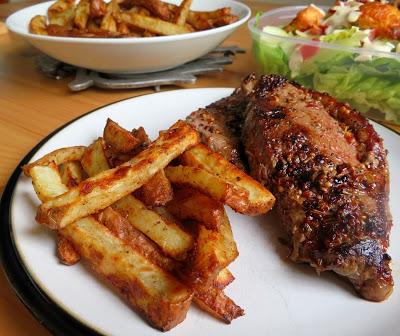 You can peel your potatoes or not as you wish. I love potatoes with the peels left on, so that's how we enjoy them. In a baked potato, my favorite part has always been the skin.  I mean  . . .  who doesn't enjoy crisp "Potato Skins" served with dip. Yumma Yumma!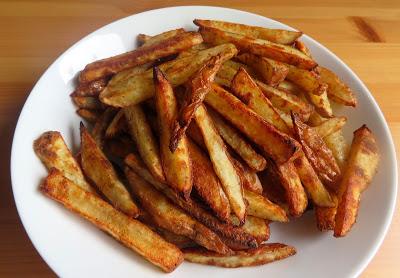 There is a little bit of faffing with these, but not as much as if you were deep frying and I promise you, you will enjoy these every bit as much.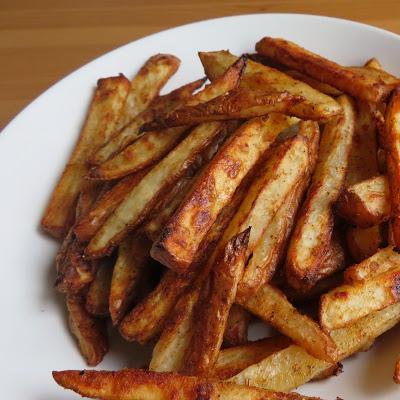 I like to cut mine into finger sized chips. No more than about a third to a half an inch in diameter. Skinny fries!  This size will give you the crispest chips!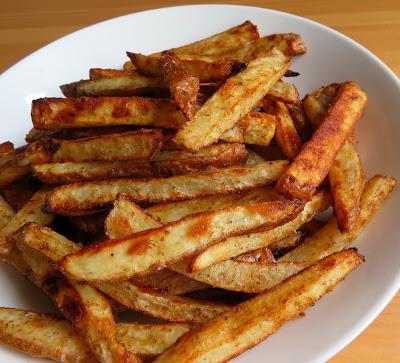 You need to rinse them really well under cold running water to get rid of any excess starch and then I like to soak them for about 10 minutes in cold water while I am preheating the oven and getting together the spices etc.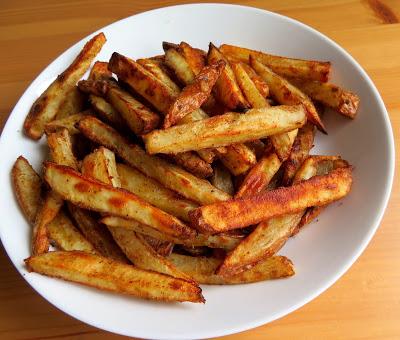 I make my own Old Bay Seasoning for this. (And for other things.) Its so delicious and such a simple thing to do.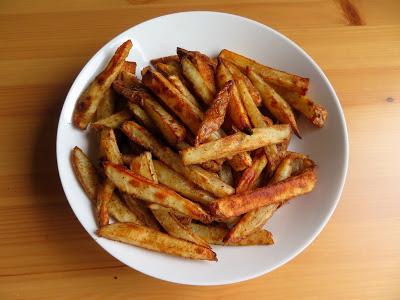 I use a light olive oil. Not extra virgin olive oil. I save that for salads. Light olive oil works very well.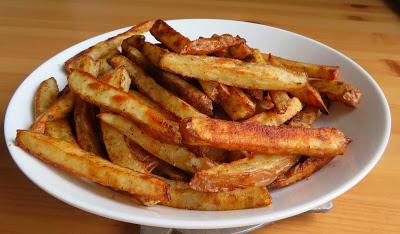 As you can see they turn out lovely and crisp.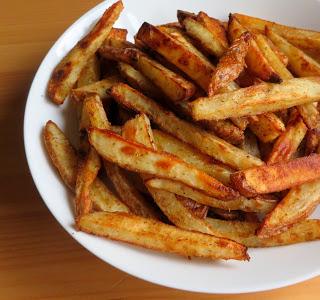 Beautifully flavoured as well.  I think this is the perfect mix of seasonings.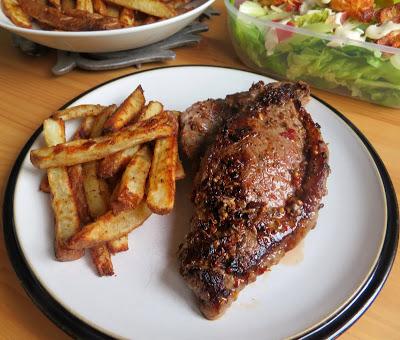 We really love to have chips with our steaks when we do have a steak. (We don't eat red meat very often and when we do I will either have a baked potato or chips.)  My friend Pat had sent me over some
Haupy's Beaver Rub/Seasoning
. Oh my but it is sooooo good. A little taste of home. Today I used this on our steaks.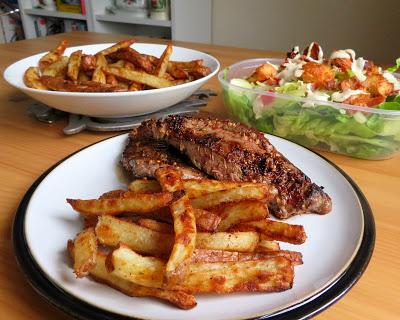 I also made us a simple Caesar Salad to enjoy with the steak and chips.  Caesar Salad is my favorite salad.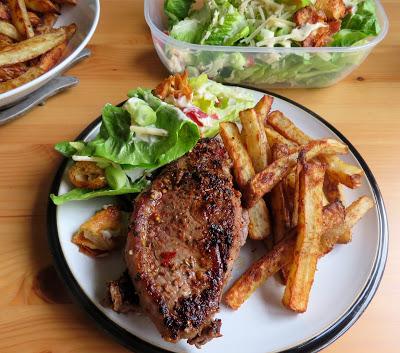 This was the best meal, as good as any you would get in a restaurant and not a lot of trouble to put together.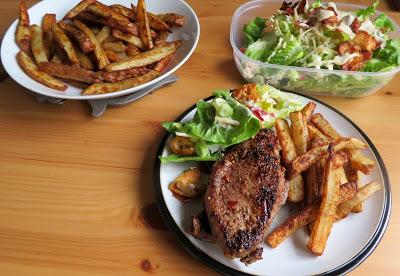 These chips are a lot better for you than deep fried chips and your house doesn't smell like a fat fryer when you are done.  That's one thing I really hate about frying . . .  I hate my house smelling like a chippy!  
Perfectly Seasoned Chips
Print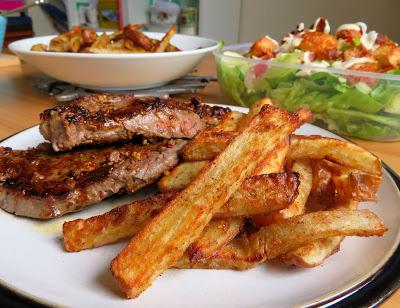 Yield: 4
Author:
Marie Rayner
prep time: 20 M
cook time: 35 M
total time: 55 M
These are crisp and perfectly seasoned. There is no frying involved as they are baked in the oven. You will need a floury type of potato for these, something like a Russett, Maris Piper, or King Edward would do, or a good all rounder. New Potatoes or waxy potatoes are not suitable.
Ingredients:
4 large baking type of potatoes (about 3 pounds)
3 TBS light olive oil
1 tsp smoked paprika
1 tsp garlic powder
1 tsp Old Bay Seasoning (see note)
1/2 tsp ground black pepper
1 tsp sea salt
Instructions:
Wash your potatoes and cut them into chips. I don't bother to peel them as we quite like the skins.  Rinse them under cold running water until the water runs clear to remove any excess starch, then leave them covered in a bowl of cold water for 10 minutes while you preheat the oven and make the seasonings.
Preheat the oven to 225*C/425*F/ gas mark 7.  Line two large baking sheets with baking paper.
Drain the potatoes and dry them well with a clean kitchen towel. Put them into a bowl and toss them together with the olive oil and the seasonings to coat.
Spread the potato slices out onto the baking sheets, leaving plenty of space around each for the air to circulate.  Place one sheet pan on the top rack and the other on the bottom rack and bake for 20 minutes in the preheated oven. Remove from the oven and flip them over. Return to the oven reversing the  top to bottom and bottom to top. Bake for a further 10 to 15 minutes until they are perfectly crisp. 
Taste and adjust seasoning as required. Serve immediately.
notes:
Make Your Own Old Bay Seasoning: Mix together 2 TBS Powdered Bay leaf (do this in a spice or coffee grinder) 2 TBS celery salt, 1 TBS dry mustard powder, 2 tsp ground black pepper, 2 tsp ground ginger, 1 tsp sweet paprika, 1 tsp smoked paprika, 1 tsp white pepper, 1 tsp ground nutmeg, 1 tsp ground cloves, 1 tsp ground allspice, 1/4 tsp cayenne pepper, 1/2 tsp ground mace, 1/2 tsp ground cardamom, 1/4 tsp ground cinnamon. Mix together well and store in an airtight container out of the light for up to 6 months.
Did you make this recipe?
Tag @marierayner5530 on instagram and hashtag it #EnglishKitchenCreated using
The Recipes Generator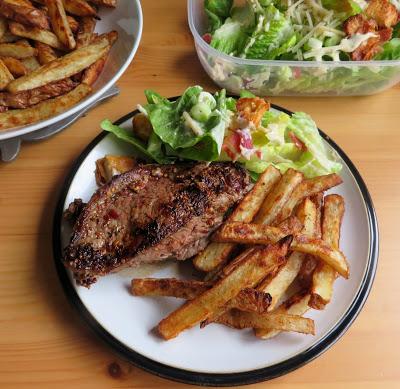 You really don't get much better than this! I hope you will give them a go and that you enjoy them. If you want your chips even crisper then by all means bake them for a bit longer. It all depends on how hot your oven runs!  Enjoy! 

Follow my blog with Bloglovin