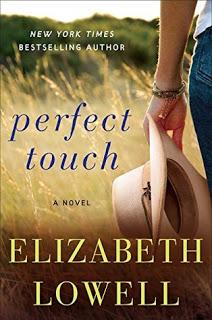 The queen of romantic suspense returns with a heart-racing tale in which a former soldier turned rancher and a beautiful designer race to stop a vicious killer—a battle for survival that threatens to explode in an intense and irresistible passion
An art dealer and owner of her own design studio, Perfect Touch, Sarah "Sam" Maddox travels the world to find the ideal artwork for her clients. Her sophisticated, comfortable life in San Francisco is light years away from the poverty of her family's dairy farm, and Sam will do whatever it takes to keep her business strong. A dedicated urban career woman focused on her work, she doesn't have time or energy for a family or distracting romantic entanglements.
Jay Vermillion recently inherited Vermillion Sky, a working ranch near Wyoming's breathtaking Grand Teton Mountains—and the estates of the rich and restless. While he was fighting in two wars, his father tried to keep the homestead running, until illness stole his fight and then his life. Jay's determined to restore Vermillion Sky, but first he's got to settle a vicious battle with his former stepmother over some of his late father's paintings. The last thing on his mind is a finding a wife and creating a sixth generation of Vermillions.
When Jay hires Sam to handle his father's artwork, it's love at first sight—a mutually inconvenient attraction that is soon complicated by a double murder at the edge of the ranch and a potential betrayal even closer to home. Working together to unmask a murderer, Sam and Jay try to fight the intense heat between them. Then the killer targets Sam. And suddenly, Jay, the war-weary soldier, finds something he's once again willing to die for . .
MY REVIEW: 


Perfect Touch: A Novel by Elizabeth Lowell
My rating: 5 of 5 stars
Perfect Touch by Elizabeth Lowell is a 2015 William Morrow publication. I was provided a copy of this book by the publisher and Edelweiss in exchange for an honest review.
This is romantic suspense written as it should be. Mystery, suspense, action, thrills, and of course romance, this one has it all, and the author does a great job of giving this story the perfect blend of all these elements, resulting a fantastic read.
This story features Wyoming cowboy and rancher Jay Vermillion who has just been awarded by a judge, all his father's paintings. This judgment has frozen out Jay's former step mother and his half brother, who are none too happy.
Enter art dealer Sara Maddox who has been hired by Jay to help him appraise the paintings and then sell them at auction. Sara is thrilled to have this opportunity, but she never imagines the ways in which her life is about to change.
The art world is always fascinating to me and it's obvious the author has a real appreciation for it and has done some research. Her insights into modern art were insightful and thought provoking.
One usually thinks of art galleries and studios in trendy or upscale parts of big cities, but the wide open spaces in Wyoming was where Jay's father did his best work, early in his career. But it's obvious from the beginning that Sara is only there to do a job , and can not wait to hightail it back to the big city of San Francisco, which is too bad because she and Jay have a chemistry that is so hot it needs a warning label.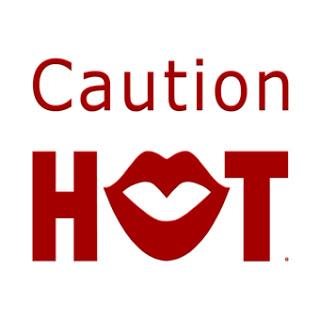 "But she still could enjoy the one hundred percent male standing only twenty feet away. Wonder if he's smart enough to add three and two and get five, or if he just coast along on his sheer presence"
I loved the Jay's cowboy persona and his loyalty to this way of life, his moral code, and unwavering sense of right and wrong, and his ability to see past the manipulations of this half brother and step mother, who is a real piece of work. Jay is the quintessential cowboy with the right amount of sensitivity and protectiveness which balanced nicely with the take charge side of him. His service in the war gives him some added toughness, but also some vulnerability. I fell in love with him "at first sight."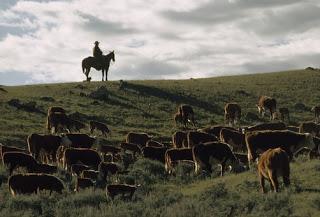 Sara escaped the country life and swore she would not find herself marrying a poor farmer and having a brood of kids, like her mother. So, while she is in Wyoming, she enjoys being with Jay, but both of them know Jay would never leave his ranch for life in the city and Sara will never leave the city for a life in the country. Is there any way they can somehow compromise in order to have life together?
The action really gets rolling toward the second half of the book and from that time on its non stop suspense as all the pieces of the puzzle regarding the paintings, especially one entitled "Muse", starts to click into place. There are some few unexpected twist along the way, and some edge of your seat suspense.
Elizabeth Lowell is a seasoned author with an impressive body of work, but at times over the years I have lost touch with her. I am so happy to have found this one and the well written story is just the type of romantic suspense I enjoy most. I loved the romance, mystery, the city/country conflict, the art, and the wonderful way everything came together in the end. 5 stars
Note: This is an ARC/ uncorrected proof- some of the names and spellings may be different from what you see in blurb or in the published version.
View all my reviews



GRAB YOUR COPY HERE:
http://www.amazon.com/Perfect-Touch-LP-Elizabeth-Lowell/dp/0062369768/ref=