Perfect peach pizza pie will wow your food seekers! The crunchy crust, warm sweet peaches and a scoop of vanilla ice cream is all heavenly!
Peach Pizza
Peach pizza! If you've never had it, get ready for a new culinary experience!
Fast Peach Dessert
While this recipe is one fast peach dessert, I have quite a few more than take little or no time!
Sour Cream Peach Cobbler
Upside Down Peach Pie Mounds
Southern Cinnamon Peach Pie
Peach Pizza Dessert
Pizza satisfies your sweet tooth with this peach pizza dessert. Simple and easy to make, it's perfect for last minute desserts. With hints of cinnamon the the extra crunch of the turbinado sugar, this dessert is perfect in a rush or as a last minute thing.
Peach Pizza Pie
Now a peach pizza pie is best cooked in a hot oven on a pizza pan. And, the best kind of pizza pan is one with holes in it. This allows the dough to cook more evenly.
Peach Flatbread
You could make this recipe into a peach flatbread dessert just be substituting flatbread, baked or in dough form You'd basically complete the recipe as is with only the flatbread swap for pizza dough.
Peach Dessert Pizza
Now there's nothing prettier and more impressive than a big slice of this peach dessert pizza. And, be sure to have plenty of vanilla ice cream or whipped cream because serving it on the warm pizza slice means tastes of heaven!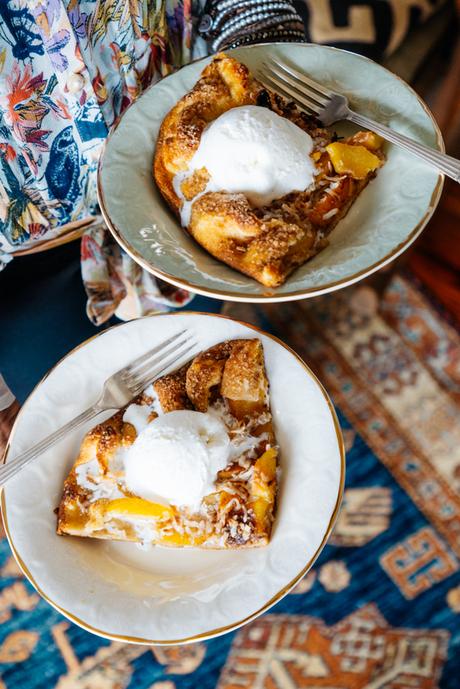 Ingredients
Preheat oven to 400
1 roll out refrigerated thin crispy pizza dough, slightly room temperature can substitute refrigerated pie crust
1 egg white
16 oz. frozen peach slices, slightly thawed
3 Tbl. turbinado sugar
1 tsp. ground cinnamon
¼ cup coconut, shredded and sweetened
OPTIONAL for Serving:
Vanilla Ice Cream
Whipped Cream or Whipped Topping
Instructions
Use a pizza pan, preferably with air holes in the pan.
Lightly coat the pan with cooking spray.
Roll out the pastry on the pan. Use a pastry brush and lightly coat the dough with an egg white wash.
Arrange the peach slices on the dough leaving about one inch from the perimeter.
Crimp the dough around the perimeter with the peaches.
Use some of the remaining egg white and coat the pizza dough. Discard any remaining egg white.
Combine the cinnamon and turbinado sugar. Sprinkle on the peaches and exposed dough. Sprinkle on the coconut for baking, sprinkle on after baking OR omit. Your choice.
Bake in a preheated 400 oven for 17 to 18 minutes or until golden brown crust.
Your sharing is GOLDEN! Thank you!
Your sharing and comments help me stay in business! Share a photo if you make the recipe #allyskitchen Thank you! xo Ally