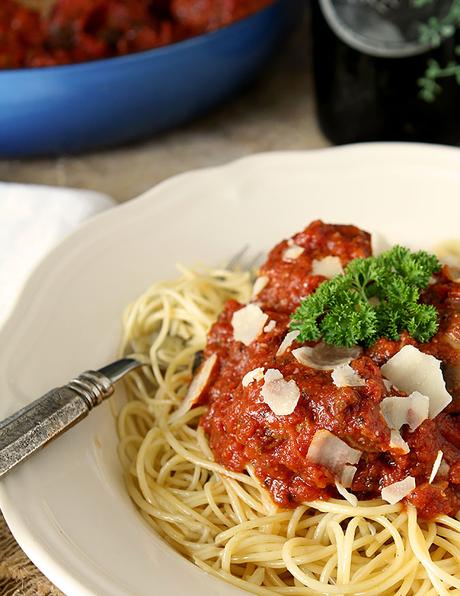 For the majority of my life, the only meatballs that ever graced a plate in front of me probably came out of a can...or maybe were frozen and thrown into some sauce before serving. And that was OK; I wasn't the one in charge and I didn't know any different and somehow I survived. Until I had one; you know, a REAL meatball.
Still, over the years I'm had better success at restaurants than at home and I've tried, I really have. But apparently not hard enough. I've seen people espouse the use of multiple types of meat and often those mixes included veal and I just couldn't go that route so I ignored them. So what changed; how did I end up with what I'm calling "Perfect Meatballs?"
It quite simply started a couple of years ago when I was putting some things away in the freezer and spotted two packages sitting next to each other. One was hamburger and one was Italian sausage. Knowing I already had some homemade spaghetti sauce in the fridge, my brain did a quick computation and I was inspired to use those ingredients to make some meatballs to pair with that sauce. I'm sharing them again today because when I made them this past week, I took the time to get some better photos and yes, they do look yummier!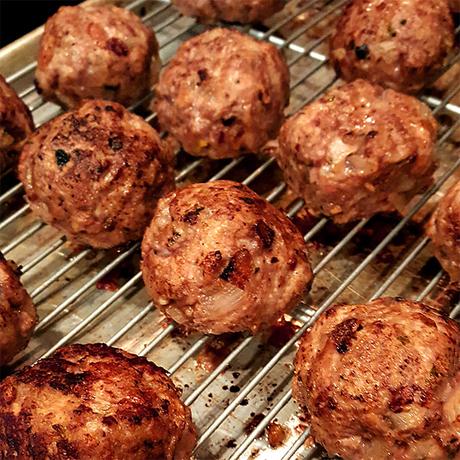 I didn't have a favorite recipe so did a quick search and found a recipe from Anne Burrell. She also include veal but I ignored it and enjoyed her suggestions for spices which includes some red pepper flakes. Not hot but a very slight suggestion of heat...I LOVE that, don't you? Anne Burrell drives me batty but I'll give her this...first, I love her name (says Barbara Anne) and yes, these are amazingly fabulous meatballs. Not having any breadcrumbs or desiring to dry out bread and make some, I substituted panko crumbs for the breadcrumbs called for in her recipe and it was so perfect that I think THEY need to be the norm.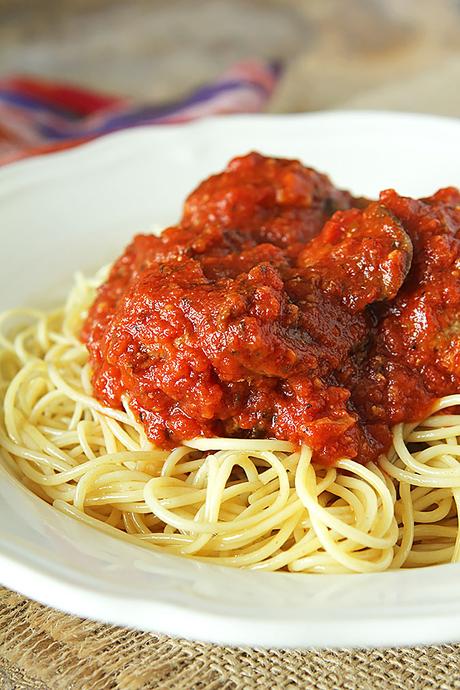 I mean so perfect I could have eaten them alone without spaghetti or sauce but I have to tell you that the classic Tomato, Butter and Onion sauce from the late, great Marcella Hazan that I had on hand was phenomenal with them. A simple sauce made from only those three ingredients, it was divine. Known and loved by many, it's a great recipe to have on hand when you want something easy and yet so tasty. With these meatballs. Heaven on a plate I tell ya!
I make meatballs a good size; I used a scale and measured them each at 2 oz; serving two per person was the perfect meal for everyone with the salad and bread. the range of single servings here. Each one was about 2″ in diameter and my two pounds of meat made 16; plenty to have some leftover meatballs to freeze for a quick meal another day.'As a matter of fact, next week I'm sharing the Meatball Sandwich we enjoyed with these...don't miss that either!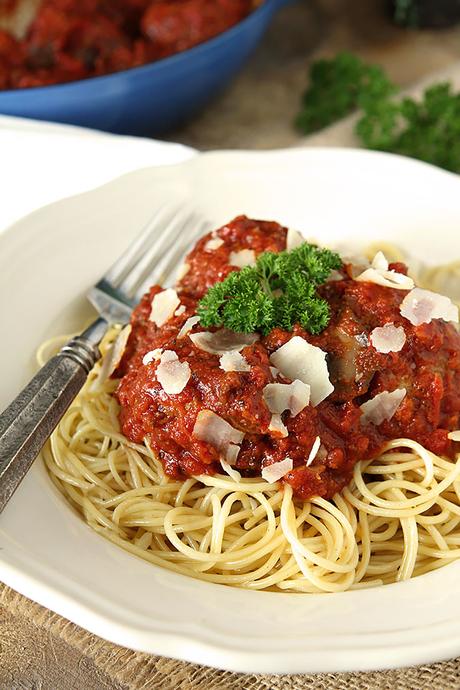 If you've already been combining ground pork with your ground beef to make meatballs; try the pork Italian sausage next time. I bet you'll enjoy it as much as we did. I added some mushrooms to the sauce and we loved the combination but I'm sure it's just as delicious if you are not fond of the fungi. Let me know though if you agree that these truly are the best meatballs EVER!