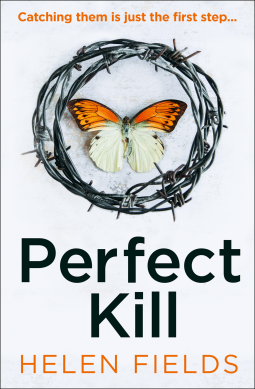 Alone, trapped in the darkness and with no way out, Bart Campbell knows that his chances of being found alive are slim.
Drugged and kidnapped, the realisation soon dawns that he's been locked inside a shipping container far from his Edinburgh home. But what Bart doesn't yet know is that he's now heading for France where his unspeakable fate is already sealed...
DCI Ava Turner and DI Luc Callanach are working on separate cases that soon collide as it becomes clear that the men and women being shipped to France are being traded for women trafficked into Scotland.
With so many lives at stake, they face an impossible task - but there's no option of failure when Bart and so many others will soon be dead...
Get ready for a rollercoaster ride like no other, with the next gripping thriller from the number one bestselling crime author, Helen Fields. The perfect read for fans of M. J. Arlidge and Karin Slaughter.
***
[At precisely the same time Bart was coming round from a chemically induced sleep, his mother was waking from a herbal insomnia remedy and wondering why the house was so quiet]
(@AvonBooksUK, 5 February 2020, 272 pages, paperback, #ARC from @AvonBooksUK and voluntarily reviewed, #BlogTour 16 February)
***
***
How have I never heard of this author before? I've clearly been living under a rock of some kind. Consider me better informed now. I had a great time reading this book, exactly the kind of thriller with mystery elements that I enjoy best. On a side note, I loved the cover. I was caught up in the story from the intense opening which immediately filled my head with a load of questions, some which weren't answered for most of the book. Sheer genius! The book appears to be about events, equally sinister that are gradually revealed to be linked in many gruesome and creepy ways. This made my flesh crawl all right. Another author to add to my quite massive must read list.