Pin
1
Share
Tweet
1

Shares
These Peppermint Brownies are so rich & fudgy, flavored with pure peppermint extract, and topped with luscious dark chocolate ganache. The paleo & vegan brownies are full of dark chocolate chips and cacao nibs. Big thanks to Sunfood for sponsoring this post!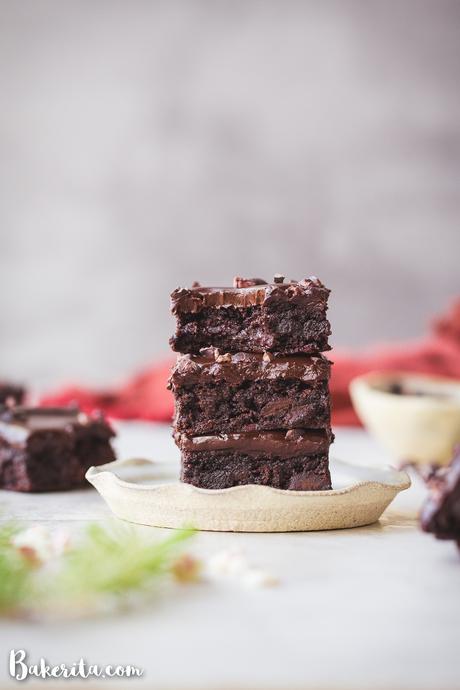 Lately, as we've been getting into the full swing of the holiday season, I've been seeing this older recipe for Peppermint Brownies blowing up and getting so many views. And well, I wanted them. But since they pre-date my days of eating and baking gluten-free, dairy-free, and refined sugar-free, the recipe wasn't exactly conducive to my current diet.
I figured a lot of you are probably into the idea of peppermint brownies too, but a new gluten-free, paleo, and vegan version, so I decided to make my vision come to life. Just as rich, fudgy, and minty as the OG peppermint brownies, but overhauled with my favorite healthier ingredients.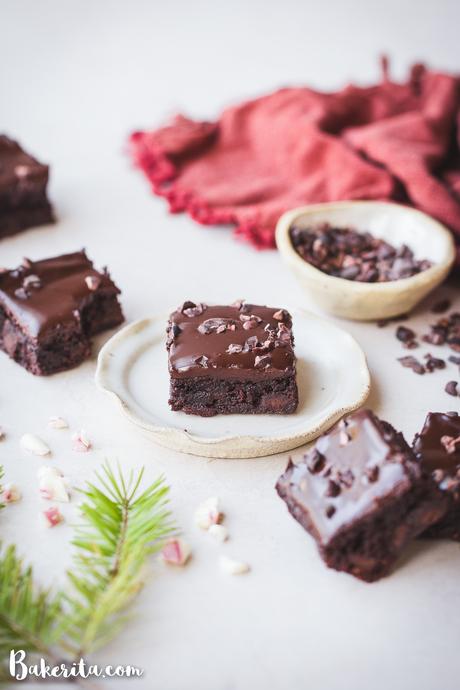 These use ingredients like unsweetened chocolate, coconut oil, almond butter, and coconut sugar to recreate the fudgy goodness of the originals while staying paleo & vegan.
In addition to the unsweetened chocolate, I used Sunfood's cacao powder & cacao nibs to keep them super rich and chocolatey. Sunfood's products are always organic and raw and of the highest quality, which translates into baked goods with the best taste & quality too.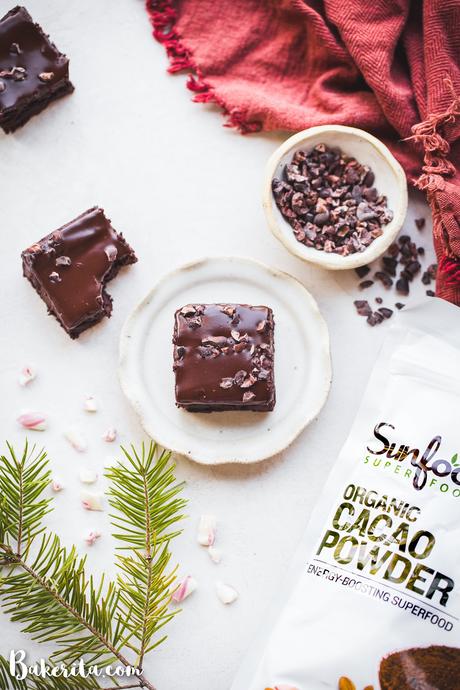 For that minty flavor, I use pure peppermint extract, which is different than pure peppermint oil, which is a lot stronger and not always food-safe. If you have a food-safe peppermint oil that you'd prefer to use, I'd recommend starting off with just a few drops, tasting, and adjusting from there.
For extra chocolatey richness, dark chocolate chips and Sunfood cacao nibs are mixed into the brownie batter. The chips add melty chunks and the cacao nibs add a bit of chocolate crunch.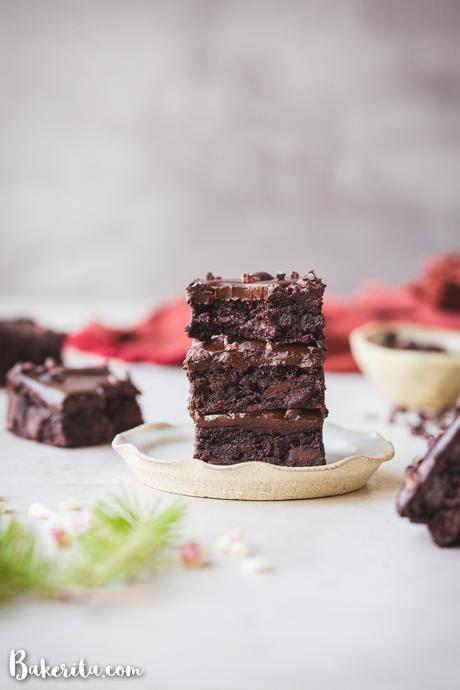 A luscious vegan chocolate ganache tops it all off, which is then adorned with more cacao nibs and if you'd like to be extra festive, some crushed candy canes. After a quick stint in the fridge, these Peppermint Brownies are fudgy and begging to be devoured.
One bite and you'll be in fudgy brownie heaven. Hints of peppermint, crunchy cacao nibs, and TONS of dark chocolate flavor – what more could you want? These are fudgy to the max and are SURE to satisfy your chocolate cravings. Enjoy!!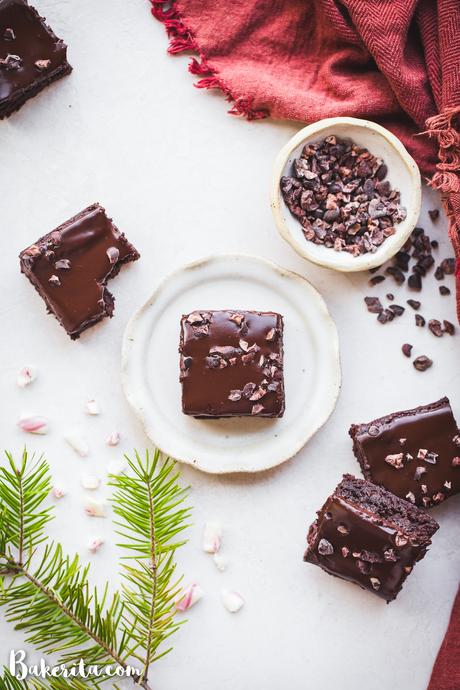 &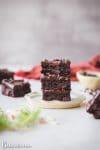 Print
Peppermint Brownies
These Peppermint Brownies are rich & fudgy with luscious dark chocolate ganache on top. The paleo & vegan brownies are flavored with pure peppermint extract and full of dark chocolate chips and cacao nibs.
Prep Time
15
minutes
Servings
16
brownies
Author
Rachel
Ingredients
For the brownies
2

oz.

unsweetened chocolate

chopped finely

3

tablespoons

(38g) refined coconut oil

⅓

cup

pure maple syrup

2

tablespoons

coconut sugar

½

cup

(128g) creamy natural almond butter

1.5

flax eggs

(1.5 tablespoons flax meal + 4 tablespoons water, whisk and let set for 10 minutes)

½

teaspoon

pure peppermint extract

1

teaspoon

pure vanilla extract

⅓

cup

(32g) blanched almond flour

½

teaspoon

salt

½

teaspoon

baking soda

½

cup

(3 ounces) dark chocolate chips or chunks

3

tablespoons

Sunfood Cacao Nibs
For the ganache topping
4

ounces

dark chocolate chips or chunks

¼

cup

full-fat coconut milk

Crushed candy canes

Cacao nibs
Instructions
For the brownies
Preheat oven to 350°F. Line with parchment and lightly grease an 8x8" baking pan.
Put the unsweetened and coconut oil in a large glass bowl and microwave for 30 seconds. Stir, and repeat until the chocolate and coconut oil are completely melted and smooth. Add the maple syrup, coconut sugar, and almond butter. Whisk until completely combined.
Add flax egg, peppermint extract, and vanilla extract to the chocolate mixture and whisk until combined.
Add the almond flour, cacao powder, salt, and baking soda to the chocolate mixture and once it's stirred in, fold in the chocolate chunks and cacao nibs.

Bake in the preheated oven for 20 to 22 minutes, or until a few crumbs are attached when a toothpick is inserted into the center, but it's not too wet. Place on a wire rack to let it cool completely.
For the ganache
Place the chocolate chips or chopped chocolate in a small bowl. Heat the coconut milk for 20 to 30 seconds until the microwave until bubbling. Pour over the dark chocolate and let sit for 1 minute before stirring until smooth. Spread evenly over the cooled brownies and sprinkle with crushed candy canes and cacao nibs.

Place in the refrigerator for at least 1 hour or until the ganache is set before cutting into 16 equal squares with a very sharp knife.
Store in an airtight container at room temperature for a few days, or in the fridge for up to a week.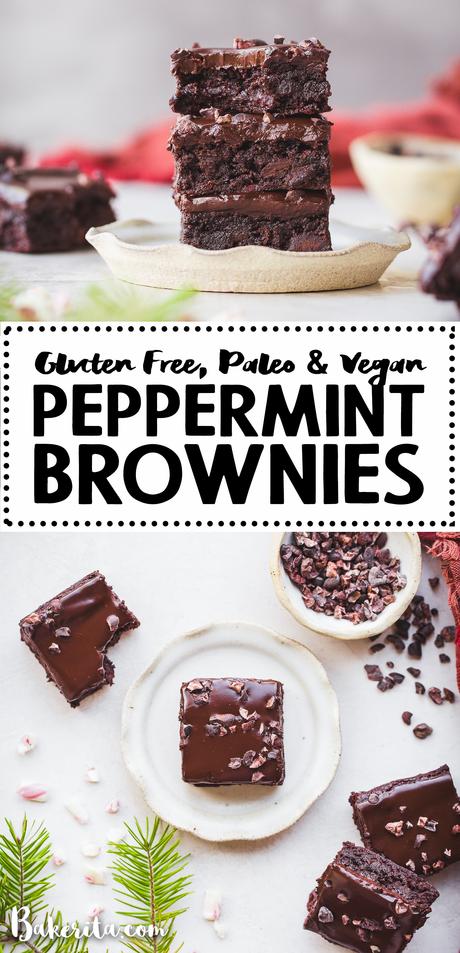 Related Posts
Cranberry Pecan Chocolate Chip Cookies (Gluten Fre...
Vegan Chai Latte (& Chai Spice Mix)
Gingerbread Cheesecake Bars (Gluten Free, Paleo + ...
Butternut Squash Soup with Cashew Cream (Paleo, Ve...
No Bake Layered Chocolate Pumpkin Cheesecake (Glut...
Vegan Broccoli Gratin (Gluten Free + Paleo)
Pin
1
Share
Tweet
1

Shares