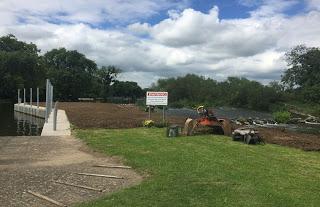 A view of the island when it was cleared as an emergency worksite.
It's full steam ahead for Avon Navigation Trust's plans for a wildlife sanctuary on a rescued river island, which will be fueled by people
 power after the charity missed out on a community grant.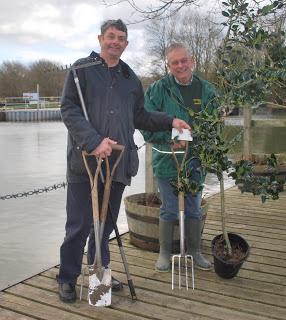 What a treemendous idea. Name a Tree project planter Chris Knight (right)
with Volunteer Chairman Paul Cronin and the commemorative tree to be planted in
memory of his mother Olwyn Cronin and parents-in-law Derrick and Celia Madgwick.
The gentlemen are pictured on The Angel Hotel mooring, overlooking the island.
Photo: Sue MacPhee.
The historic Pershore Lock Island will now also provide a lasting tribute to humans, thanks to the Trust's (ANT) merry band of multi-skilled volunteers.
Supporter Chris Knight has launched a Name a Tree project to give everyone the chance to commemorate a loved one in the special place.
The RHS-qualified gardener, who also asked for trees and compost instead of 70th birthday gifts, has already planted hundreds of bulbs and shrubs on the mid-river oasis, which it's hoped will become a magnet for visitors as well as wildlife.
"We have a great opportunity to turn what is now a blank canvas into something beautiful and rewarding," says the volunteer assistant Reachmaster at Pershore Lock, which has been a busy river conduit since 1639.
"It was shame that we weren't successful in the Aviva Community Fund but it helped to raise the profile of our project, which has now taken on a life of its own," adds ANT Chief Executive Clive Matthews, whose team is now casting about for new grant funding.
"The commemorative trees are a brilliant idea. Our volunteers are truly a force to be reckoned with."
The Trust also plans to build a hide and make the 3230 square meter island accessible to the public with the support of Pershore's The Angel Hotel, which teamed up with ANT last year to provide a mooring and landing stage overlooking the site.
"We have formed a strong partnership with ANT and we are delighted at the prospect of the new project," says Angel owner and Chief Executive Darren Eden.
"At a time when British wildlife is struggling, it is fantastic that ANT is taking this initiative, which will help make Pershore and our river an even more attractive destination for boaters and other visitors."
Talented volunteers cover more than 65% of the work on the river, freeing up the small ANT work team to tackle big engineering jobs, including the two natural disasters that prompted the wildlife haven project.
Its task force moved in swiftly to save the flood-damaged island in 2015 and was back last year when the island had to be cleared to become an emergency worksite after a winter tree fall rerouted the weir stream and blocked the navigation.
"Two near calamities left us with the opportunity to do something really worthwhile on a historic site, and what Chris has started is wonderful," adds Pershore Reachmaster Michael Hodges.
For Chris, it's simply a way to give back to the river on which he learnt to sail when he was 11. He's since sailed round some of the world's most exotic oceans, but the Avon has always been special.
"It's a beautiful river and volunteering on it is a joy, because everyone's happy to be here," adds Chris, who now lives In Alcester and keeps his 30" boat Crystal at Wyre Piddle.
He's one of 80 volunteers who tend the Avon's locks, overnight moorings and get even more hands-on in Volunteer & Recruitment Director Nick Farr's Patrol Officer and Mobile Volunteer teams.
"A few years ago, we were thrilled to get into double figures but numbers are continuing to rise as people find out what fun it can be," says ANT Volunteer Chairman Paul Cronin, himself a supporter for 20 years.
"We always need more and welcome everyone, boaters or not, to assist however they wish, whether that's helping visitors through a lock or getting down and dirty on maintenance work."
To find out more, please contact Paul at 

[email protected]

 and to discover how to dedicate a tree (at £35, for a tree, stake, compost and dedication label), please email ANT at 

[email protected]