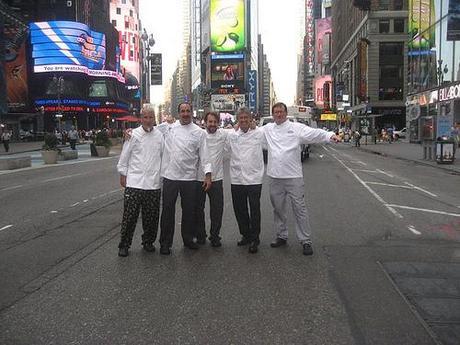 Pensacola Celebrity Chefs in New York City
Tonight The Pensacola Celebrity Chefs will visit the famed James Beard House in New York City, to share the culinary history and flavors of Florida's Gulf Coast.
This delicious event is hosted by Visit Pensacola and will honor the state's rich history and Viva Florida 500, which is a statewide campaign commemorating the 500th anniversary of Florida in 2013. Visit Pensacola joined forces with the five chefs in 2008, creating the Pensacola Celebrity Chefs program to highlight Pensacola's unique culinary offerings.
To celebrate Florida's upcoming 500th anniversary, the Pensacola chefs will present their culinary masterpieces to the The James Beard Foundation guests; Florida Governor Rick Scott, Pensacola Mayor Ashton Hayward, Collier Merrill and others. The menu will incorporate Florida's fresh coastal flavors, influenced by the state's Southern and Spanish cuisine.
On yesterday's MSNBC's Morning Joe with Joe Scarborough, Governor Rick Scott discussed Florida tourism and jobs. He said, "Come to Florida for the beaches and stay for the business!"
There will be a welcome home reception in Downtown Pensacola at Jackson's Steakhouse on Sunday, April 1, at 2 p.m. Each of the chefs will be on hand to meet, they will share stories from the event, and Chef Irv Miller will create a selection of appetizers.
Tickets for the Pensacola Celebrity Chefs Welcome Home Reception are $20 per person and are available to purchase by calling Jackson's Steakhouse at 850-469-9898.
Below is the menu that the Pensacola Celebrity Chefs prepared for The James Beard Foundation dinner: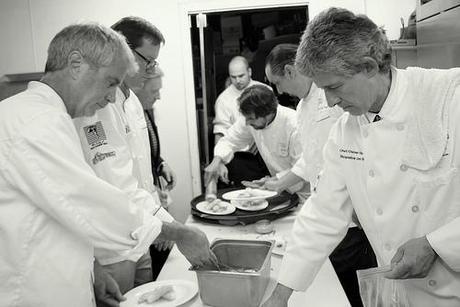 Pensacola Celebrity Chefs Preparing Dinner
Starters
Cracked Conch & Green Tomato Fritters with Key Lime Mustard Sauce
Farm-raised Turtle Soup with Mirliton & Bay Shrimp Relish
Tuna Tacos with Salsa Verde, Manchego Cheese & Pickled Jalapeños
Pensacola Bay Shrimp with Rosemary Worcestershire Barbecue Sauce and Lightly Fried Artichoke Bottoms
Caramelized Calico Scallop Skewers with Crispy Slab Bacon, Sweet Peppers and Spicy Piccalilli Jus
Dinner
Gulf Red Snapper with Stewed Collard Greens & Roasted Corn – Red Pepper Beurre Blanc
Housemade Seafood Boudin Blanc – Stuffed and Pecan and Country Ham – Crusted Softshell Crab
Grilled Cobia with Sautéed Mustard Greens, Field Peas, Preserved Florida Lemons, Spoonbread, and Smoked Ham Hock Sauce
Sautéed Gulf Grouper on Cantonment Stone-Ground Grits Cake with Cedar Key Clams, Housemade Chorizo, Tomatoes, Jalapeños, and Black-Eyed Peas
Carpet Bag Steak – Seared Snake River Farms Flatiron Steak – Wrapped Fried Apalachicola Oysters on Baby Greens with Maytag Blue Cheese Cream and Caramelized Vidalia Onion – Green Chili Pepper Relish.
Dessert
Warm White Chocolate Bread Pudding with Candied Pecans and a Fig Bourbon Sauce.
If you can't make it to the reception, be sure to visit the following restaurants of these participating Pensacola Celebrity Chefs: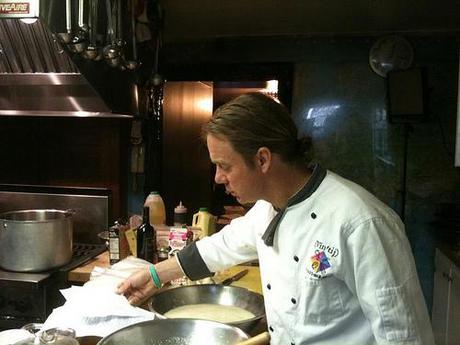 Executive Chef John Jacob of Vintij in Miramar Beach pitching in to help he team
Information about the culinary event and Pensacola's Celebrity Chefs can be found on PensacolaCelebrityChefs.com