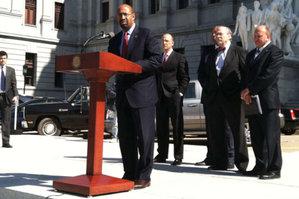 Philly.com reports
That, the mayors fear, would be the consequence of bills pending in the state House and Senate that would penalize municipalities for enacting gun-control ordinances that go further than existing state law.
Nutter, along with the mayors of Chester, Lancaster, and Allentown - all cities which, like Philadelphia, now require gun owners to report lost or stolen weapons - spoke against the legislation at a news conference and met privately with legislators to urge them to reject the bills.
The pro-gun crowd often ridicules the suggestion of reporting stolen guns as something useless. I completely agree with that. What's needed to make it effective are sanctions. If gun owners had to pay, say a thousand-dollar fine, for each stolen gun, they'd be more careful about safe storage.
Safe storage laws are problematical because it's all about what happens inside a man's home. But, making them pay for abetting the thieves, would have a positive impact.
Well then, in that case, no one would report the stolen gun, you say?  There's an obvious solution for that. Registration of guns. If guns were registered to specific licensed owners, those owners would be responsible for them in a way they aren't today.
In this way, one of the major supply chains of guns flowing from the legal world to the illegal world would be severely diminished.
What's your opinion?  Please leave a comment.