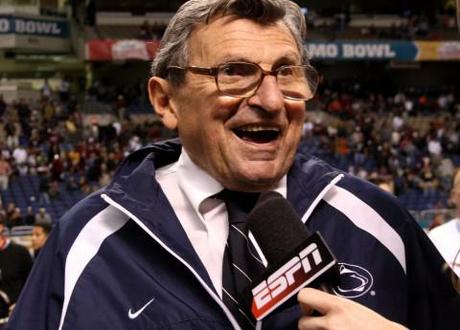 Joe Paterno talks to ESPN after the Nittany Lions defeat Texas A&M in the Alamo Bowl, December 29, 2007. Photo credit: PennStateLive, http://www.flickr.com/photos/pennstatelive/4951295707/in/photostream/
When Pennsylvania State University fired legendary football coach Joe Paterno amidst the deepening child sex abuse scandal rocking the institution, he responded by contacting an ace criminal defence lawyer.
Penn State students, however, responded by rioting.
The Big Ten football institution was thrown into turmoil after former defensive line coach Jerry Sandusky was arrested on November 5 on 40 criminal charges related to the sexual abuse of eight young boys, one as young as 8 years old, for a period of at least 15 years. Two top university officials, athletic director Tim Curley and senior vice-president for finance and business Gary Schultz, have been charged with failure to report the crime.
The grand jury indictment of Sandusky also states that a graduate assistant saw the defensive line coach raping a young boy in the locker-room shower and told Paterno, who told his superiors, but failed to inform authorities. Paterno has not been charged with anything, but has contacted a high-powered criminal defence lawyer to potentially represent him; he was sacked on Wednesday by the Penn State board of trustees, after they determined it was "no longer in the school's best interest" for him to remain coach. The school's president, Dr. Graham Spanier, was also fired.
On Wednesday night, thousands of Penn State students took to the streets in a rage, overturning a television news van, lighting fires and chanting "One more game!" in protest of the Board's treatment of Paterno. Those riots are likely to be seen again this weekend, when the Nittany Lions play their last game of the season. Observers were shocked and appalled – is this putting football before justice?
The Huffington Post has pulled together a timeline of Sandusky's career and this scandal.
The great JoePa not so great. Joe Paterno, 84, is a legendary figure in college football, the winningest coach Division I history and a man who, after 46 years at the helm of the Big Ten Conference team, is strongly identified with Penn State's identity. But he doesn't need "your stupid excuses" or defence, Michael Schottey at sports blog Bleacher Report declared: "The simple fact is that young boys were raped by a sexual predator and Paterno helped sweep it under-the-rug. … This scandal does not diminish the other great things that Paterno has done. However, it does diminish how the outside world will view Paterno as a whole. Paterno was not fired because everyone forgot how great of a football coach and humanitarian he is. Paterno was fired because he helped cover up a pedophilia scandal, and that is inexcusable."
Like the mafia. Paterno is just the most visible figure in this whole shameful mess – it's the whole college athletics system that's the real problem, Buzz Bissinger blasted at The Daily Beast: "What happened, or more accurately did not happen, goes to the core of evil that major college sports programs in this country have become, equivalent to Mafia families in which the code of omertà rules and coaches and staff always close ranks around their own, even if it means letting someone who was first accused of inappropriate sexual conduct in 1998 continue to roam."
Bigger problems. Jennifer Doyle, writing at The Guardian, agreed and added that the rot at the core of the college sports system is part of a much bigger problem, the culture of silence and cover-up of sexual assault and other crime that pervades the American university system. "It is easier to rally around Paterno as some sort of fallen hero than it is to confront the architecture of shame that underpins the institution within which he worked."
What do the riots say about college football? Nothing good, Mark Guarino noted at The Christian Science Monitor. College football in America is not only a national obsession, but big business as well; the riots at Penn State have some wondering if college sports hold too much sway over universities. Sports observers who spoke to Guarino claimed that the riots represented the "warped moral atmosphere" of athletics-driven colleges, where tribalism engenders a cult-like atmosphere and tendency towards hysterical protectionism. The National Collegiate Athletic Association (NCAA), college sports governing body, currently has no policy in place to curb the troubling insular attitudes of big sports schools and, given its lack of response to the Sandusky scandal, it's not likely put something in place.
Moral cowardice. Echoing the reactions of many people across the US, Mike Jones at local news site Patch.com was sickened not only by the horrific details of Sandusky's crimes, but also by the institutional reaction to them: "What disgusted me was the endless number of people who could have stopped the abuse throughout the years and either did nothing or passed the buck to someone else." It wasn't only Penn State top brass who failed, but law enforcement as well – from the school's police department who closed the case on an earlier complaint against Sandusky to the Centre County District Attorney who decided not to prosecute Sandusky, despite evidence that he had at least showered with one young boy. "It is a sad story of cowards with a lack of moral courage."
The political ramifications. The Penn State scandal isn't just playing out at a local level – it's ripples are being felt throughout not only Pennsylvania's political class, but throughout the US as well, Politico.com observed. The federal Department of Education is now conducting its own investigation into how the school handled the case against Sandusky, while White House spokeman Jay Carney is fielding questions from reporters about what the Administration thinks of the scandal.
Ashton Kutcher defends Paterno on Twitter. Film star Ashton Kutcher took to Twitter to defend Paterno; and then soon realized that maybe he ought to take a break from mouthing off on Twitter.