Just when your fishing skills are getting better and you want to get even better, you realize that the beginner-level cheaper reel is not up for a challenge. Apparently, it is not just the beginner-level reel that's stopping your progress but the price of the higher-end ones too. Even though you are improving, you are not yet at a level to spend so much on a reel that you could ruin in just a second with one of your wrong moves.
Luckily, for fishermen like you, there is one among a few other reels available that does not just fall under an affordable price range but has a quality and performance similar to the higher-end ones. Even the more expensive ones sometimes do not live up to its mark. This intermediate level yet reasonably priced reel is the Penn Slammer III series.
Now, the Penn Slammer 3 review should tell you all you need to know about this reel to check its compatibility with you.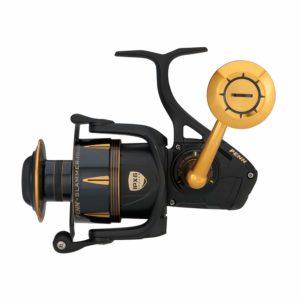 Click Here To Check Today's Price on Amazon
Penn Slammer 3 Features:
What makes the Penn Slammer III both different and similar to other reels that exist in the market are its features. Here's a clear breakdown of the features:
The first thing to know about this amazing reel is its all-metal, powerful and durable body. Apparently, the reel has an aluminum body, side plates, and rotor. The aluminum in the construction gives it a weight that is not very light but is not heavy to hinder performance either.
In fact, you will feel really good using this reel when you attach it to a rod because the weight gives you just the right amount of balance. Apart from that, the Penn Slammer III is available in eight different sizes ranging from 3500 to 10500. The 10500 is the largest and the most powerful.
The greatest enemy for saltwater reels is saltwater and the environment itself. One of the main judgment criteria for saltwater reels is its resistance to corrosion. Now, if saltwater cannot even enter the reel, rotor or drag system, how can it harm the reel?
Luckily, it cannot. The Penn Slammer III has an IPX6 seal system around the rotor, drag system and other important parts that protect the whole reel from the corrosion be saltwater. In fact, you can even submerge the reel under water for a while (even though it is not recommended) and you will find that the reel works just fine even after that. So, splashes and other minor regular things are a piece of cake for this reel.
Read: Best Spincast Reels Reviews 2019
When it comes to capacity the Penn Slammer will just amaze you. Let us just give you a glimpse of the maximum capacity of its largest size to give you a good idea of its capacity. Apparently, the 10500-size can accept around 435 yeards of 30 lb monoline and 780 yards of 65 lb braid line. Isn't that something?
Apart from that, when you are fighting a fish that is running too far using a lot of lines, you might feel that you are running out of line. However, you can instantly check how much line you have left as the reel features a line capacity ring that keeps you updated on that!
Also, the spool is line ready so you do not have to face many difficulties when spooling. However, you might need to align them correctly a bit manually.
What makes the Slammer III even great is its high-quality drag system that is actually used by Penn in its more expensive models. You will never run out of power to drag those big fishes in. Whatever the weight of your target, Pen  Slammer will provide you with a higher level of drag for it.
In fact, even it's the smallest size the 3500 one has a maximum drag of 30 lbs. Can you guess what the drag of the larger ones will be? Apparently, the 9500 and 10500 models have a maximum drag of around 60 lbs.
One problem you might face with the smaller models is a too tight drag that is not needed for the target species. Apart from that, the system features two large carbon washers that keep it in good condition and gets it moving smoothly.
The CNC gear system that this reel feature is what will keep the whole reel working super smoothly. Apparently. You will love the smooth retrieves and casts.
Stainless Steel Bearings.
The reel features 6+1 stainless steel bearings that are of high-quality themselves and also keep the flow of the reel smooth and powerful.
Read: Shimano Thunnus 12000 CI4 Review
You might be surprised and confused about the larger handle this reel features. However, the size perfectly fits within your hands and the shape makes it feel very comfortable and proportionate.
Click Here To Check Today's Price on Amazon
Penn Slammer 3 Review: Pros and Cons
Pros
The sealed system keeps the saltwater out and makes the reel last against corrosion.
Even with regular splashes and maintenance, the reel performs as smoothly and strongly as it first did.
Provides a good balance in weight.
Great line capacity.
Lets the user know if the spool is properly lined and the amount of remaining line.
Extremely smooth in operation.
Smooth and accurate casts and retrieves.
Powerful enough to deal with any big fish.
Comfortable handle.
Offers great value for money.
Cons
The drag may seem too tight for the smaller models and it may not be suitable for the target fishes.
Aligning the lines correctly is better done manually.
A part of the handle often comes off.
Requires a bit of maintenance.
Not very lightweight.
Penn Slammer 3  Frequently Asked Questions:
Is the 10500 model suitable for catfishing?
Answer: If you want to rip the catfish out of the water at high speed then yes. However, a 6500 size of the Penn Slammer 3 can comfortably bring the catfish to you. The 10500 size is so strong that you can reel in shark and Tuna with it without effort.
One thing you should keep in mind is that each of the sizes provides you more power than you actually need.
Does it have an automatic or manual bail system?
Answer: The larger models feature manual bail and the smaller ones feature automatic ones. Usually, the sizes from and 6500 feature manual bail system.
Conclusion:
Finally, that was our Penn Slammer 3 Review. Yes, it made it to our best saltwater spinning reel list too. Now that you know all the features and if you compare it with the Pen Slammer IIIs's price, you will clearly see how it is a great bang for the buck! You do not usually win so much with so little. There might be a few minor problems and even rare quality issues but those are nothing compared to what this reel actually offers.
Now that you know the Slammer well through the Penn Slammer 3 review, it is time for you to know you and your targets better. Find out when this not-so-big expenditure will not cause a problem and order this piece of delight.
Click Here To Check Today's Price on Amazon