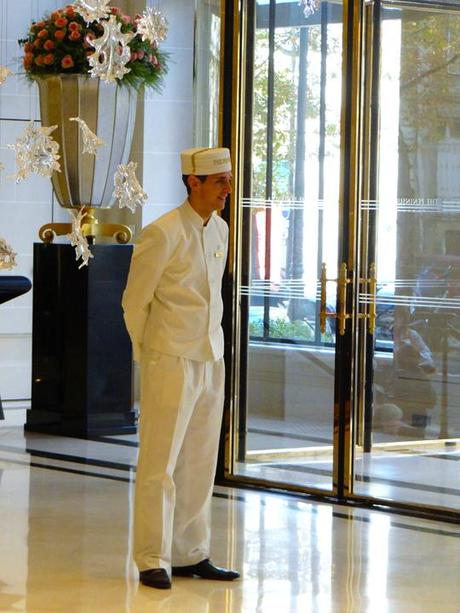 I was invited twice to the new Peninsula Hotel Paris opened last August. First I was invited for a tour of the hotel and the second time to have lunch with the head of communications.
The hotel has a storied past: Built in 1906 as the Hotel Majestic, an original grand hotel of Paris, it is where George Gershwin wrote An American Paris in 1928. During WW II the hotel was the headquarters of German military high command and from 1946 to 1958 it was UNESCO headquarters. In 1973 the historic agreement to end the Vietnam War was negotiated by Henry Kissinger at the hotel during the Paris Peace Accords.
I was impressed with the centerpiece of the airy lobby, a hanging sculpture of 800 delicate Lasvit Crystal leaves individually hung by craftsmen from the Czech Republic. The 338 million euro gut renovation of the hotel took four years and lead by Richard Martinet of Affine architecture with the interior design by Henry Leung of Hong Kong-based Chhada Siembieda & Associates Ltd.
I was shown a few of the 34 luxury suites, which are some of the largest out of any hotel in Paris. One suite had a walk-in closet about the size of my bedroom, and the bathroom with a black onyx bathtub in the center made me want to soak in the tub on the spot.
The rooftop restaurant, L'Oiseau Blanc was super cool with handsome Art Deco inspired decoration and furniture. Taking on an aviation theme, the name is derived from the bi-plane, which made the earliest attempts at a trans-Atlantic crossing, and the restaurant has a full replica hanging off the roof.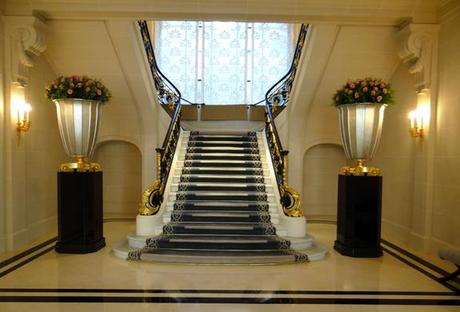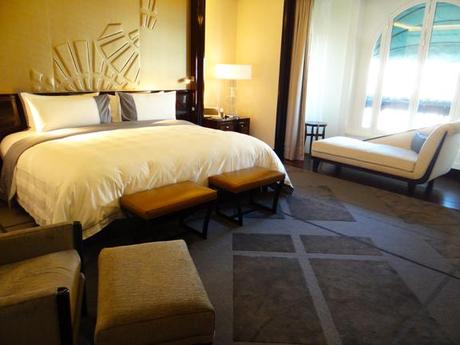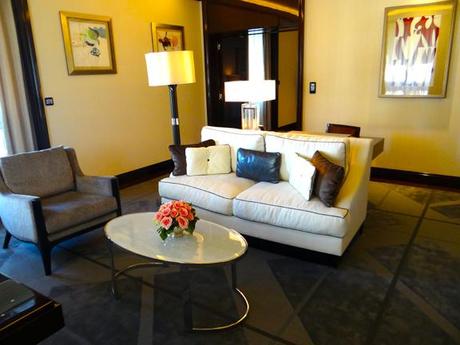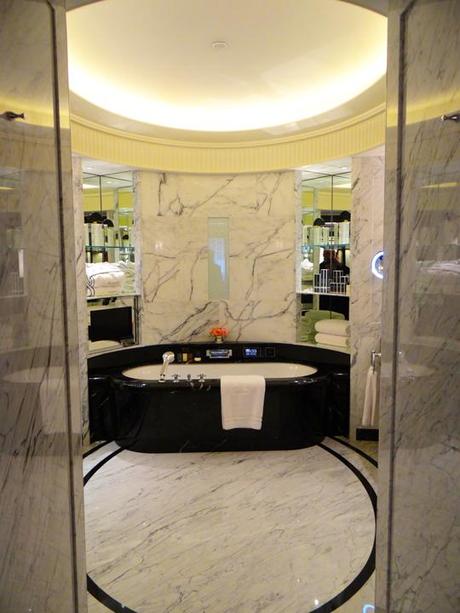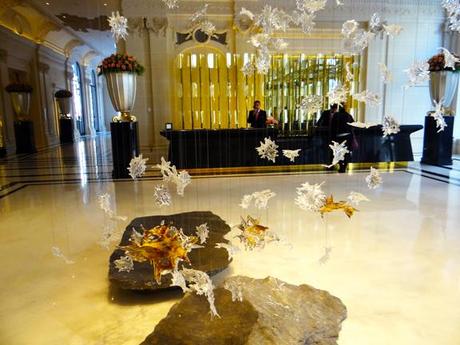 The décor of the Lili restaurant is like a movie set from Shanghai in the 1930s with red drapes, high ceilings, blue crystal chandeliers, and Chinese carvings. The restaurant serves traditional Cantonese cuisine including dim-sum with Chef Tang Chi Keung from Hong Kong at the helm. Lili is bringing in the Chinese New Year with a bang by offering a six course tasting menu of typical Hong Kong specialties including abalone, lobster, and king crab and a haute couture fashion show by designer Xu Ming, who designed costumes for the Beijing Olympics in 2008.
 Lunch was at the lobby restaurant, sumptuously classic French dining room. A starter of crayfish ravioli with Brussel sprouts in a seafood bisque was hard to top and the chicken in a hazelnut and chestnut crust ran a close second in the delicious department. I had a hard time choosing dessert and Anne Sophie, the communications director, said hands down the cream puff with vanilla and hazelnut was a must and she didn't steer me wrong. The lobby restaurant extends out the terrace, the largest in Paris, overlooking the Ave. Kleber.
 A special treat was having an aromatherapy massage at the spa. After confirming my appointment at the front desk, I was escorted to a lounge area and offered a cup of calming tea. I then went to the changing room and slipped into a plush white terry robe and slippers. The massage therapist asked a number of questions about my health and if I had any special issues or concerns. She offered two types of aromatherapy oil and I chose the more invigorating one. After a few moments of her strong hands kneading my body, I fell into a deep sleep. Before I knew it, she gently woke me and said to take my time in getting up. Afterward I experienced something I never had before in a luxury spa: I was escorted to a special relaxation room which had chaises with vibration settings on them, and served fresh fruit and fruit juices, and Madeleines. I relaxed for a few more minutes before getting dressed and going out in to the cruel January weather again.
The Peninsula Paris
19 Ave. Kleber, 75116
http://paris.peninsula.com/en/default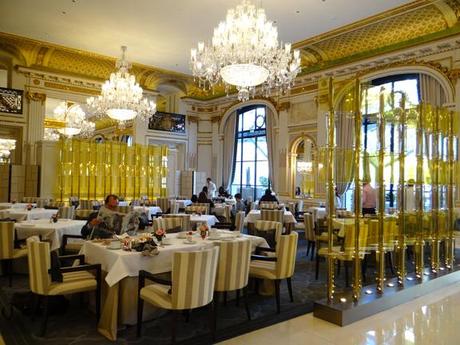 Lobby Restaurant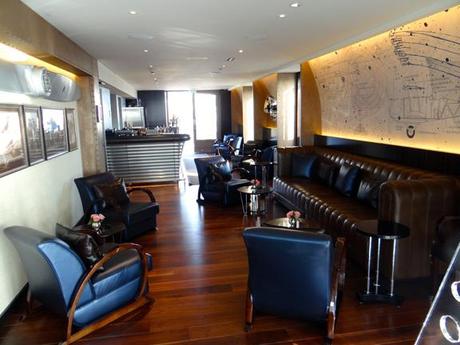 L'Oiseau Blanc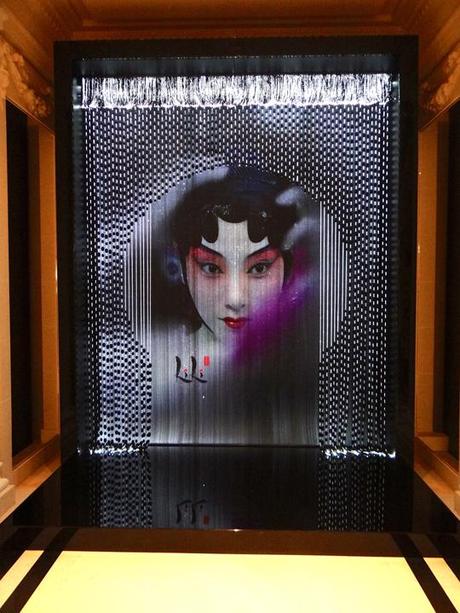 Lili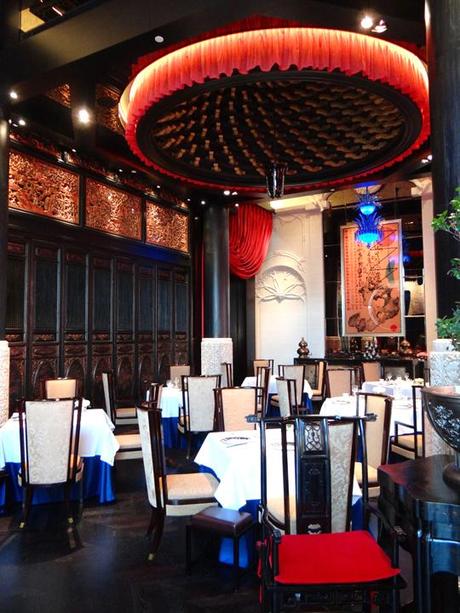 Lili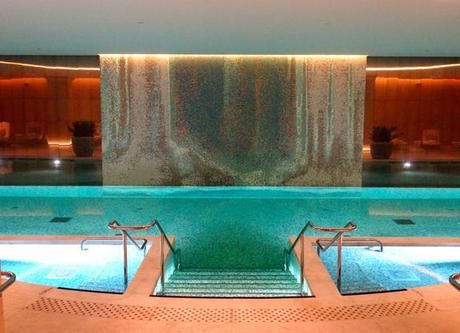 The spa pool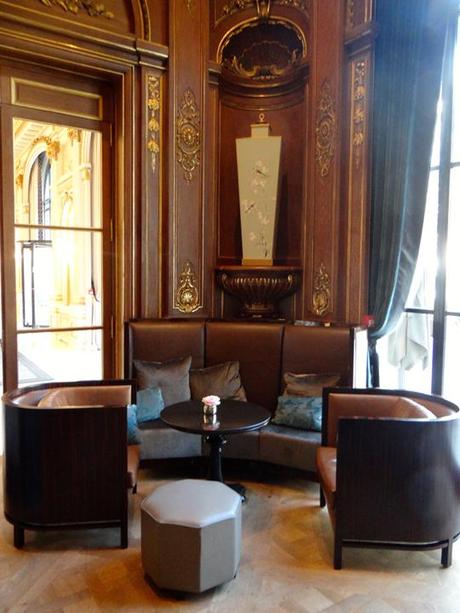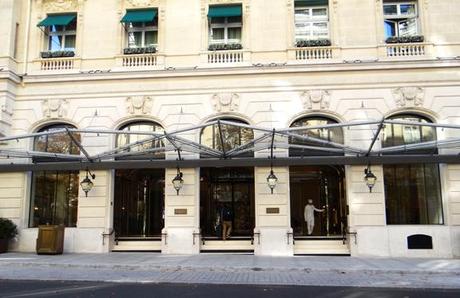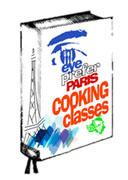 New! Eye Prefer Paris Cooking Classes
I am happy to announce the launch of Eye Prefer Paris Cooking Classes. Come take an ethnic culinary journey with me and chef and caterer Charlotte Puckette, co-author of the bestseller The Ethnic Paris Cookbook (with Olivia Kiang-Snaije). First we will shop at a Paris green-market for the freshest ingredients and then return to Charlotte's professional kitchen near the Eiffel Tower to cook a three-course lunch. After, we will indulge in the delicious feast we prepared along with hand-selected wines.
Cost: 195 euros per person (about $240)
Time: 9:30AM- 2PM (approximately 4 1/2 hours)
Location: We will meet by a metro station close to the market
Class days: Tuesday,Wednesday, Thursday,Friday, Saturday, and Sunday
Minimum of 2 students, maximum 6 students.
Click here to sign up for the next class or for more info.
 

Come experience Eye Prefer Paris live with Eye Prefer Paris Tours, which are 3-hour walking tours I personally lead. Eye Prefer Paris Tours include many of the places I have written about such as small museums & galleries, restaurants, cafes, food markets, secret addresses, fashion & home boutiques, parks and gardens and much more.  In addition to my specialty Marais Tour, I also lead tours of Montmartre, St. Germain, Latin Quarter, in addition to Shopping Tours, Gay Tours, Girlfriend Tours, Food Tours, Flea Market Tours, Paris Highlights Tours, and Chocolate & Pastry tours.
Tours start at 225 euros for up to 3 people, and 75 euros for each additional person. I look forward to meeting you on my tours and it will be my pleasure and delight to show you my insiders Paris.
 Check it out at www.eyepreferparistours.com 
Click here to watch a video of our famous Marais tour