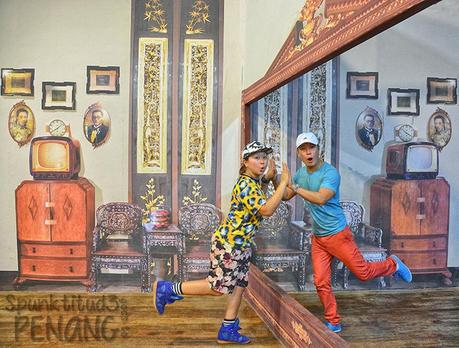 Mirror, Mirror on the Wall…why is my reflection most hideous of all?!
Having fun with trickeye photography at Made in Penang Interactive Museum
On our recent trip to Penang, Darren & I checked out one of Penang's latest attractions, Made in Penang Interactive Museum. Now visitors to Penang can have an additional place, other than its renown street art, to pose for while learning a bit about the city's history.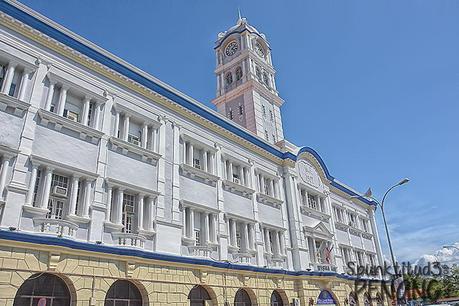 The museum is within the vicinity of the Clan Jetties further up from the Weld Quay Bus Terminal, you can plan to visit these two attractions in a day. You will pass by an open-air car park beside this clock tower as you walk along the road coming from the clan jetties – continue walking straight up and you will reach the museum in about 10 minutes.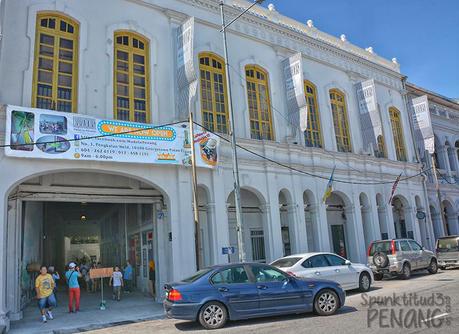 The experience starts right away at the entrance
Along the passageway as you walk in, you will see Malaysia's longest 3D wall mural (25 metres) depicting Georgetown's waterfront during the 20th century.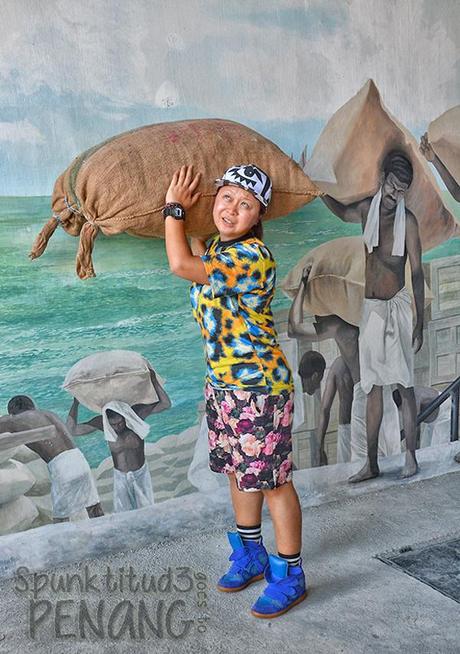 Pretending to be a COOLie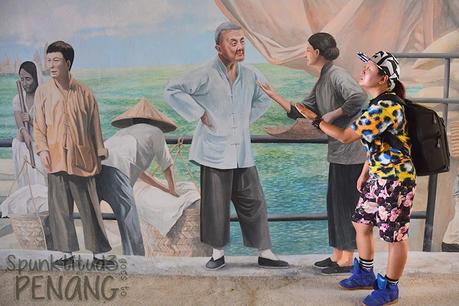 "Why you no give this month's allowance?"
Helping out a squabble aka kaypoh-ing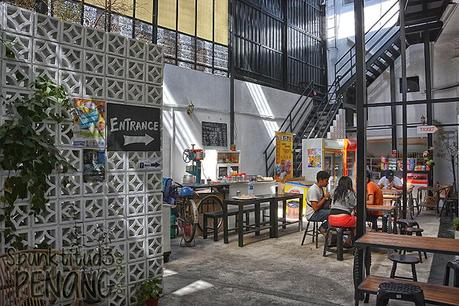 Even the cafe is made to look retro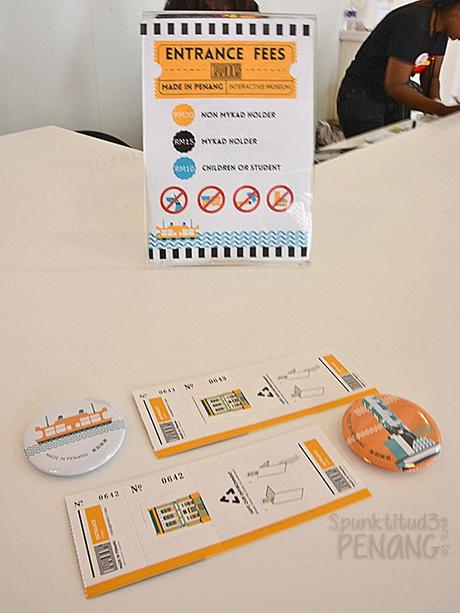 Entrance fees are divided it into three categories:
- Tourists (non-MyCard holder): RM30
- Malaysian (Adult): RM15
- Malaysian (Kid/ Student): RM10
You get a souvenir pin badge as part of the admission, and I like it that they designed the ticket stub, which is usually thrown away, as a bookmark. There's another purpose for the ticket too – you will need it for an interesting activity at the last stop of your visit.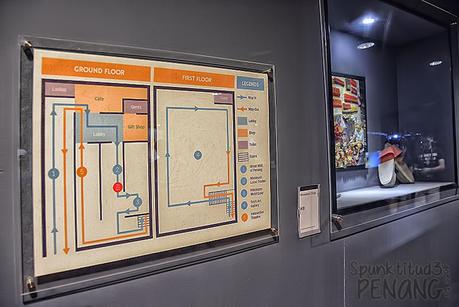 The museum showcases three-dimensional interactive art over two levels depicting Penang's iconic landmarks as well as famous historic figures. The ground floor houses a Diorama Gallery while the first floor houses the Penang 3D Gallery (trickeye photography).

Diorama Gallery
The Diorama Gallery showcases seven scenes of life in Penang in miniatures sculptured by Khoo Chooi Hooi.
Left: Durian seller; Right: Nasi Lemak (coconut rice wrapped in banana leaf) seller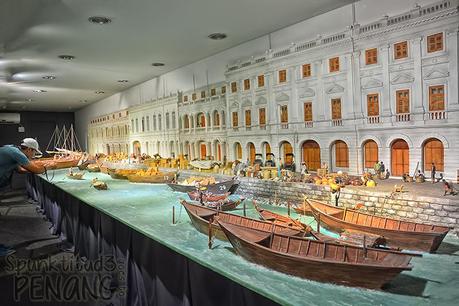 The biggest diorama – a panoramic view of Georgetown's waterfront during the early 20th century
The white Behn Meyer building in the background is also the building which now houses the museum.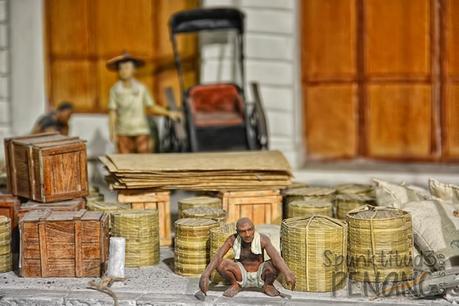 A cool squat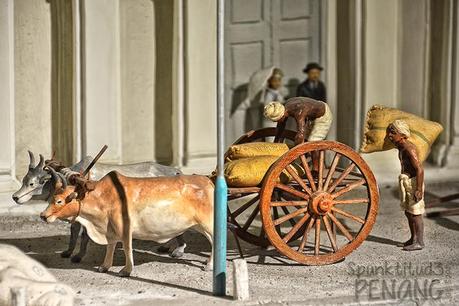 Bullock carts were the main form of transport back in those days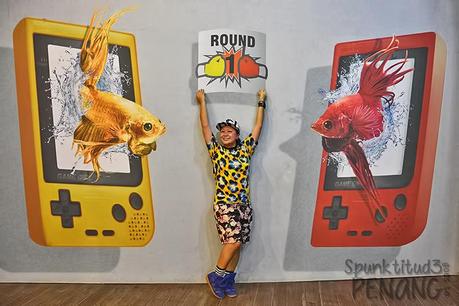 AND the cam-whoring begins…DING, DING! :D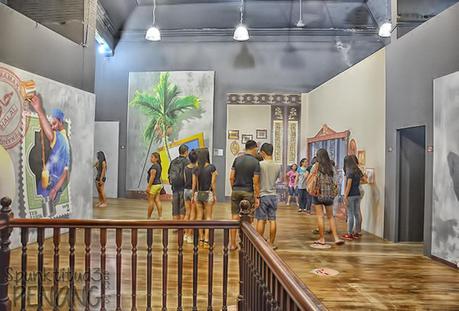 Main highlight of the museum – Penang 3D Gallery
Be prepared to go shutter-happy on the first floor with 30 3D murals featuring various icons of Penang as well as famous personalities such as P. Ramlee (icon of Malaya entertainment) and Sun Yat-Sen (Father of the Nation in the Republic of China).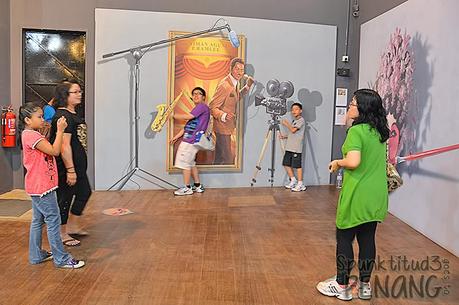 Forget about being shy – think of the most creative pose you can have with the murals!
The murals utilise varying contours, forced perspectives and simple props to create a real-life mind trickery – on photographs. It's quite interesting observing the other visitors too – even the auntys can surprise you with their imaginative poses ;)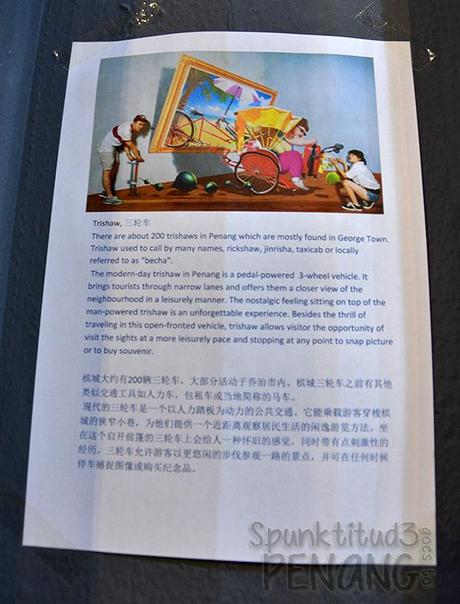 For the less adventurous, check out the suggested poses on the signages. You can read up on the particular scene/personality featured as well.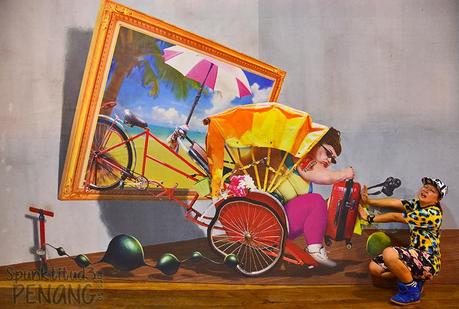 And here's my interpretation of the scene!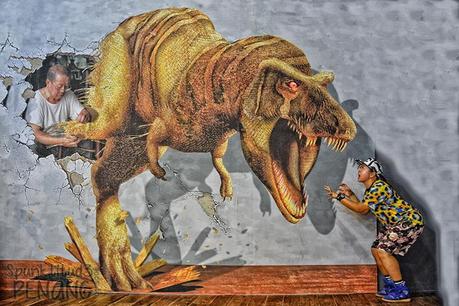 Dino fight!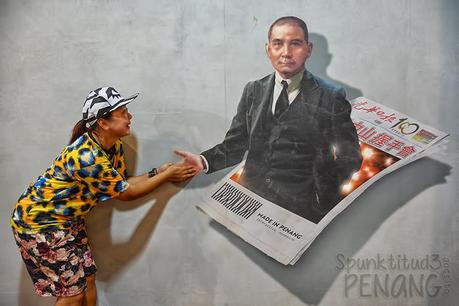 This will be the closest I'll ever get to Sun Yat-Sen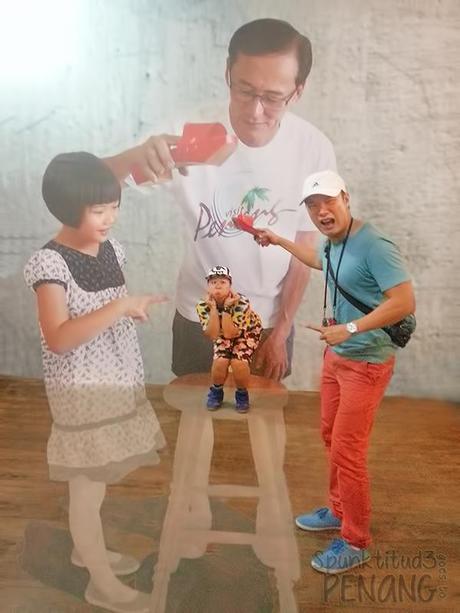 I ain't a 'small person', don't hit me!
Villain hitting, or 打小人 (da siu yan) is a popular folk culture especially in Cantonese precincts. Basically, you hit the paper effigy of the person you want to curse with a red clog, and keep scolding them. It's similar to Western voodoo, just much noiser and dramatic.
Elderly Cantonese aunties excel at the cursing, and made a profession out of it (think professional curser). Such practices are so integrated into their culture that it has been named 'Intangible Cultural Heritage' by the Hong Kong Home Affairs' Bureau.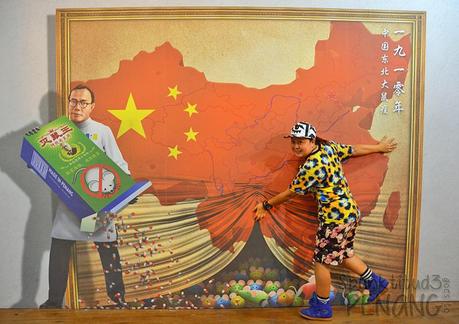 Rat busting – 1910 bubonic plague in China
I really wonder why they chose to feature such a dark topic at a tourist attraction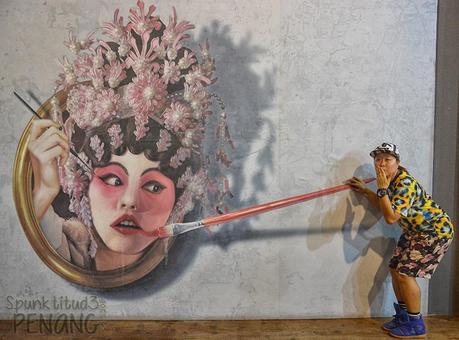 Oopsie!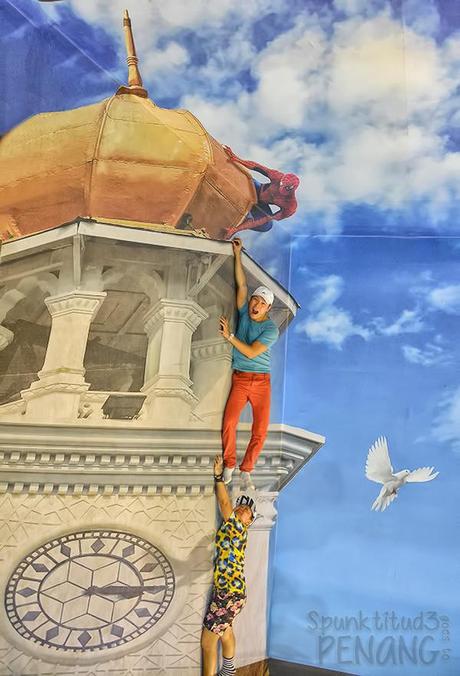 Queen Victoria Clock Tower Mural
The only floor mural, visitors lie on the floor to pose as if they were hanging precariously on the tower, with Spiderman on the way to the rescue. You have to take off your shoes, so it's best if you don't visit with shoes with a gazillion laces or straps. We were expecting more of such adventurous murals.
Getting caught in the carnivorous plant of Penang Hill. Beware the carbs, poor plant.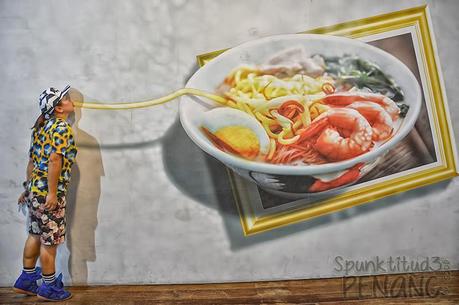 Slurping up a bowl of local street delicacy – prawn noodles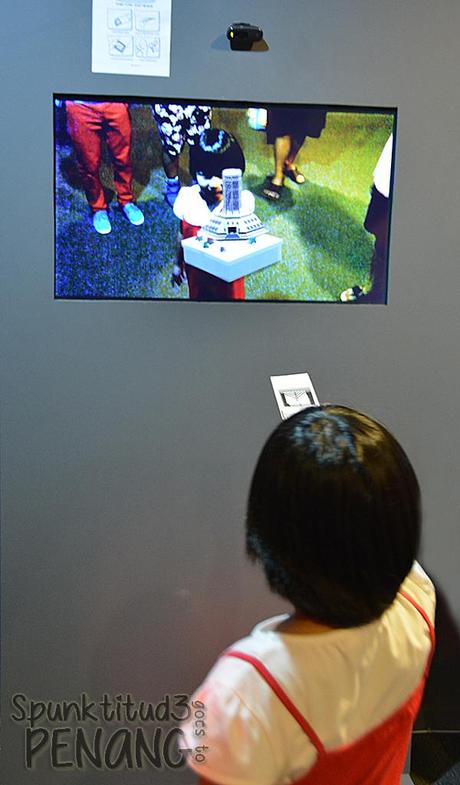 Now's the time to take out your ticket stub
Point the QR code printed on your ticket at this augmented reality kiosk to see a three-dimensional image of Penang's tallest bulding Komtar or the Penang ferry. There is another interactive kiosk located at the end of the Diorama Gallery on the Ground Floor where you can see your face being painted with vivid Sichuan opera masks on screen.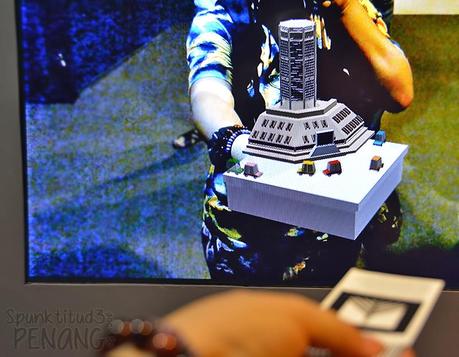 Ta da – Komtar building in my hand!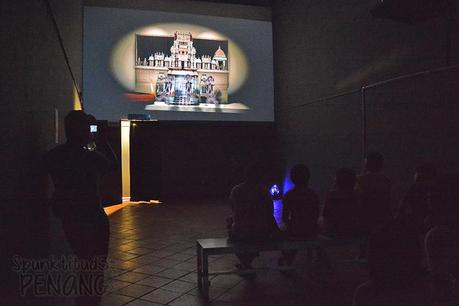 For those interested to learn more about Penang's history, catch a video presentation at the mini theatre (available in English and Mandarin).
Overall, it was an enjoyable visit for both of us. Perhaps we were so excited about a new attraction in Penang, we expected a bit more from the exhibits. At RM30, it was one of the more pricey attractions about town. I believe the museum will improve over time as there were still a few areas under renovation when we visited.
If you have a sense of humor and like cam-whoring, do visit. Set aside 1-2 hours for the visit, and it's best to go with a friend who can help you take photos and have fun together (there's obliging staff around to help solo visitors too). If you shun the spotlight like vampires to sunlight, think you would be better off spending the money on another bowl of Penang laksa.
Made In Penang Interactive Museum 美因槟廊
Address: No.3 Pengkalan Weld, 10300 George Town, Malaysia
Tel: +604 262 6119
Opening Hours: 9:00AM – 6:00PM
Facebook page: http://www.facebook.com/MadeInPenang
5.415094
100.342635