Damn it! My resident eleven year old has infected me with a really annoying ear-worm which I find myself singing under my breath in places like Lidls and John Lewis (we're a broad church in the Walker household).  It is this stupidly catchy song called Pen-Pineapple-Apple-Pen, which is simple and odd and just won't get out of your head.  It also makes you want to eat pineapple, but that might be me.  I do love pineapple and I love it on many layers (who can say that about fruit on a regular basis?)  It is ridiculously delicious and very kitsch too, but also exotic and, much like nutmeg, I feel absurdly rich to have one in the house because I know a little of its history, thanks to this book...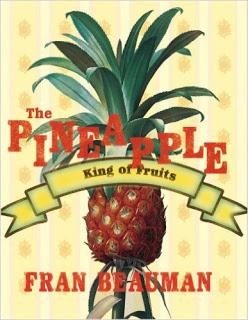 Mr Walker read this book a while ago and regaled me with many facts about the 'King of Fruits' which has a fascinating history.  Then I came across an image which made me wonder how often pineapples appeared in Victorian art. I'll come to that in a minute, but first some history...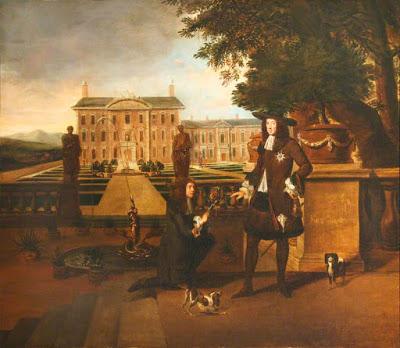 John Rose, the King's Gardener, presenting Charles II with a Pineapple (1675) Hendrick Danckerts
I'm guessing you will be unsurprised to hear that the pineapple is not native to British shores.  It was those exploring Dutch who first brought it back from South America and started a pineapple race in Northern Europe.  The pineapple wasn't an easy task for chilly Britain and the way they managed to get them to grow was to fill trenches with manure and let the heat of the rotting warm the pineapple plants.  Well, that just sounds delicious.  Pineapple pits or stoves were the only way to get the fruit to grow, but by that point we had a pineapple frenzy on our hands.  It was veritably Pineapple Madness...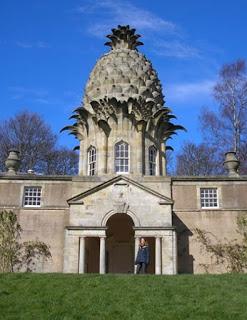 The Pineapple Hothouse (1761) in Dunmore, Scotland
The pineapple quickly became an instantly recognisable symbol of exoticism and wealth. Pineapple motifs sprang up everywhere in architecture, from finials to the most spectacular example the Dunmore Pineapple, a hothouse to grow, well, pineapples.  If ever there was a moment to shout 'Look at the size of my pineapple!', this would be it...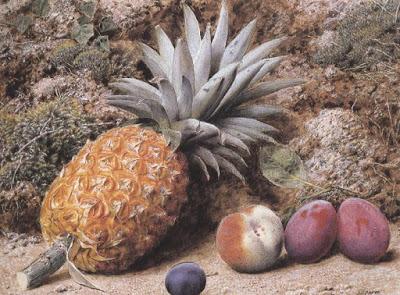 A Pineapple, a Peach and Plums on a Mossy Bank John Sherrin
Enough of the pineapples of the past, what about Victorian pineapples? By the time of Queen Victoria, obvious trade and colonial matters had made the transport of exotic fruit possible (if not common) and so although pineapples were still grown here in special gardens (such as Heligan), most pineapples came in from abroad and must have cost a fortune, so when an artist got hold of one, it made a very special addition to a painting.  Most often, they appeared in still life compositions, such as the charming example above.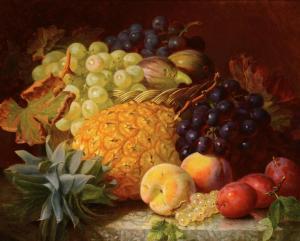 Peaches, Pears, Plums and Pineapples Elouise Harriet Stannard
And this one...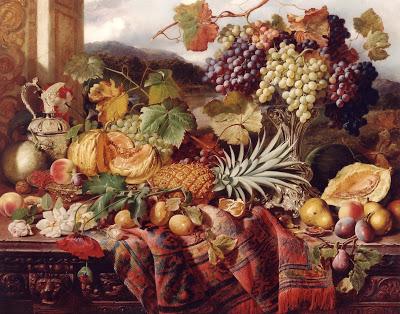 Still Life with Fruit and a Rug William Duffield
And this one.  And actually quite a few more.  Duffield (1816-1863) seems to have made the most of his pineapples when he got them, painting countless still-life fruit cocktails, with a pineapple shoved in the middle.  Many artists seem to have loved the alliteration of a pineapple, which is a phrase I don't get to use often enough, placing them with pears, peaches, plums and pomegranates. All the delicious fruits begin with 'P' it seems.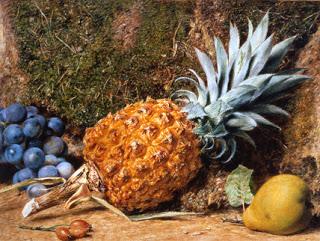 Still Life with Fruit William Henry Hunt
Often they are paired with grapes, possibly to hint at their decadence.  Throughout the internet, it is stated that the pineapple is supposed to symbolise hospitality, but unless that involves cubing it and sticking it on cocktail sticks with cheese, I'm not sure that is true.  More likely it symbolises bounty and riches.  I especially like how in some of the still-lifes, the pineapple still has part of its stalk attached. You never see that in Tesco...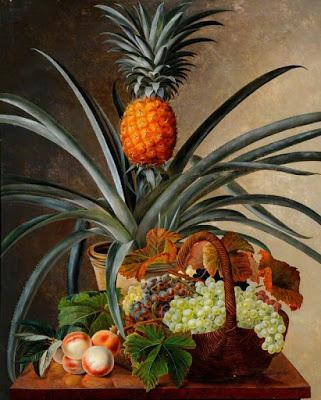 Still Life of Pineapple Plant, Grapes and Peaches on a Table (19th century) British School
Some people go the whole hog and shove the plant in too.  That is properly showing off, as if they have a pineapple plant at their disposal.  I can only imagine the artist went to a special garden to see that.  It is rather impressive though and makes the peaches look a bit rubbish.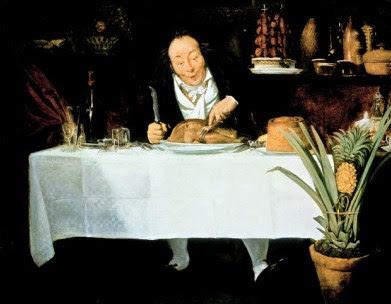 The Gourmand Louis Leopold Boilly
Mind you, look at this chap with his pineapple in his house!  What I really wanted to see was the 'casual' use of pineapples in art, where they are slipped in to say something about the scene and the people involved.  This chap knows and loves his food.  As he tucks into his lovely roast bird he is surrounded by other delicious dishes and a pineapple plant at the front, looking almost like an alarmed person, oddly enough.  Are we meant to be worried about the amount of food he has? This chap has only the best and that includes a lovely fresh pineapple.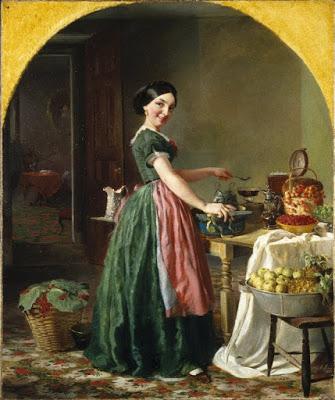 Kiss me and you'll get the 'Lasses (1856) Lily Martin Spencer
The 'lasses' mentioned above is molasses in the maid's bowl.  It's an unusual method of fending off unwanted advances but no doubt effective.  Spencer was an English artist who moved to New York as a child and became a very successful genre painter.  This is an American nineteenth century scene of household life.  The pretty maid is trying to get on with her work preparing the fruit (the pineapple is in the tin bowl on the stool) but is being harassed by either a fellow servant or a man she feels comfortable enough to throw treacle over.  The saucy minx.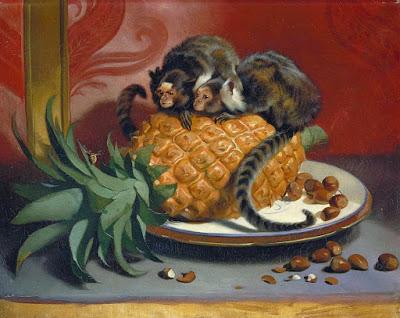 The Marmosets and a Pineapple (1860) Edwin Landseer
If you are rich enough to have a pineapple, maybe you'd like a couple of tiny monkeys too?  Thinking about it, the monkeys might have been cheaper and easier to get hold of than the pineapple which is a weird thought.  Again, in the Landseer, notice the extended stalk and also the lovely tails of the marmosets.  I do like monkeys, and saw some at a zoo which were just beautiful.  The mother was handing her child some grapes and the child kept dropping it and then reaching out for more.  After about three the mother refused to hand any more over.  I thought, 'We've all been there, Love'.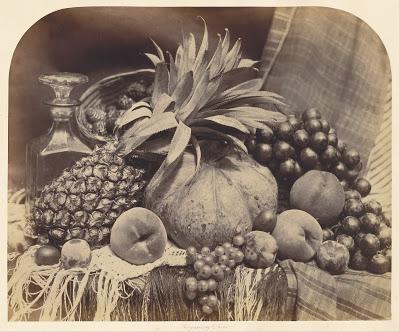 Still Life with Fruit and Decanter (1860) Roger Fenton
Obviously if you had a pineapple and a camera, the two would have to come together in a wonderful still life.  Fenton did a couple, obviously not a man to waste a good pineapple, and I have to admit there is something about the texture of the pineapple 'dimples' that looks amazing in black and white (or sepia), whereas other fruit don't look as glorious as they do in colour, for example the peaches, and whatever the lumpy thing in the middle is.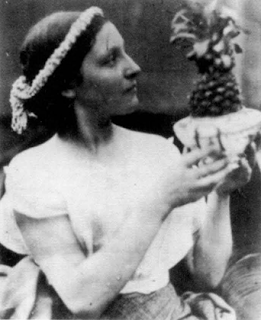 Mary Hillier (and Pineapple) (1864-5) Julia Margaret Cameron
This was the picture that started me drawing the pineapple images together.  Whilst getting all Mary Hillier images into one database, I was faced with this lesser-known snap of her holding a little pineapple. There is a type of pineapple called the 'Victoria' which is very small, so I wonder if this is a Victorian Victoria?  I love that she appears to be in sort of classical dress, holding a pineapple, which is marvellously barmy.  Or maybe Cameron was going for 'native' dress?  Either way, it is a strange and lovely image. I wonder if Mary got to eat a bit of it afterwards?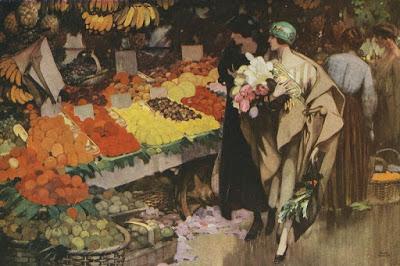 In Soho (1920) Fred Taylor
Into the twentieth century, and the pineapple became a little more commonplace, especially if the above image is to be believed.  It is now hanging next to the bananas, just another fruit for our proto-flapper to cast her haughty eye over.  Mrs Dalloway said she would buy the pineapples herself...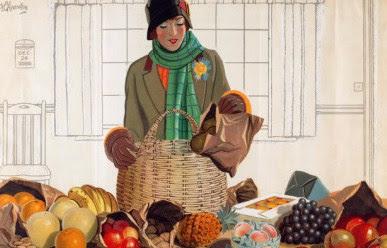 Christmas Fare from the Empire (1920s) F C Harrison
And so our love affair with pineapples continues.  They are not quite as familiar and commonplace as bananas but a pineapple holds a dear place in our hearts due to the sweet flesh that makes your mouth tingle and the spiky, bumpy skin and leaves.  The smell is instantly recognisable, and we have found many different ways to cook them as well as scoff them in juicy chunks.  I personally still want a fancy pineapple upside cake mold (sold in Lakeland a few years back) as it is one of my favorite cakes, but in the meantime I shall hold my pineapple aloft with pride and wait for someone to photograph me...