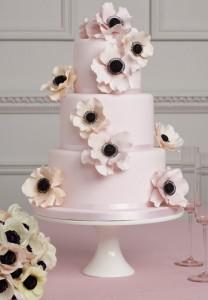 I caught up with Peggy Porschen, owner of London's prettiest cupcake for general chit chat about her fabulousness in the kitchen and to find out the secret behind creating the perfect cupcake.
1) Did you always dream of becoming the Queen of cakes?
I was always given a fabulous cake every year on my birthday as a child growing up in Germany which is a nation that loves cake! The cake was always the highlight for me and even then I was incredibly passionate about both the taste and the look. When I was 14 yrs. old I decided to make my own and it really just started from there.
I moved from my home in Germany to London in 1998 to study at the internationally renowned cookery school Le Cordon Bleu. After successfully completing 'The Grand Diploma of Cuisine & Patisserie', I worked as a pastry chef at London's Lanesborough Hotel and celebrated caterer Rhubarb Food Design, followed by a position as cake decorator for German master-baker Gerhard Jenne, proprietor of Konditor & Cook.
I set up my business in 2003 from my home in Battersea, which I eventually had to move out of as the business grew and grew!
The Peggy Porschen Parlour opened in London's Belgravia in October 2010, it's going really well but certainly keeping me and the team busy. It was always a dream to have my own shop and offer my cakes to people on an everyday basis, I have also created my own home wares & cake accoutrements range and a collection of jams and loose leaf teas – all inspired by the ingredients used in my kitchen. I opened the Peggy Porschen Academy in January 2011 just across the road from the parlour. It's a wonderful addition to the company because I am lucky enough to teach all year round and offer a range of different classes and courses to suit every proficiency level. Meanwhile the bespoke design side of the business continues to thrive, especially with the recent addition of our bridal boutique – a space dedicated to one-on-one consultation and tasting for those wishing to commission a bespoke Peggy Porschen design.
2) What's the inspiration behind your coveted cake creations?
I'm a really typical girl! I love anything pretty, dainty or feminine. Anything can inspire me from fashion to vintage tea cups or stationary – just whatever catches my eye.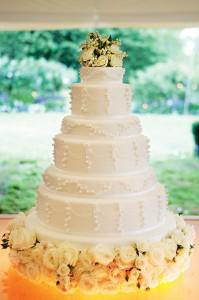 Kate Moss Wedding Cake
3) Who shops at Peggy Porschen?
All sorts of people, we have lots of local regulars who are residents of Belgravia, we have some celebrity visitors such as Kate Moss, Kim Cattral, Elle McPherson etc. We have become a cake destination in London so we have a lot of visitors from around the world who have made a special journey to visit us which is amazing and gives the place a real buzz.
4) What advice would you give to those who want to kick start a career in cake?
If it's a career in cakes you are interested in there is no better start than a professional course at the Peggy Porschen Cake Academy. More generally I would say that one should be prepared for a lot of hard work and should always have a plan and a business basis before they start. A lot of patience, dedication and resilience are also essential for success!
5) What are your top tips for creating fabulous cupcakes?
A perfect cupcake should combine and balance compatible flavours, it should be made using the finest quality ingredients available and should be creatively presented – it should taste as good as it looks. I would recommend using one of the cupcake recipes that feature in my new book 'Boutique Baking'!
6) What is your absolute favorite cupcake recipe?
My cravings change with the seasons but at the moment I am obsessing over my sticky toffee cupcakes which are sold in the Parlour, they are incredibly comforting, with a gooey toffee center and nutty sponge – I just can't resist.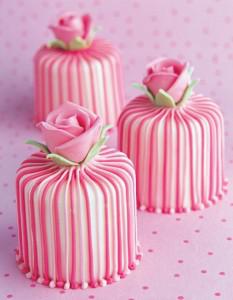 7) How would you describe your signature style?
Pretty designs that are traditionally elegant and understated with an emphasis on skilled craftsmanship and most importantly luxuriously delicious!
8) What has been the highlight of your cake career to date?
Obviously commissions from Elton John and for Stella McCartney's wedding cake which came relatively early on in my career were notable highlights, however, the most significant milestone for me was definitely my first book. It defined me as a cake designer and was a true reflection of exactly what I had set out to become.
9) When you are not whipping up wonderful wedding cakes, how do you spend your free time?
I actually love to visit the Flower Markets very early in the morning, it's a visual feast and I find it incredibly inspiring – if you look at my cakes you can see the influence that flowers have had on my work.
10) What's next for Peggy Porschen?
Well I am just in the process of developing my next book which is all very top secret at the moment, I'm really excited to see what the response will be like when it is released. Beyond that I would really like the opportunity to develop my own range of sugarcraft and baking tools and of course opening another Parlour would be a dream.