Last week I got an e-mail from an unknown couple living in the surroundings of Berne asking about the group activities we do with the Circle of Good Will. With the links in their e-mail, I saw that they were doing a lot of things, among others they are running a medieval laboratory and are doing alchemical work. They invited us for a visit and I thought, that sounds interesting. Besides, I am sorting out books which I don't need any more and wanted to give away my Paracelsus books, and that seemed a good occasion.
They are living on a small farm in the countryside next to a place where I had been working 20 years ago. In the courtyard, there was a tent – they are going on medieval fairs presenting their activities and product. A cordial welcome, long talks – and then they showed us the medieval laboratory: They had renovated the basement and created in the vaults a meeting space and a laboratory for the alchemical work.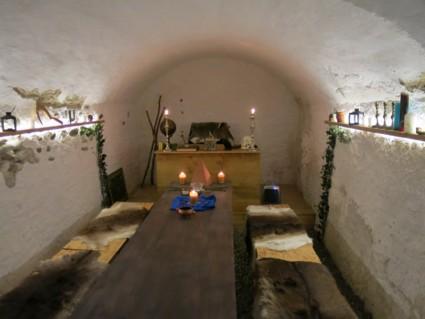 Now the room was lighted by electric bulbs but they were also using torches.
At first, I found it a bit amusing to thus "relive" times which have long passed. Of course there is a number of people playing medieval times, arranging market-places, tournaments, music festivals and the like. But here was something more. Morpheo, as he called himself, described how when doing his alchemical work is entering into some trance-like state where he is like in another dimension and in contact with a teacher who answers his questions and guides him in his work. He is preparing essences from trees, ointments and preparations which seem to have special effects. Though I didn't try, there was a very special ambiance.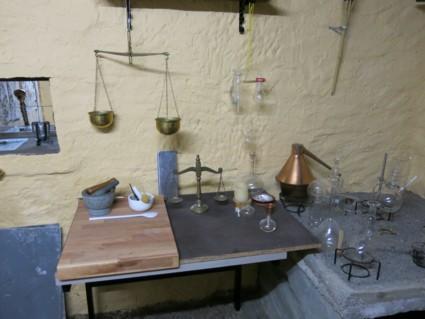 A corner of the alchemical laboratory
They are collecting herbs in the surroundings and cultivating some in a glasshouse. He is preparing himself the alcohol for the tinctures and has an intuitive approach to the work. I felt it to be true when he explained that he is tapping at knowledge from previous incarnations which often seems to be more than what is present in today's awareness.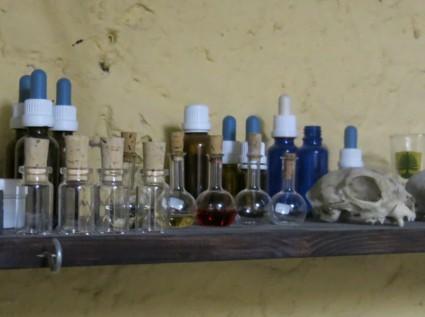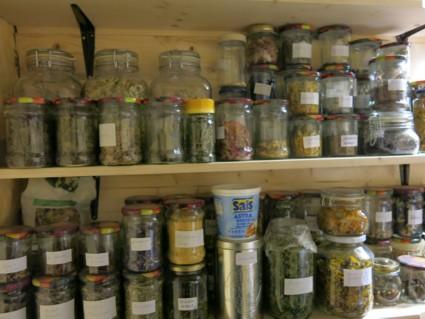 Morpheo was very happy about the collected writings of Paracelsus and other books that I gave him – and I was happy that I found someone to whom I could pass them on.