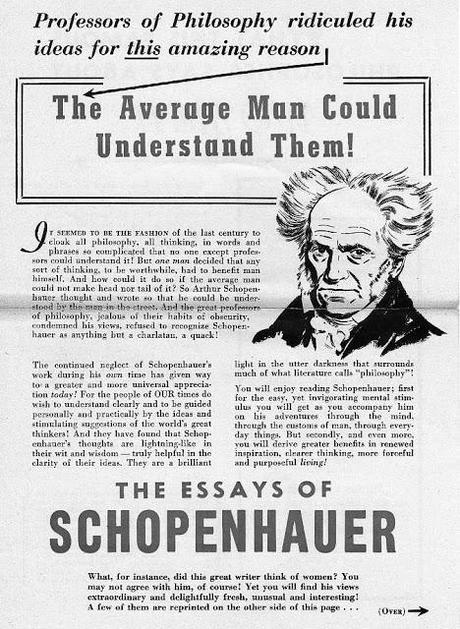 I found this ad folded inside a musty, old copy of The Works of Arthur Schopenhauer: 'The Wisdom of Life' and Other Essays (New York, NY: Black's Readers Service Company, Inc., 1932). The ad is for that book. Black's Readers Service was owned by Walter J. Black, Inc. The company was similar to the Book-of-the-Month-Club and was involved in similar legal cases concerning the meaning of a 'free' book. (E.g., is a book really free if I have to buy something else in order to get it?) According to his obituary (New York Times [April 17, 1958]), Walter Black established the Plymouth Publishing Company in 1923 and changed its name to Walter J. Black, Inc. in 1928. There was a brief article in the Times on Dec. 5, 1925, in which Black is said to have offered to publish Winston Churchill's stories (after hearing that Churchill didn't want to publish them since books were too expensive for most people to buy). Black's company was run by his son, Theodore M. Black (a Chancellor of the New York State Board of Regents), from 1958 until 1982. I don't know what happened to the company after Theodore Black's death.
Google reveals that Walter J. Black, Inc. is mentioned on p. 181 of Paul Auster's New York Trilogy (in the story 'Ghosts').
The above ad is odd for a number of reasons. First, I'm fascinated by the needless arrow after 'this amazing reason'. Next, the bit about '...more forceful and purposeful living!' isn't well-suited to the outlook of a proponent of resignation and renunciation -- it's more Nietzsche than Schopenhauer. Finally, the blurb at the bottom refers to Schopenhauer's 'delightfully fresh' views on women. On the other side of the ad are several examples of Schopenhauer's horrible misogyny.
Regarding his misogyny, there's some intriguing material in Jean Pierrot's The decadent imagination, 1880-1900. Pierrot adduces gendered bigotry as one reason for Schopenhauer's popularity among the French Symbolists. They liked Schopenhauer's conception of sex as alluring poison, and they projected the concomitant fear/resentment/neuroses onto women. The resulting strain of fin-de-siècle art is one source of the modern femme fatale.