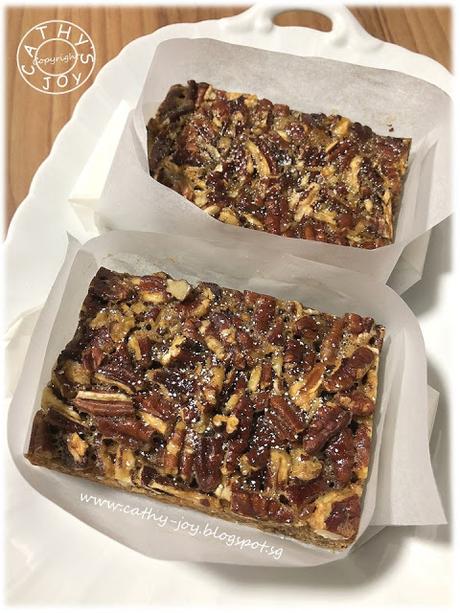 Pecan Squares
(recipe adapted from Joyofbaking)
Ingredients:
Base
55g unsalted butter, melted & cooled
40g old fashioned oats
65g plain flour
1/2 tsp baking powder
1/4 tsp salt
50g brown sugar
40g chopped pecans
Fillings
2 eggs
55g brown sugar
100g light corn syrup
1 tsp vanilla extract
1/4 tsp salt
2 Tbsp plain flour
130g chopped pecans
Method:
1. Base: Placed all ingredients except butter into a food processor & process until combined. Add in butter & process until mixture is crumbly. Evenly press the crumb mixture onto the bottom of a lined 8" pan. Bake in a preheated oven @ 170C for 18mins. Let the crust cool slightly. Meanwhile prepared fillings.
2. Fillings: Combined all ingredients together except pecans & whisk till combined. Sprinkle pecans over the baked crust & pour filling mixture over. Bake in a preheated oven @ 170C for 20mins.
3. Put in fridge to chill for a few hours. Slice into squares & dust with icing sugar before served.