Do you prefer the kids having school holiday or do you not?  
For me, I do enjoy having the kiddo at home because she actually motivates me to be in the kitchen trying out new recipes.   
Since she is home, I have additional tester too.  Today's attempt is Pecan and Raisin Bread.   I kind of like this recipe because I can prepare the dough the night before and have a freshly baked loaf for breakfast the next day.
With home baked, it allows me to fill it up with lots of fruits, nuts and seeds too.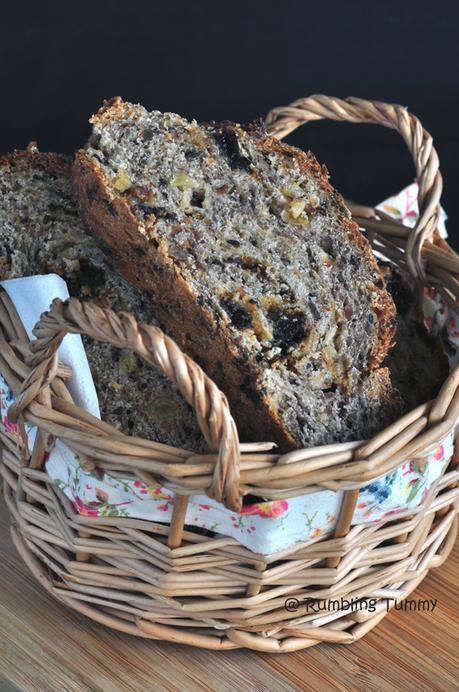 What you need:
1 loaf
250g bread flour
3g instant yeast
15g sugar
½ salt
160g water
1 tbsp olive oil
100g pecans
100g raisins (I used two types of raisins)
30g black sesame
Method:
Combine all the ingredients together and mix to form a rough dough. 
(Mix on 30 sec, sp 2-6)
Add olive oil and knead 
(
Mix on 15 sec, sp 6)
Knead until it passed window pane stage. 
(Knead 2 mins)
Add in the pecans and raisins
(Tear dough into small balls, add ingredients, knead 2 mins)
Oil plastic bag.  Shape dough into round and place into bag.  Seal.
Proof for 1 hour.
Chill overnight.
Thaw for 1 hour, gently pat it flat and shape the dough.  Score.
Bake on 200
°C
 for 20 - 30 mins.
If you have enjoyed this post by
Rumbling Tummy
, be sure to follow this Rumbling Tummy on
Facebook
, Instagram,
Pinterest
, Twitter and
Google+
.