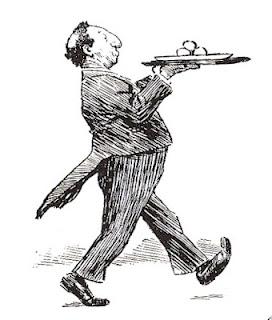 Here's Ann with a Dickensian theme ahead of her Foodie walk this weekend…


You cannot missed the fact that 2012 is the 200th anniversary of the birth of Charles Dickens. Dickensian, when applied to food, makes you think of gargantuan feasts of roast beef, washed down with mugs of porter. Or a splendid Christmas dinner, preferably with a turkey, as sent by Scrooge to the Cratchit family.
But what did Dickens eat at home? Some clue comes from the cookery book published by his wife Catherine in 1851 under the pseudonym of Lady Maria Clutterbuck, a best seller in its day, 'What Shall We have for Dinner?' lets you choose from 49 recipes, arranged as 'bills of fare' – menus to feed from 2 to 20 people. The quantities may be Dickensian – pea soup, salmon, turbot, lobster sauce, cucumbers, mushroom patties, lamb's sweetbreads, lobster curry, rissoles, saddle of mutton, chicken mayonnaise, broccoli, new potatoes, roast duck, pease pudding, macaroni cheese, Brunswick sausage – a dinner for 20. But there are plenty of comparatively straightforward recipes, such as cheese soufflé, cauliflower cheese and toasted cheese. 'No man,' wrote one reviewer, 'could possibly survive the consumption of so much toasted cheese.' Rather disappointingly, Charles Dickens himself was described by friends as a light eater.
Brunswick sausage was something like present day salami. And pease pudding must be due for a comeback on trendy menus. When I was a child in the north east my mother sometimes bought hefty squares of it from the butcher. It was pretty solid, a golden colour, contained plenty of pepper and salt, and was delicious. Make your own by soaking then boiling dried split peas. Mash them up when soft, add an egg and onion, herbs, or just salt and pepper, and then either tie in a cloth and boil, or bake in the oven.
Dinner for Dickens by SM Rossi-Wilcox includes both Catherine's recipes and an account of the Dickens family's domestic arrangements.
And for more foodie titbits, join Ann's walk this Saturday.

Pie Crust to Upper Crust

starts from Embankment tube at 10.45am.