This post may contain affiliate links. As an Amazon Associate, I earn from qualifying purchases. Please read my disclosure.
Creamy, naturally sweet, baby pear puree is a healthy, wholesome first food for your baby. Pears are a stage one baby food that most babies enjoy on the first bite. This easy, homemade puree is an excellent source of fiber, which helps to relieve constipation, and Vitamin C, which helps keep baby's immune system strong! The best part? It requires only 2 simple ingredients and is ready in 5 minutes!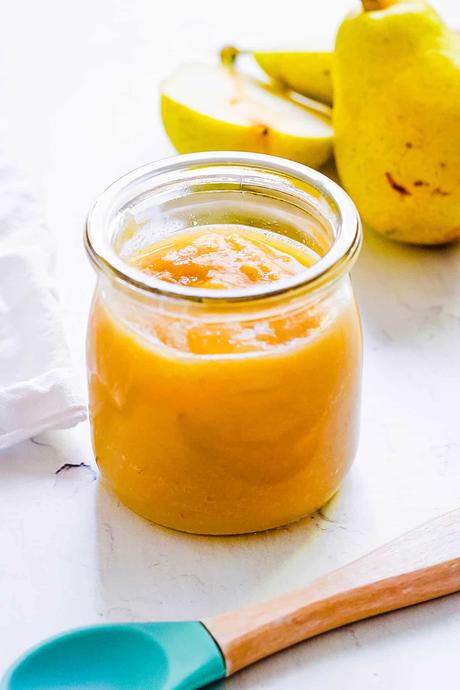 Homemade pear puree is a simple baby food recipe that will quickly become a staple in your baby's diet!
Made with nutrient rich, naturally sweet steamed pears, it's delicious all on its own or can be combined with a variety of other baby food purees as your baby gets older.
It might seem complicated to make your own baby food at home, but I promise it's so easy and takes about the same amount of time as going to the store and buying baby food!
Of course, there will be times when you're on the go and need a healthy pre-made option for your little one. And in those cases, I'd recommend buying one of the pouches on my list of the healthiest baby food pouches.
But if you make this in bulk and freeze it in ice cube trays, you'll be able to have healthy baby purees available for weeks at a time with minimal prep!
I love this baby pears recipe because it's one of the first fruits I gave to my own kids, and it's a great way to introduce your baby to fruits and solid foods overall.
👩‍🍳 Why This Recipe Works
Stage 1 first food
Budget friendly
Healthier than store bought
Naturally sweet, no added sugar
Super smooth texture
Many different ways to customize
A favorite among babies
Only one ingredient plus water
An excellent way to relive constipation in baby
Full of vitamins and nutrients
Best pear puree recipe ever!
Latest Recipe Video!
🥘 Ingredients
This simple recipe calls for just one ingredient, plus water! See the recipe card below for more details on instructions and nutritional information.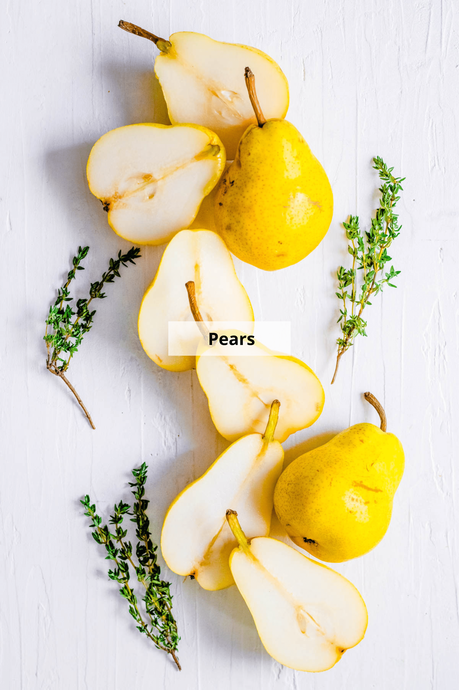 Organic Pears: Ripe pears are the main ingredient you need! When I make this recipe I use Bosc or Bartlett pears. Bosc pears have a brown skin, a long neck, and a long curved stem. They are excellent for cooking and have a sweet and juicy flavor. Bartlett pears are green in color. They are crunchy, and more tart than a Bosc pear, and have a slightly more gritty texture.
Water: Use filtered water to thin out the puree.
📖 Pear Puree Combinations For Baby
You can make so many recipes using pear puree! Here are some of our favorite puree combinations:
Apple Pear Sauce: Apple and pear puree is a deliciously sweet combination! Use 2.5 apples + 2.5 pears (instead of 5 pears), and follow the exact same method for making regular pear baby food.
Pear And Prune Puree: Add up to 10 organic dried prunes to this recipe along with the pears. You may need slightly more water. Follow the same method below. Alternatively, you could make plain prune puree separately, and then just mix it with the pear baby puree once both are made!
Avocado And Pear Puree: To make pear and avocado puree, simply add fresh avocados and a squeeze of lemon juice into the blender with the pear mixture. I recommend starting with 1/2 an avocado. You may need slightly more water.
Pear And Banana Puree: Add 1/2 to 1 whole banana into the blender with the pear mixture and blend until smooth.
Mix It With Greens: Puree pears can be an easy way to get your baby to eat their greens! Try mixing pears with pea puree, broccoli and spinach puree, or green bean puree to help your baby to accept less sweet vegetables in their diet.
BLW Pears (Baby Led Weaning Pears): For older babies, you can turn pears into a baby led weaning food! Just cut pears into bite sized pieces or mash the pear and serve it as a chunky pear sauce recipe for your baby to eat as finger foods.
Add Spices: There are actually quite a few spices that go with pears! Thanks to their natural sweetness, pears work nicely with warm spices such as cinnamon, nutmeg, or cloves. Sprinkle a small amount of spice (1/8-1/4 tsp) to your puree for added flavor.
Add Fresh Herbs: Feel free to add fresh herbs for more flavor. I suggest mint, chives, rosemary, tarragon, thyme or basil.
🔪 How To Make Pear Puree Baby Food
Preparing pears for baby is super easy! Here's how you do it:
Prepare the Pears: Wash fruit. Cut the juicy pears in half and remove seeds and stem. Cut each half into 6 pieces.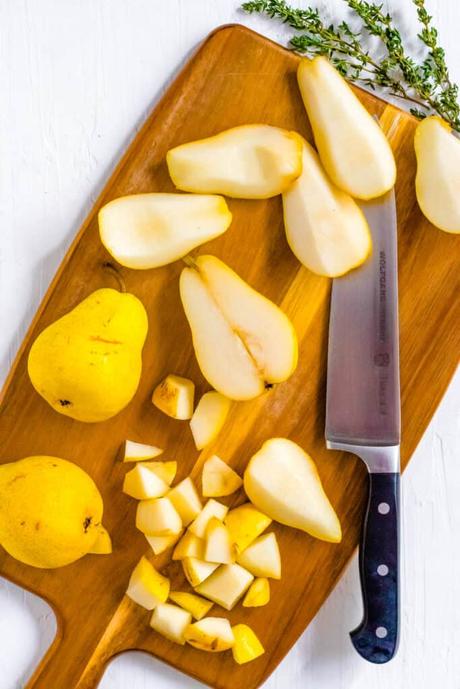 Boil Pears: Put pear slices and water into a large pot. Turn the burner on high and cover with a lid. Once the mixture comes to a boil, turn heat down to low and simmer, covered, for 20-30 minutes, stirring occasionally until the pears are soft.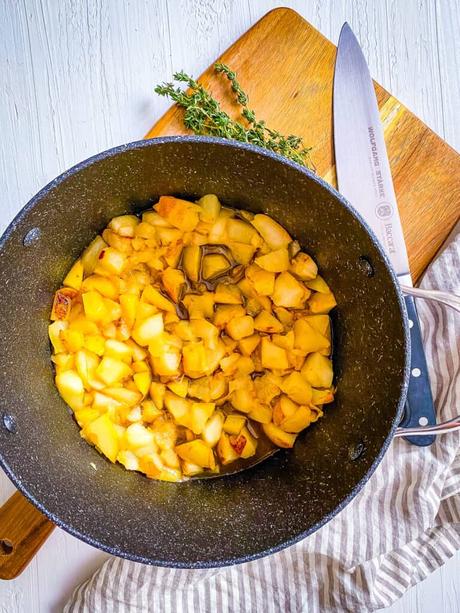 Puree Pears in Blender: Pour the pears and water you cooked them in into the blender. Puree until smooth. Let cool, then serve these baby pears, or store in the fridge or freezer.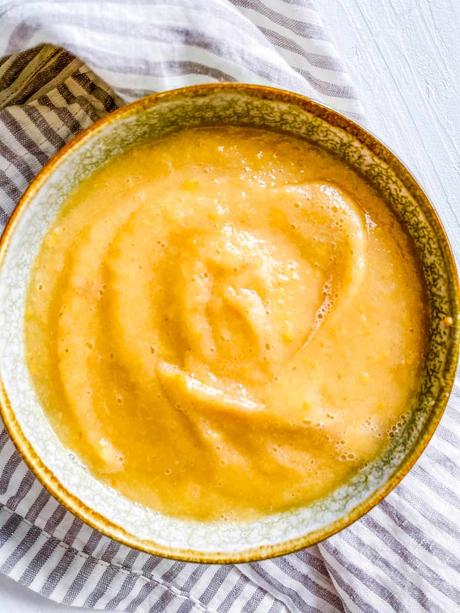 Alternative Preparations For This Homemade Pear Baby Food Recipe
How To Make Steamed Pears: If you prefer not to boil your pears you can steam them. Roughly chop 5 pears. Place the cubes into a steamer basket over 2 inches of boiling water for 8-10 minutes or until tender and soft. Then puree baby food pears in your blender.
How To Make Roasted Pears: Remove the core and seeds. Slice your pears into cubes. Place on a baking sheet lined with parchment paper. Roast at 425 F for 30-40 minutes. Remove the pears from the oven. Add to a blender with water, and blend this easy pear sauce until smooth.
❓Recipe FAQs
What are the health benefits of pears? Is pear puree healthy?
Pears have so many health benefits, and pear puree is healthy for babies (and adults too!) Here are some of the health benefits of pears:
** High in dietary fiber, improves digestion
** Can help relieve constipation in baby
** High in Vitamin C (which helps with immunity) and Copper
** Rich in antioxidants
** Good source of vitamin K which helps with baby's bone development
When can baby eat pears?
You can introduce your baby to pears as early as 4 months. Introducing solids to your baby is a personal choice. Some do it as early as 4 months, and some wait until 6 months.
When you introduce pears to your child is dependent on their growth, development, and your pediatrician's guidance.
For younger babies, I recommend making this puree into a very smooth consistency, while older babies can enjoy a chunkier consistency.
How do you serve pear puree to baby?
You can serve this pureed pear recipe in a variety of ways! Mix it with other fruit or veggie purees, or serve with a sprinkle of warm spices like cinnamon, nutmeg, pumpkin pie spice, or ginger. You can also mix this easy pear puree with oatmeal or yogurt for a more filling meal!
Do you need to peel pears for baby puree?
No, you do not have to peel pears for babies before cooking, and pureeing. The skin of the pear holds a lot of nutrients, and when it is cooked down and pureed it blends in with the rest of the fruit. Just be sure to remove the core and the seeds.
Do you have to cook pears before pureeing?
Yes! In general, even for older babies, pears can be quite tough, and babies do not yet have the ability to fully chew them.
If you are introducing this homemade puree with pears for the first time to a baby betweeen 4-6 months of age, you need to cook the pears and make a puree. You must cook them down, and puree before serving to your baby to avoid the risk of choking.
If you are using this recipe for an older baby, I still recommend cooking the pears down, but you can mash them or give your baby bite sized slices or cubes to gum.
How do you store pear puree for baby? Can you freeze pears?
You can store pears baby food in either the fridge or the freezer. Here's how:
In The Fridge: Let the puree cool completely, then transfer to an airtight container. It will keep for up to 4 days in the fridge.
Storing for the Freezer: Pour into ice cube trays. Allow to cool, wrap and cover with saran wrap or cover tray with an ice cube tray cover, and freeze overnight. The next day, pop the cubes out of the ice cube tray, and store in a zip-lock freezer safe bag, with all air pushed out. Label with date and contents. You can store the frozen cubes in the freezer for up to 4 months.
Thawing Pear Puree: Thaw in the fridge the night before use, or thaw by putting the pear ice cube in a bowl over a bowl of hot water on the counter to defrost. Serve at room temperature

Do pears need to be organic?
Yes, when you're making pureed pears for baby, it's best to buy organic pears, because pears are on the dirty dozen list. This means that they have some of the highest levels of pesticides among all of the fruits and veggies available at the store.
What are the best pears for baby food?
The best type of pear for baby food are either Bosc Pears or Bartlett Pears. They are the sweetest and have the softest flesh when ripe. Anjou Pears and Comice Pears will also work, they may just not be as sweet!
💭 Expert Tips
Leave the skin on. No need to peel the pears before boiling. Keep the peel on to increase the nutrient content.
Don't serve raw pears to your baby. They won't be able to mash it in their gums.
For best results, use a great blender to ensure that your puree turns out super smooth with no lumps. I used our Vitamix to puree large quantities at the same time - which was super convenient. You don't need a "baby food maker" - any great blender will do. And if you have a Vitamix you can use it for so many other things besides baby food!Have the proper tools ready and available. You'll need a steam basket and a blender.
To keep pear puree from turning brown, you can add a squeeze of lemon juice, or just freeze it immediately after making it.
Use durable, covered, ice cube trays for freezing. You can use silicone ice cube trays or plastic trays, just make sure they have a cover for easy storage and to prevent freezer burn.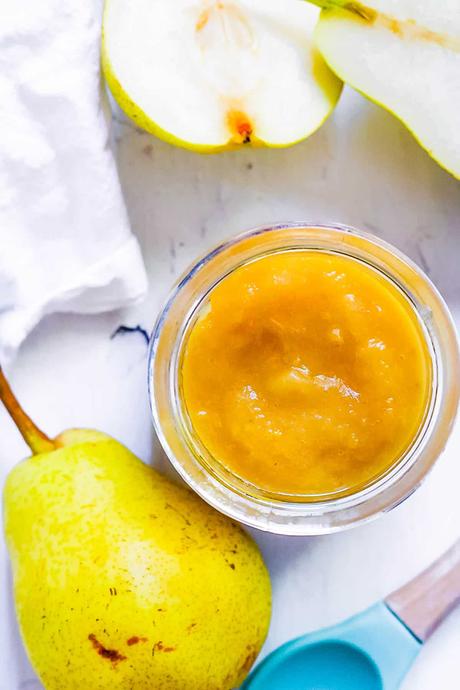 🥣 More Baby Food Recipes and Tips!
📋 Recipe Card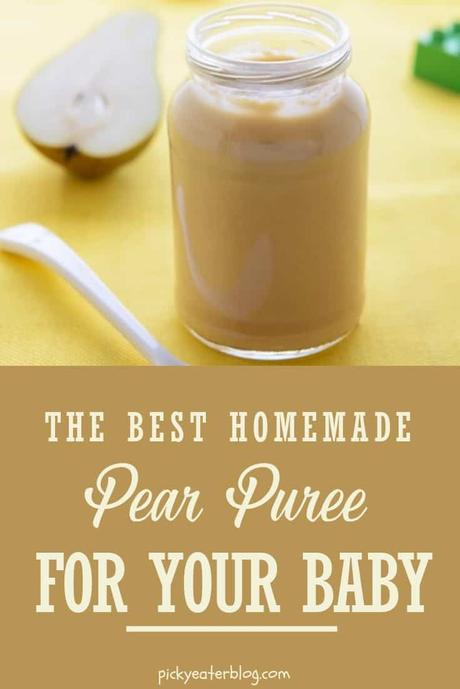 Most Recent Recipes Most Popular Posts Autumn Recipes