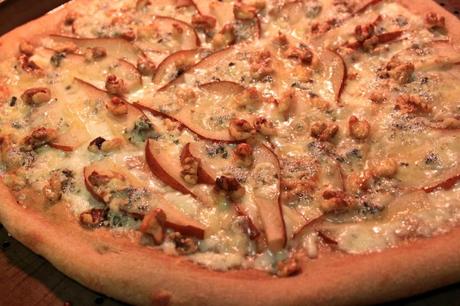 Often when the husband and I go to a fancy Italian restaurant, we're always excited to try their speciality brick-oven pizzas. There's usually some version of this Pear and Gorgonzola pizza on the menu, and it's always richly decadent, sweet and delicious. One night I was inspired to try to make it at home (since it was a weeknight and we were not in the mood to dress up and go out to dinner), and I thought I'd try to make it a bit healthier without losing any of the richness that we love about this pizza.
I have to say, my attempt was a HUGE success! The husband loved this pizza, said it was "restaurant quality," and didn't even notice some of the healthy swaps I made. I served it with a light salad of Arugula, Spinach and Walnuts (in keeping with the walnut theme). So what were some of the healthy swaps I made?
Whole wheat dough (from Trader Joe's) – increased the fiber & whole grain content of the pizza
More fruit: Usually the pear & gorgonzola pizzas have like 6 thin slices of pear on them. I used 1.5 pears and sliced them super thin so they became gooey and melted into the cheese, but this increased the fiber of the pizza and more fruit is always good.
Less cheese: I used 1 cup of Fontina cheese and about 3 oz (max) Gorgonzola cheese. Trust me, this was enough – the husband couldn't tell the difference!
More walnuts: I used 1/2 cup for healthy fats, fiber and protein
The Ingredients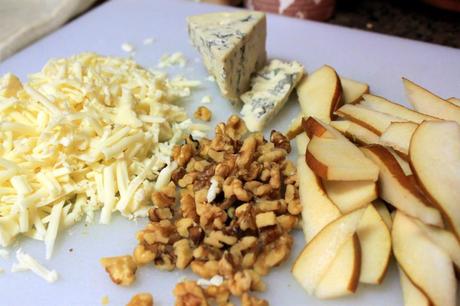 a
The ingredients list: Whole wheat dough, 1.5 Bosc pears thinly sliced, 1 cup grated Fontina cheese, 2-3 oz Gorgonzola cheese, 1/3-1/2 cup walnuts chopped
a
The Directions
a
Step 1:
 Spread out your dough on a baking sheet. Lightly brush 1 tsp olive oil on the dough. Top with Fontina cheese, Pear slices, Gorgonzola and Walnuts in that order.
a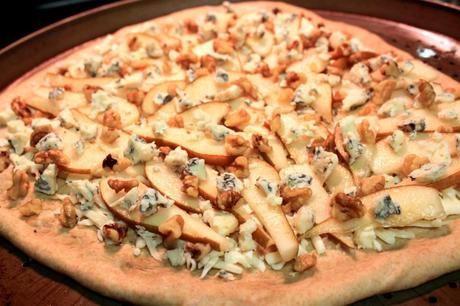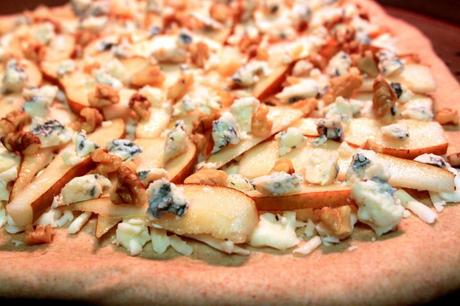 a
Step 2:
Bake in a 450 degree oven for 10-12 minutes until the cheese is bubbly and the crust is slightly golden. Enjoy!
a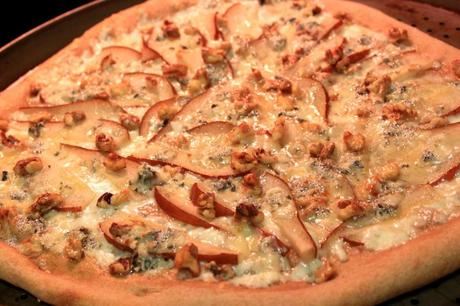 a
I loved how gooey the cheese got, and the pears just melted right into the cheese giving each bite a buttery, sweet and slightly sharp flavor from the gorgonzola.
a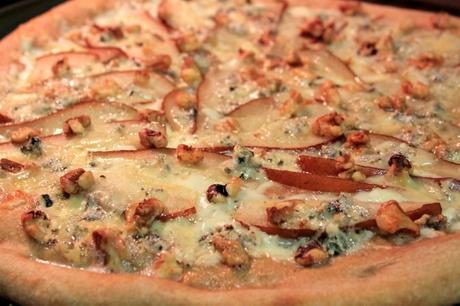 a
The husband couldn't get enough of this pizza. Two slices of this was a good serving size for me, I was satisfied and stuffed after.
a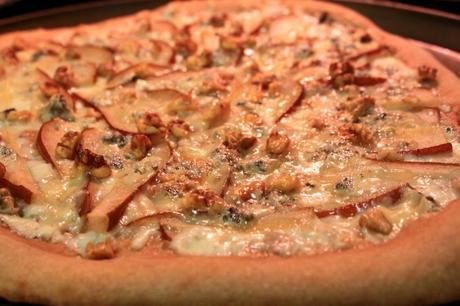 a
We enjoyed this with a glass of red wine, and literally felt transported to a nice restaurant in Italy which was a great escape during the week.