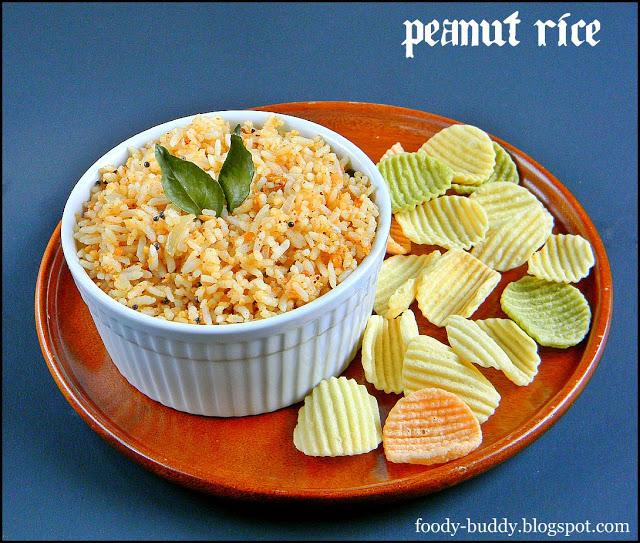 I love peanuts. Eating a handful of peanut daily is very good for the health. In fact, this is my daily evening snack. Also I love to eat peanuts either in the form of brittle or peanut butter or candy bars or rice. This rice is my mom's recipe. It is easy to make in this busy world, rich in protein and other nutrients. Peanuts are best souce of protein in plant kingdom.  Peanuts provide 7 g of protein and 2 g of fiber per ounce. This dish is good to pack for lunch box. Try this dish and enjoy..
Ingredients
   2/3 Cup of Rice
To Grind
   1/2 Cup of Roasted Peanuts
       Pinch of Asafoetida
       2 Tsp of Urad Dal
       1/2 Tsp of Sesame Seeds
       2 Tsp of Dried Coconut Flakes
       3 Red Chillies
       Salt to taste
       2 Tsp of Sesame Oil / Ghee
   To Temper
        1 Tbsp of Sesame Oil / Ghee
   1 Tsp of Mustard
   1 Tsp of Urad Dal
   1/4 Tsp of Cumin
   Few Curry Leaves
        1/4 Cup of Chopped Onion
   Method
Soak the rice for

2

0 mins, wash the rice and cook it in pressure cooker by adding required water for 3 whistles. once it done, turn off the stove. Let it cooled down for 15 mins.

Heat a pan with oil, roast the sesame seeds, red chillies, urad dal, coconut flakes, asafoetida and salt, fry till it turns golden brown. Let it cooled down for sometime.

Grind all the roasted items and roasted peanuts into a coarse powder.

Heat a pan with oil and temper it with mustard, urad dal, cumin and curry leaves, after they splutter, add onion, fry until golden brown and turn off the stove.

Take a wide bowl, add cooked rice, roasted, ground powder and tempering items. Mix gently.

Enjoy peanut rice with vadam, chips or any spicy vegetable fry.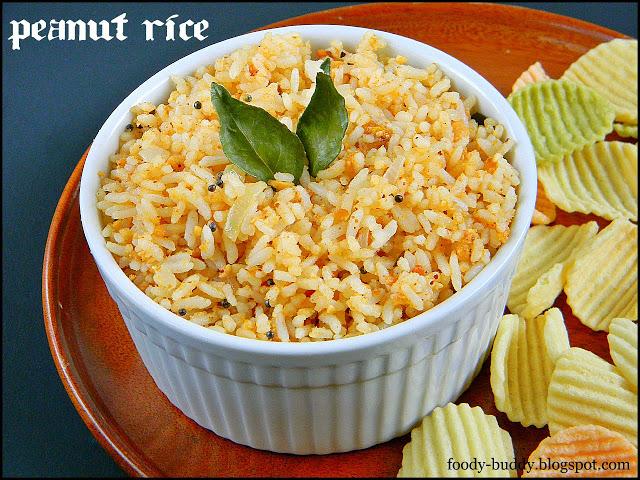 Tips
While mixing don't add hot rice, because it can make the rice soggy.

You can add green chillies while tempering, for more spicy taste.

Adding onion is optional.

Do not grind peanuts for a long time, it should be coarse.
   Health Benefits of Peanut Rice
Helps to promote fertilty because of folate in it.

Rich in protein and fiber.

Aids in blood sugar regulation because of unsaturated

fat in it.

Helps to prevent gall stones

Boost memory power

Lower risk of heart disease.

Cancer protection.