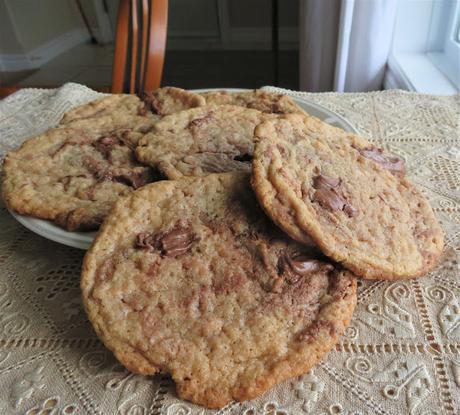 I was bringing supper over to Eileen and Tim today so thought I would bake them a little treat to go along with it.  I had made
Deviled Chicken
for my sister and Dan when they came over for supper the other night and had two leg quarters leftover along with some potatoes and vegetables.
I thought Eileen and Tim would really enjoy it and so I messaged her to ask if she would like it and she said yes, they would. I also had some soup in the cupboard that I didn't really like that she did and a few cans of baked beans that they like so I added them to the bag along with these fabulously tasty cookies.  Peanut Butter Nutella Cookies!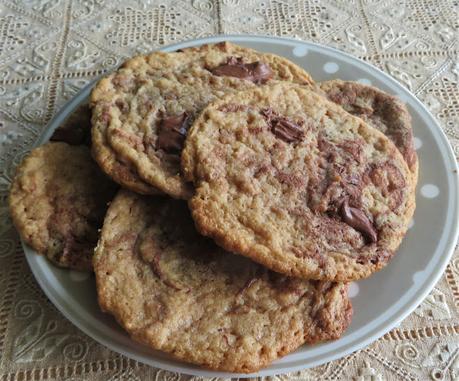 This is the most fascinating recipe to me. It uses only four ingredients and is totally gluten free. It also only makes six cookies.
Like me, Eileen needs to watch her weight. This was the perfect recipe to make for a treat for them. Not too much temptation hanging around.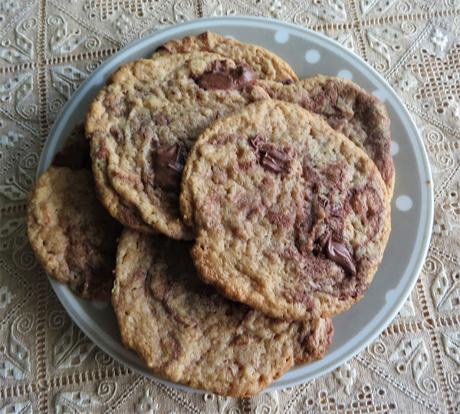 The recipe is one that I adapted from
Dessert For Two
. Mine turned out quite differently from the photographs she had on her page. 
Hers looked really puffy, whereas mine are flat, flat, flat. I wonder if the difference it because of the brand of peanut butter I used?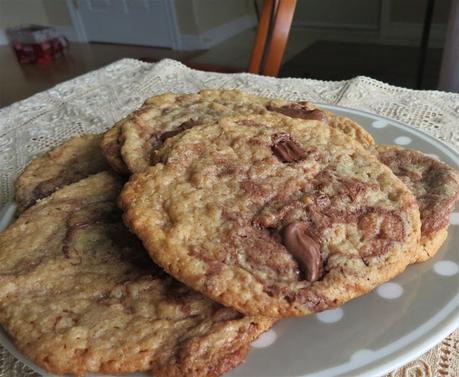 Mine spread out a lot and were really flat in comparison to hers, but they were really good.  Quite sweet however. 
That didn't stop me from eating one though.  The edges are amazingly crispy, and the centers nice and chewy.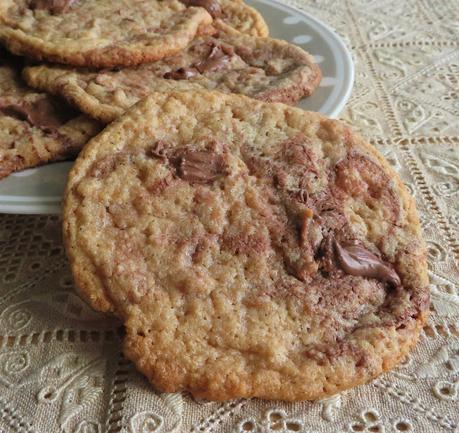 I used Kraft smooth peanut butter.  I have made peanut butter cookies before using only peanut butter, sugar and egg. They were a bit puffier. I think I used Skippy or those.
We don't have Skippy Peanut Butter here, although I believe you can get it at Costco. I look forward to a day when I can go to Costco again!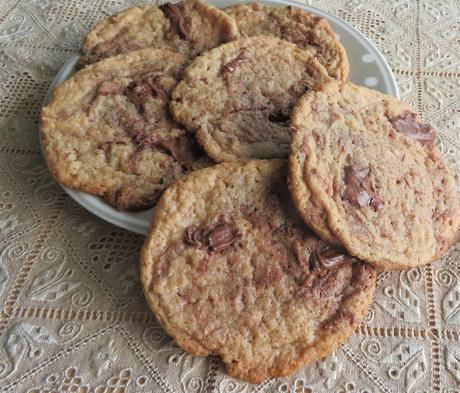 As I said this is a small batch peanut butter cookie recipe.  It makes only six rich cookies, with buttery crisp edges and chew middles.
They are riddled with Nutella, and even more Nutella is drizzle/dripped on top prior to baking.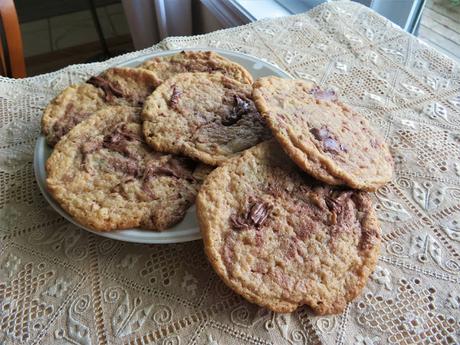 The batter goes together quickly and easily.  You just stir together the peanut butter, sugar and an egg white until everything is smooth and homogenous.
Don't worry about using up the egg yolk. I have quite a few different ways you can use it up.  For one thing you can just add it to your eggs when you are scrambling them for breakfast or making omelets.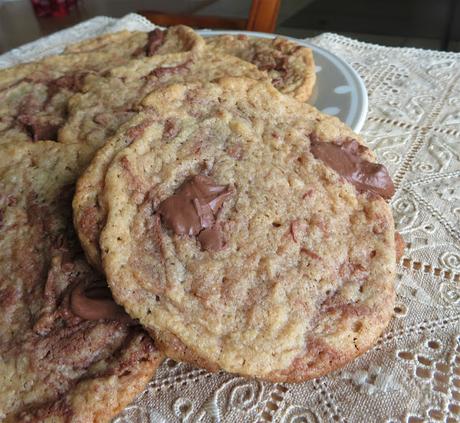 One recipe you can use the egg yolk in is the
Tuna Patties
I showed you yesterday.  (No waste here!)  I am sure you will find a perfect use for it however.
I often glaze my pies prior to baking by whisking together an egg yolk and some water.  This makes the perfect glaze to brush over them.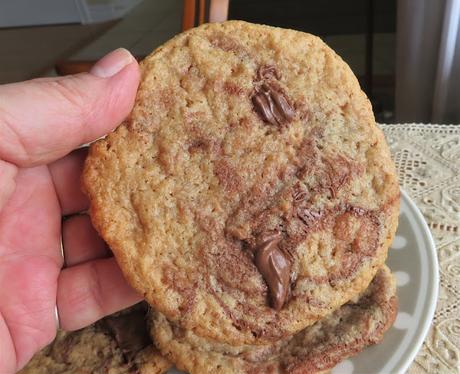 Unlike most cookie recipes you do need to leave the cookies on the baking sheet to cool down completely prior to moving them. They are fragile while they are still warm.
Once they have cooled, however, as you can see above they are not as fragile.  Do resist the temptation to move them any sooner.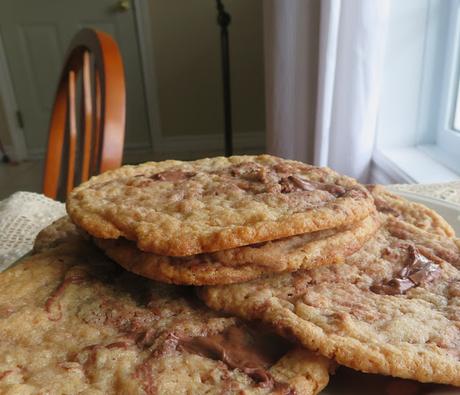 Nutella is used in two ways in these cookies.  Only two tablespoons, but one is folded/swirled into the cookie batter and the other one is dabbed/drizzled over top prior to baking them.
That way you get a cookie, that is nice and peanut butter flavored, but which also has ribbons of Nutella running through them.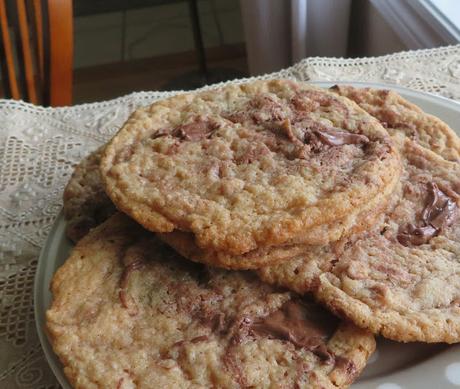 Another tablespoon of nutella is dabbed/drizzled on top prior to baking, which gives you little pocket of chocolate fudginess.
I guess you could call these quite moreish!  Crisp. Chewy.  Lovely peanut butter flavors and the sweetness of chocolate Nutella, riddles throughout, from the inside to the outside!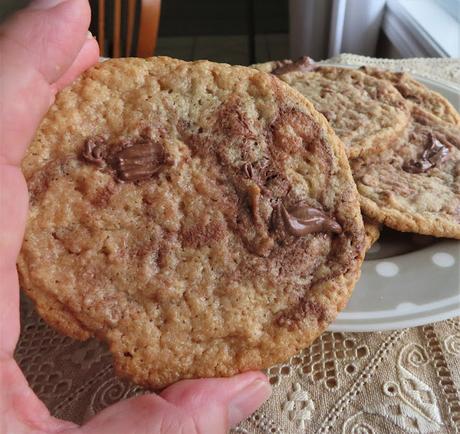 They may not be the most beautiful cookie you have ever seen. But if you enjoy peanut butter and chocolate, then you will be sure to enjoy these! 
If for no other reason than the ease of mixing and baking.  Nothing could be simpler!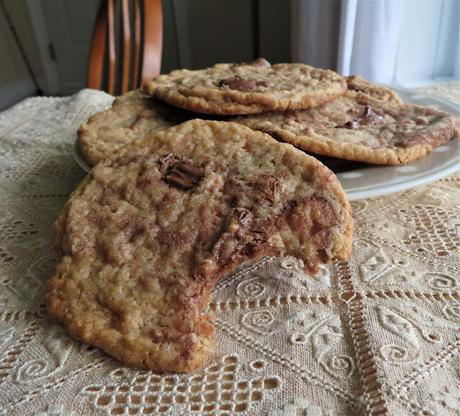 Some other cookie recipes you might enjoy are:
Coconut Lime Cookies
- These crisp edged, soft and chewy oatmeal cookies are filled with coconut and the fresh flavors of lime. The glaze is optional as the cookies are delicious all on their own, but it does go perfectly with these delicious cookies! 
Quarter Cup Cookies
- 
Every mouthful brings you a taste of your favorite flavours.  You get the savoury edge of peanut butter.  The caramel-like sweetness of brown sugar.  The rich chocolate chips. The sticky sweetness of raisins. 
Combine that with the wholesome nuttiness of oats and coconut, along with the crunch of toasted pecans, and you have a very moreish combination.  And its there.  In every tasty mouthful.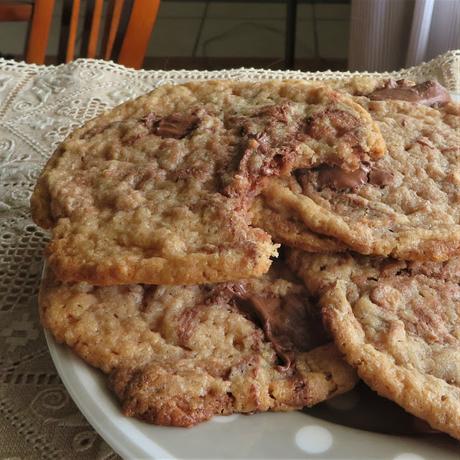 Levain Bakery Oatmeal Cookies
- These cookies are huge in size and in taste!  I have never had a real Levain Bakery Cookie, but if they are even half as good as these, they must be delicious! 
Old Fashioned Molasses
- These are Grammy cookies.  The type of cookie that your grandmother might have baked for you!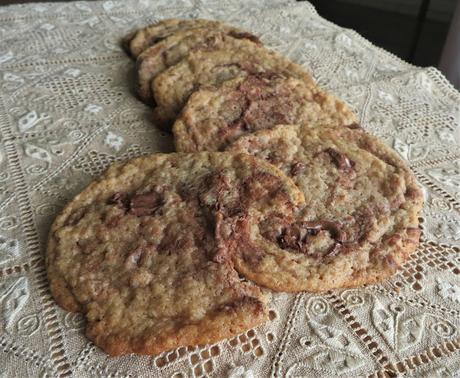 Hermit Cookies
- Nicely spiced with warm baking spices. Loaded with raisins and chopped walnuts. In short, deliciously old fashioned! 
Soft and Chew Jam Cookies
- Big soft sugar pillows, filled with sweet red jam centers!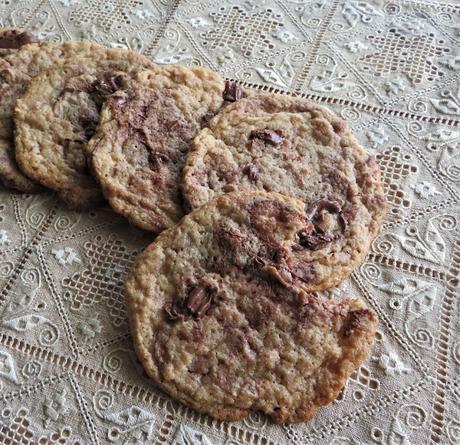 Loaded Cowboy Cookies
- Stuffed full of tasty things like coconut, chocolate chips, old fashioned oats.  Crisp edges and chewy middles! 
Apple Jack Cookies
-  Perfect for the Autumn, these cookies are like your favorite chocolate chip cookie filled with tasty bits of apple, nutmeg and brown sugar!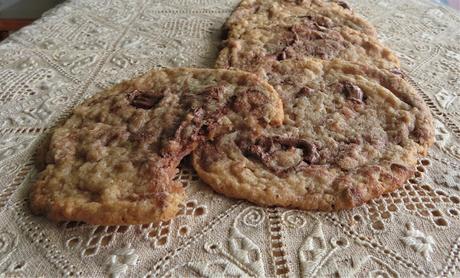 What are your favorite cookies and why?  Do you favor homemade over store bought?  (And who doesn't!)  Is it a nice thick spicy molasses and ginger cookie?  A sweet crisp sugar cookie?
Buttery cookies studded to the hilt with chocolate chips? Peanut Butter Cookies? Shortbreads?  Chocolate Dipped?  Coconut?  Oats?  
Or are you just like me and love cookies, any way, any kind? I have never met a cookie I did not fall in love with! I'm just like the Cookie Monster!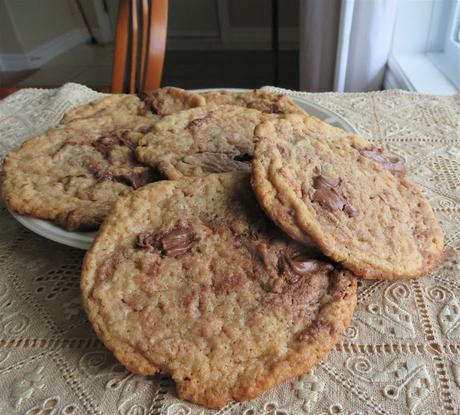 Peanut Butter Nutella Cookies (small batch)
Yield:
makes 6 cookies
Author:
Marie Rayner
Prep time: 8 Min
Cook time: 12 Min
Total time: 20 Min
These peanut butter cookies are very easy to make and are swirled with Nutella Hazelnut spread. They are also gluten free.
Ingredients
1/2 cup (90g) creamy peanut butter
1/2 cup (100g) granulated sugar
1 large free range egg white (save yolk for another purpose
2 TBS Nutella chocolate spread
Instructions
Preheat the oven to 350*F/180*C/gas mark 4.  You will need a large baking sheet. There is no need to butter it, but I do like to line it with paper.
Stir the peanut butter, sugar and egg white together in a bowl until thoroughly blended. Stir in 1 TBS of the Nutella, very lightly. Just  swirl it through the peanut butter dough without mixing it in too much. I use a skewer.
Divide the dough into six and place onto the baking sheet quite well apart. They will spread a lot. 
Dot the remaining Nutella over top of the dough balls here and there, almost drizzle it.
Bake for 11 to 12 minutes, checking to make sure the edges are set completely before removing the pan from the oven.  Leave to cool completely on the baking sheet.  They are very fragile when warm.
Scoop onto a plate and serve immediately.
Notes:
You will want to use a creamy type of peanut butter for these cookies like Skippy or Kraft Creamy. Don't be tempted to use all natural brands as they will not work.
Did you make this recipe?
Tag @marierayner5530 on instagram and hashtag it #TheEnglishKitchen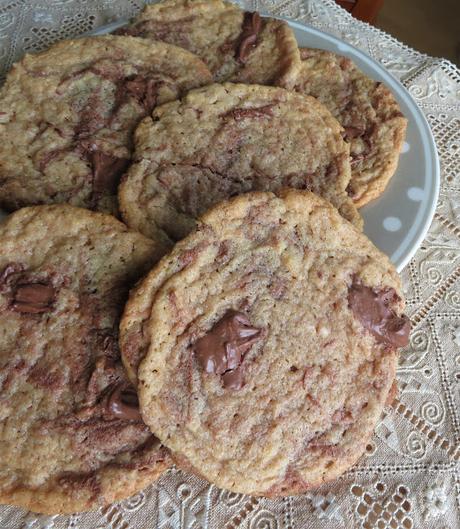 All of the content you see here on this page, both photography and written, are the sole property of The English Kitchen, Marie Rayner. Any reposting or misuse is not permitted. If you are reading this elsewhere, please know that it is stolen content and you may report it to me at mariealicejoan at aol dot com. 
Follow me on Bloglovin