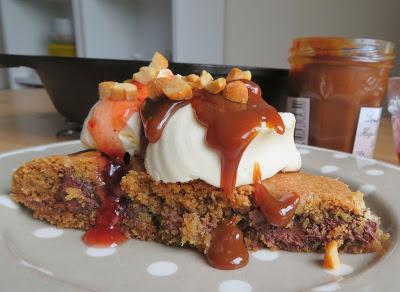 This weekend I was feeling like making us something pretty decadent as a weekend treat for our Saturday night movie night.  We were going to watch Grease again for the umpteenth time, well a toss up between that and America Graffiti  . . .  so I decided to make us a dessert that would be completely at home with groups of teenagers congregating in soda shops!  Meet Peanut Butter Chocolate Chunk Cookie Sundae Pie. (Don't try to say that too quickly!)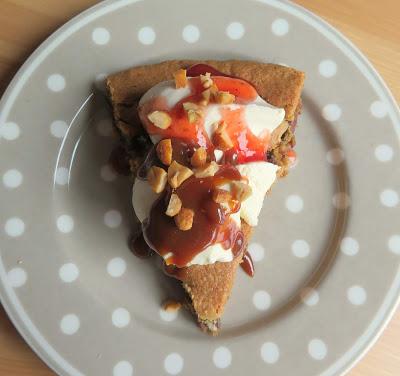 I guess we kind of had a soda shop when I was a teenager.  It was the old Shaker Restaurant in Middleton, Nova Scotia, Canada.  It was on the main street in the middle of town, right next to the Capital Movie Theatre.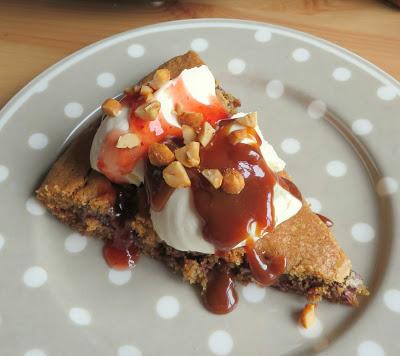 It was the place to congregate after school, on the weekends, etc.  It was called the Shaker restaurant because the whole wall behind the ice cream counter was filled with shelves holding the largest collection of salt and pepper shakers anyone had ever seen. Their main waitress looked like someone from the 1940's, right down to her Victory Rolls.  I thought she was rather cool.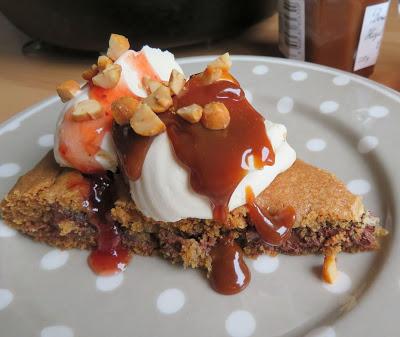 The most I could ever afford to get there was a coke and sometimes a friend and I would share a plate of chips. My allowance was not very much, and if I wanted to be able to afford to go to a movie or to a school dance, it didn't allow for a lot of other things.  The Shaker Restaurant was the place to see and be seen however.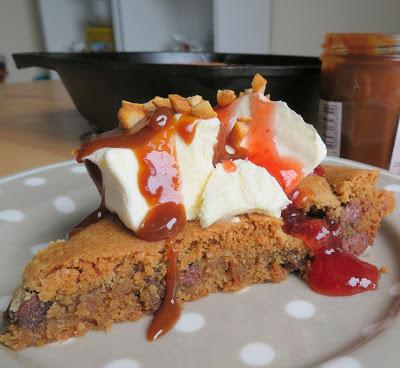 It has been a Chinese Restaurant for at least 35 years now and the movie theater is no more as well. Its a diner/pub, called what else but  . . .  The Capital.  They serve free Christmas Dinners on Christmas Day for those on low incomes and homeless people. My daughter loves to go there and celebrate birthdays with her friends.  I, myself, have never eaten there.
Anyways, back to this pie!  This is one heck of a gorgeous dessert and a real blue moon treat.  Its a huge peanut butter cookie that  is stogged full of semi sweet chocolate chunks and baked in a skillet.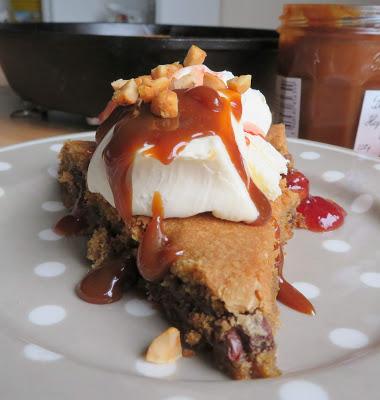 Incredibly edibly moreish on its own of course, but why stop there.   Topped with ice cream and your favorite toppings it becomes the ultimate dessert!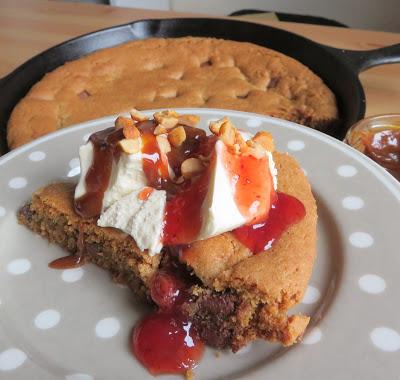 Today I used Clotted Cream Vanilla Bean Ice cream and running with the peanut butter flavor and my North America spirit, warmed Bonne Maman Strawberry Conserve . .  . only on half the ice cream.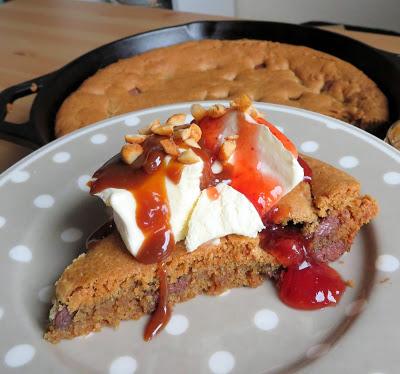 The other half of the ice cream was topped with a drizzle of warmed Bonne Maman Hazelnut & Chocolate Caramel spread  . . .  in for a penny in for a pound!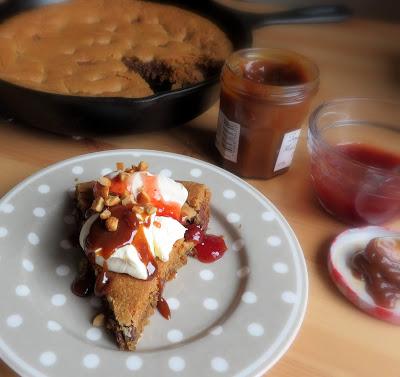 I sprinkled some chopped dry roasted peanuts on top because they are sundaes after all . . .  and what's a sundae without some chopped nuts!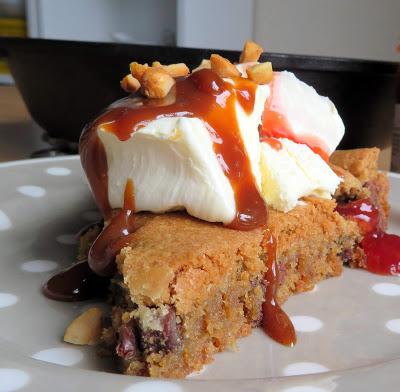 You could of course do just strawberry jam . . .  or just caramel sauce  . . .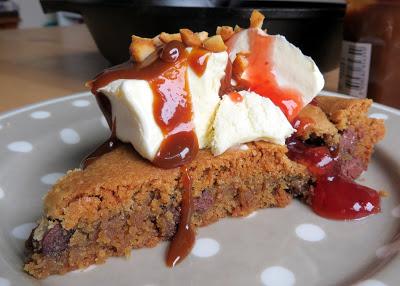 Or you could just use a hot fudge sundae sauce . . .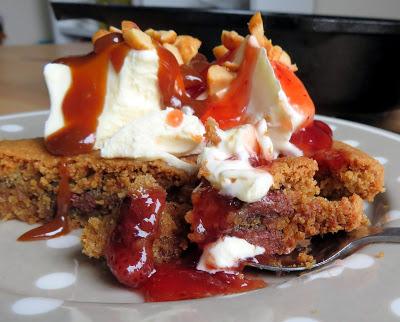 I can guarantee whatever you choose to top this with, you are going to definitely ENJOY this immensely.  Trust me on this.  Unless you don't like peanut butter that is, and I, for the life of me can't understand how anyone wouldn't love peanut butter, especially in cookie form!
Yield:
8
Author:
Marie Rayner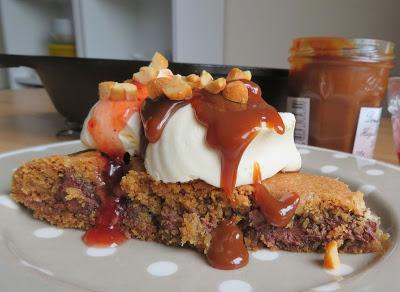 Peanut Butter Chocolate Chunk Cookie Sundae Pie
Your favorite cookie in a pie,  served warm and topped with vanilla bean ice cream along with your favourie toppings.
Ingredients:
For the cookie pie:
120g butter, softened (1/2 cup)
100g soft light brown sugar (1/2 cup)
95g of granulted sugar (1/2 cup)
1 tsp vanilla extract
1 large free range egg
90g of your favorite peanut butter, crunchy or smooth (1/2 cup)
210g plain l flour (all purpose 1 1/2 cups)
1 tsp bicarbonate of soda (baking soda)
130g semi sweet chocolate chunks (3/4 cup)
To serve:
vanilla bean ice cream
strawberry jam, lightly warmed
chocolate caramel sauce, lightly warmed
chopped roasted peanuts
Instructions:
How to cook Peanut Butter Chocolate Chunk Cookie Sundae Pie
Preheat the oven to 180*C/350*F/gas mark 4.  Butter a 10-inch oven proof skillet.  Set aside.
Cream together the butter, both sugars and the peanut butter until light and fluffy.  Beat in the egg and vanilla. Sift together the flour and soda.  Add to the creamed mixure and stir in until well combined. Stir in the  chocolate chunks.  Press into the prepared skillet.
Bake in the preheated oven for 25 to 30 minutes until golden brown and set.  Remove from the oven and let cool in the pan for 10 minutes before cutting into wedges to serve.
Top each warm cookie wedge with some icecream, your favorite toppings and some chopped nuts.  Delicious!
Did you make this recipe?
Tag @marierayner5530 on instagram and hashtag it #EnglishKitchenCreated using
The Recipes Generator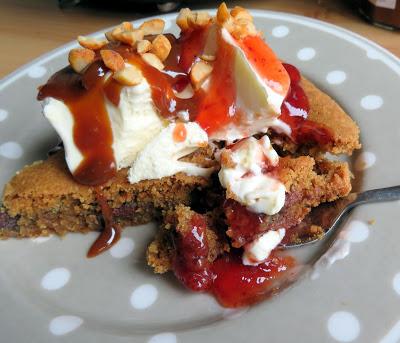 You could bake this in a large ten inch tart tin with removable sides as well if that is what you have.  Heck, if you wanted to you could make individual cookie cups and divide it between muffin cups and bake it that way. In that case you would only need to bake it for 10 to 15 minutes.  Enjoy!
One thing is for sure . . .  warm peanut butter cookies,  strawberry jam, chocolate chunks,  chocolate caramel sauce and ice cream all go togeher like Rama lama ka dinga da dinga don!  Shoo-bop sha wadda wadda yippity boom de boom!  Maybe it might be love.  (You're welcome!)