This Peanut Butter Acai Bowl is the perfect creamy, healthy, and peanut buttery breakfast! The recipe makes one thick smoothie bowl, best topped with fresh fruit, granola, and peanut butter.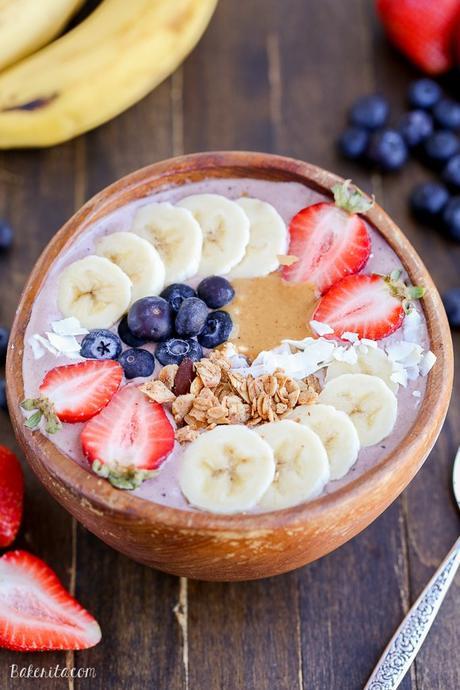 I've gotten pretty crazy obsessed with acai bowls and smoothie bowls since I discovered I could make them at home in my Vitamix. They're the perfect breakfast or mid-day snack, 
especially 
in the summertime when you need something to help cool you off.
At my place in Seattle, there was an acai bowl/jar bar place on my street called FIT BAR, and they had the best peanut butter acai bowl called Peanut Butter Power. Not going to lie, guys – this recipe is my copycat of the peanut butter power acai bowl.
I knew I was moving back down to San Diego where there's acai bowls every where you look, but I wanted 
that 
specific one, and now I can make it at home. This recipe definitely satisfies my cravings for the Peanut Butter Power bowl…and talking about it, I desperately want to go make myself one! Good thing I have all the ingredients ;)
But first! I need to tell YOU all about it so you can go make one too. It's really super simple – you're making a smoothie, but with less liquid, so it turns out thick enough to eat with a spoon. Add toppings, and you have the next best thing to ice cream for breakfast.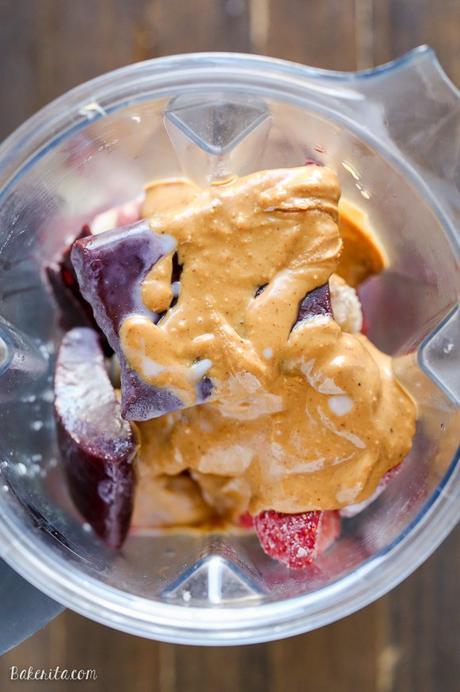 I've had some people ask me on Snapchat where I get my acai from, so I should fill you in case you're wondering too. I buy the frozen acai unsweetened superfruit pack from Sambazon, which I can usually find in the frozen section of the grocery store, near the frozen fruit. Grab the frozen berries too, while you're there!
The smoothie consists of frozen banana, which makes the bowl super creamy, frozen strawberries, frozen blueberries, an acai packet, a big spoonful of peanut butter, and a little milk! If peanut butter isn't your thing, feel free to sub in almond butter, sunflower seed butter, cashew butter, or whatever your nut butter of choice is.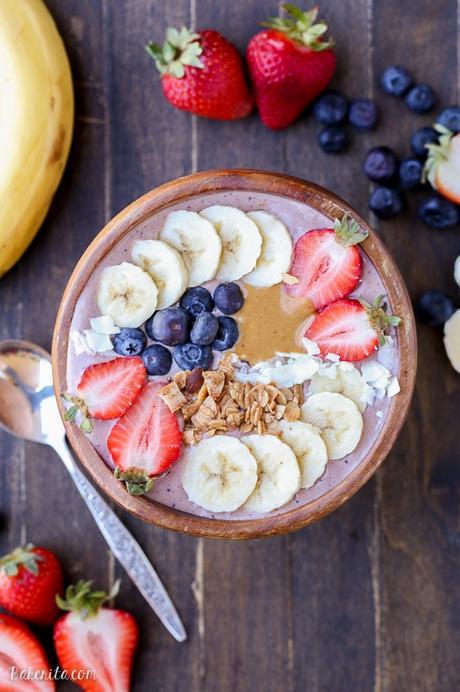 Once it's all smooth and creamy, pour your blend into a bowl and add your toppings. I added fresh blueberries, strawberries, sliced bananas, granola, coconut flakes, and of course, some more peanut butter. Go crazy with whatever you have on hand!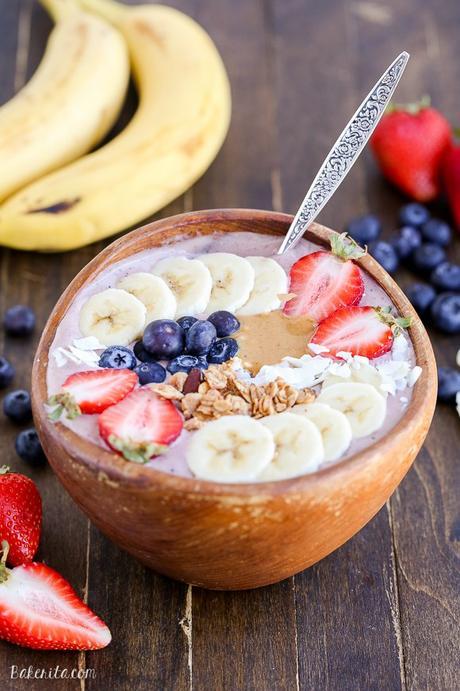 This Peanut Butter Acai Bowl is one of my absolute favorite smoothie bowl recipes, and I hope it'll become a favorite of yours as well! Enjoy :)
Remember to #bakerita if you try the recipe!
Peanut Butter Acai Bowl  
Save
Print
Prep time 5 mins Total time 5 mins   Author:
Rachel Conners
Serves:
1 bowl
Ingredients
1½ bananas, peeled and frozen
½ cup frozen strawberries
½ cup frozen blueberries
1 (100g) packet frozen unsweetened acai blend
2 heaping tablespoons creamy peanut butter
¼ cup milk of choice (I used almond)
Toppings, such as berries, granola, and peanut butter
Directions
In a high-powered blender, combine the bananas, berries, acai berry packet, peanut butter, and milk of choice. Blend until completely smooth.
Pour into a bowl and top with berries, granola, and a drizzle of peanut butter. Enjoy immediately.
3.5.3208

There's more where that came from!
Classic Acai Bowl

Berry Pitaya Smoothie Bowl

Chocolate Peanut Butter Oatmeal (Gluten Free, Refined Sugar…

Chocolate Peanut Butter Tart with Pretzel Crust (Gluten Free

Peanut Butter & Jelly Cinnamon Rolls

Homemade Coconut Butter