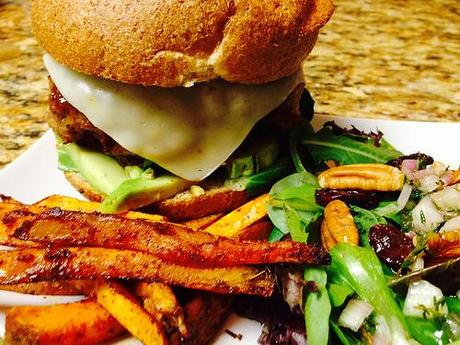 Contributor: Sarah Murphy Robertson
Now THAT's Service!
Recently I was excited to discover the delivery of my PeachDish in the mail. PeachDish is a new business based out of Atlanta and is dinner for two with three courses for only twenty dollars delivered to your doorstep – divine! I eagerly opened the box and found beautiful produce at the peak of ripeness, individually wrapped and labeled ingredients, and a colorful brochure detailing the recipe and steps for preparation.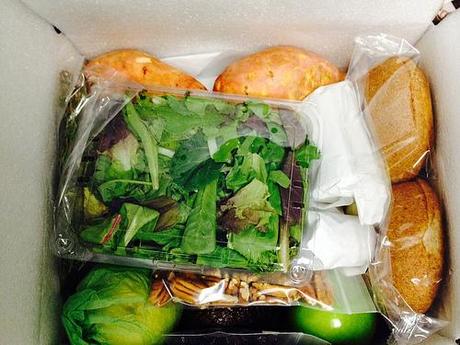 The menu from my box was adapted from Gena Knox's new book "Southern My Way" and included a salad of mixed greens with dried cherries and pecans dressed with a shallot thyme vinaigrette, turkey burgers on whole grain buns with all the fixins', seasoned sweet potato fries, and a pear and apple baked dessert. Yum!
The sweet potato fry prep was fast and a cinch. I really enjoyed the spice rub included called "Fire & Flavor" –perfectly named as it added a hint of heat but a ton of depth to the crispy fries. Once baked, I couldn't stop munching on them, even while plating the rest of our meal.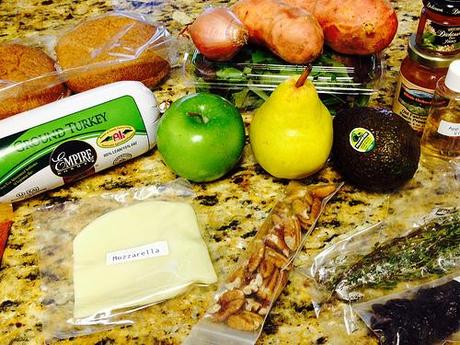 Everything is assembled from scratch including the salad dressing with fresh thyme, which I found to be the perfect complement to the sweetness  of the dried cherries and the crunch of the pecans. I quickly made a mental note to include it in my own vinaigrette recipes another…thyme! (Yes, I went there.)
The glaze components for the turkey burgers were equally inspiring – Dijon mustard and peach preserves. I am a big believer in dishes balancing salty with sweet flavors and this recipe married those two to a T.  The fixins' included an avocado (delivered perfectly ripe and beautiful) which was an excellent accent for this burger -  it helped elevate the dish to gourmet status!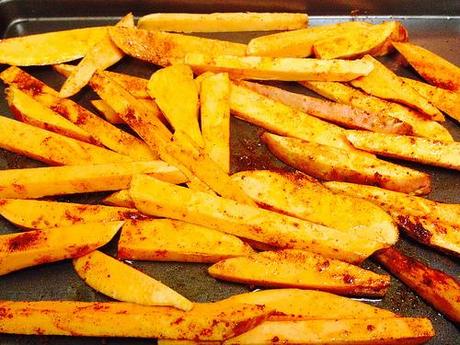 The dessert of honey roasted apples and pears was assembled in a snap and baked away while we had dinner.  As a multi-tasking mom, I can appreciate the convenience of having a warm and healthful dessert ready once dinner is finished. The fruit caramelized beautifully and would also be an amazing and unique topping for ice cream sundaes (cue another note to self!)
The meal did have quite a few steps and took over an hour to complete. From an experienced cook's perspective I felt there were a few places where a novice could go astray. For example, the only items required to have on hand were salt, pepper and olive oil (which in itself was great) but there were a couple of times when olive oil was required in a step yet the amounts to use weren't clarified.  The burgers were also very large (5 oz each) and in order to cook them through as poultry needs to be, it took longer than the recipe's time suggested. Honestly I could see that amount of meat making three or even four burgers and the recipe working better. I would also suggest PeachDish add an extra ice pack to the box sent to ensure against spoilage. These are small critiques of an otherwise delicious dinner experience.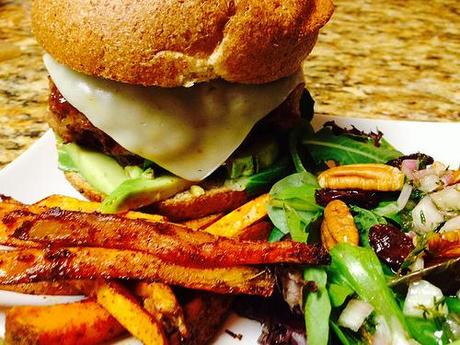 I found my PeachDish overall to be a fantastic option for families on the go. Gena Knox's innovative yet accessible recipes were exciting to me and I really enjoyed her use of familiar ingredients in a new way. Check them out on Facebook at PeachDish or Twitter at @PeachDishATL and learn what tasty dinner they could help you cook up this week!
Sarah Murphy Robertson, 30A Eats contributor, has relished all things food and language for as long as she can remember. She's worked for the Food Network as well as the Atlanta Food Bank. Nearly three years after their move to 30A, she and her family are enjoying life as locals and eating it up! Her latest venture is nosh, offering homemade holiday baked goods for pickup Saturdays at the Gulf Place Artist Bazaar. Check nosh out on Facebook at nosh 30a.

Print