This Peach Cobbler has a crispy, fluffy topping with a simple peach filling – it's the most perfect summer dessert! This is a gluten-free, Paleo, and vegan treat that you don't want to miss.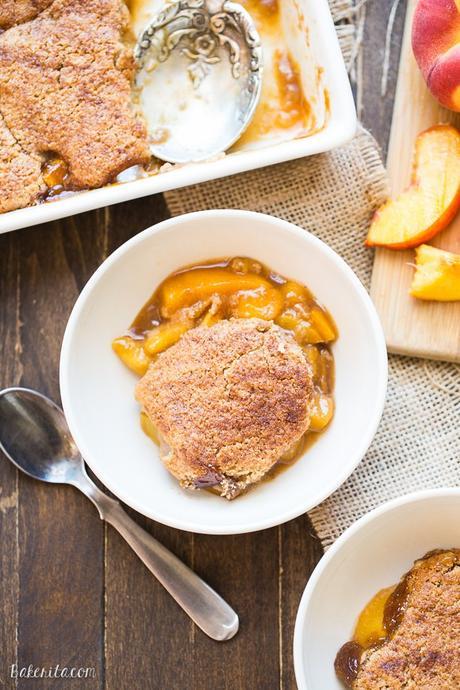 The peak of summer demands that
only
the absolute best produce makes it's way into my baked goods, and because all the fruit this time of year is so darn good, simple is definitely best. Juicy peaches are my kryptonite this time of year, and I always need to buy double whatever I need to for a recipe to make sure I don't eat them all before the recipe gets made. It's a frequently occurring problem.
Luckily, I managed to hold on to enough juicy, ripe peaches, as hard as it was, in order to whip up this easy peach cobbler. Since I made this blackberry and blueberry cobbler a few months ago, I've been dreaming of a peach version.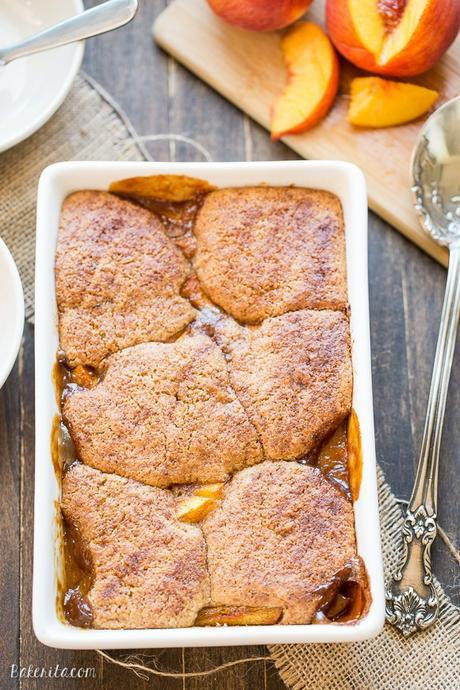 Peach cobbler seems like the perfect dessert during the summer, and it's even better with a scoop of ice cream on top. A couple things make this version even better – like the fact that's gluten-free, grain-free, Paleo-friendly, aaaand vegan…meaning it's a dessert that's also healthy enough to devour for breakfast.
And I'll have no shame in admitting that the serving you see photographed, with the ice cream on top? Yup, that was breakfast one morning, and it was sooo good.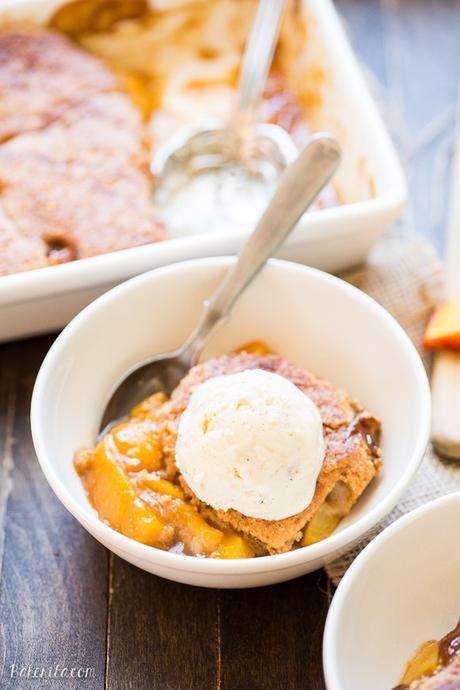 This recipe is super simple, as I think most cobblers should be! The peaches shine, with their sweet & juicy flavor shining through. A bit of coconut sugar for a bit of added sweetness, tapioca flour to help thicken the juices, and a teensy bit of cinnamon and nutmeg are all they need.
The cobbler topping is super simple and it can be thrown together in a bowl in a few minutes. It has quite a bit of baking powder, which helps the topping fluff up into a wonderful pastry you won't be able to resist digging your spoon into. I sprinkled a bit of cinnamon and sugar on top of the cobbler before baking, which gives a fabulous bit of crunch on top of the whole thing.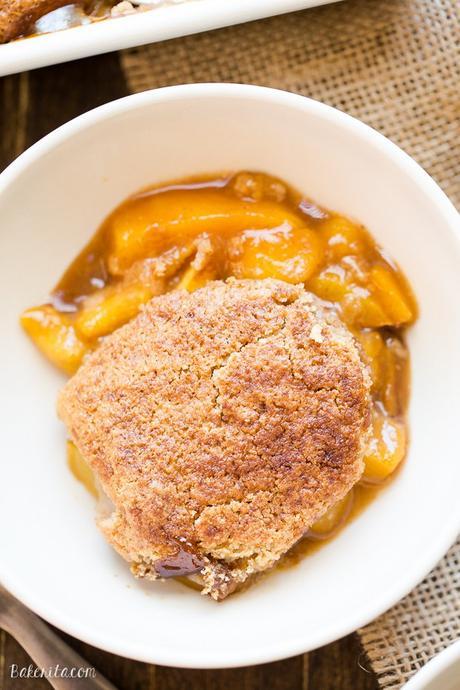 After eating a scoop for breakfast, I left the cobbler on the counter, and by the time it was bedtime, the whole thing was gone. Between myself, my friend Sarah, and my dad, we demolished it. This recipe doesn't make a huge batch, so if you're planning on feeding a crowd, you may want to double or even triple the recipe.
No matter how much you make, I doubt the leftovers will last long! Make sure you try this one out while peaches are still at their best :)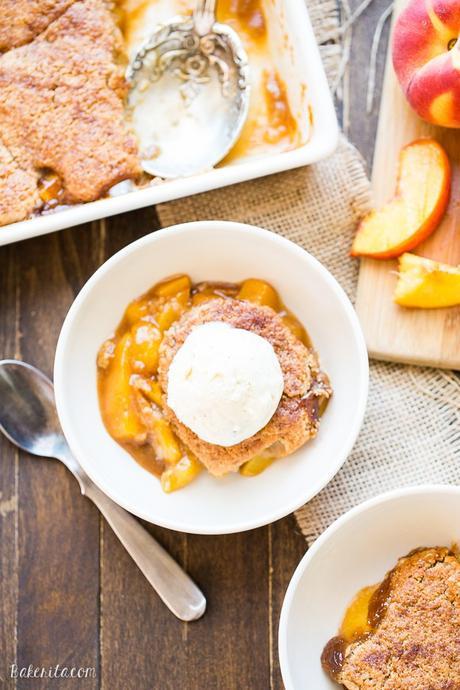 Remember to #bakerita if you try the recipe!
Peach Cobbler (Gluten Free, Paleo + Vegan)  
Save
Print
Prep time 15 mins Cook time 30 mins Total time 45 mins   Author:
Rachel Conners
Serves:
8 servings
Ingredients
5 fresh peaches, peeled, pitted and sliced
3 tablespoons coconut sugar
1 teaspoon tapioca flour
¼ teaspoon cinnamon
⅛ teaspoon ground nutmeg
For the cobbler topping
½ cup almond flour
½ cup tapioca flour
1½ teaspoon baking powder
¼ cup unsweetened non-dairy milk (I used almond)
¼ cup coconut oil, melted
1 teaspoon vanilla extract
1 tablespoon coconut sugar
1 tablespoon coconut sugar + ½ teaspoon cinnamon, to sprinkle on top
Directions
Preheat the oven to 375°F. Prepare a small baking dish or three small ramekins by greasing with a bit of coconut oil and setting on a baking sheet.
In a bowl, combine the peaches, coconut flour, tapioca flour, cinnamon, and nutmeg. Stir to combine. Pour the fruit into the prepared pan or ramekins, dividing evenly if using more than one ramekin.
In a different bowl, combine the almond flour, tapioca flour, baking powder, coconut oil, non-dairy milk, vanilla, and 1 tablespoon coconut sugar. Mix until smooth and then dollop over the peaches.
Combine the remaining tablespoon coconut sugar with the cinnamon and sprinkle over the batter.
Bake for 25 - 35 minutes until a toothpick inserted into the pastry comes out clean. Serve with dairy-free ice cream!
3.5.3208

There's more where that came from!
Blackberry + Blueberry Cobbler (Gluten Free, Paleo + Vegan)

Blueberry Skillet Cookie (Gluten Free + Paleo)

Peach Snickerdoodle Crumble

Strawberry Rhubarb Crisp (Paleo, GF + Vegan)

Peach Cornmeal Upside Down Cake

Paleo Carrot Bread