When you think of champagne, what comes to mind? Weddings. Anniversaries. New Years. Yes, special occasions, for sure. When you think of peaches, what comes to mind? Summer. Georgia (USA). Pies. Picnics. And, for sure, Dole Packaged Foods where it's summertime all year long!
This peach bellini cocktail is for a very super dooooooper special event. See I will make this drink as well as seven other recipes at 'Live on Green' in Pasadena, CA. This family festival with live bands, chef demonstrations, face painting and more exciting vendors precedes the historic and widely viewed 2016 Rose Parade.
As Dole Packaged Foods social media ambassador, I've had so many incredible experiences. After winning the Dole California Cook-Off in 2013, I've been honored to represent DPF at so many stellar and memorable functions from emceeing the 2014 Cook-Off to serving as host for the Dole Summit (for selected high-profile food bloggers) to this, my second Rose Parade! As you can see, this is a celebration worthy of big *clink clinks* and happiness. Wishing for all of you wonderful folks who come to Ally's Kitchen the most prosperous and healthy year of your life~2016!
Yes, this is a sponsored post. I assure you, everything here is my opinion (hey, I'm way too old and seasoned to do otherwise!). For a full disclosure~ click here.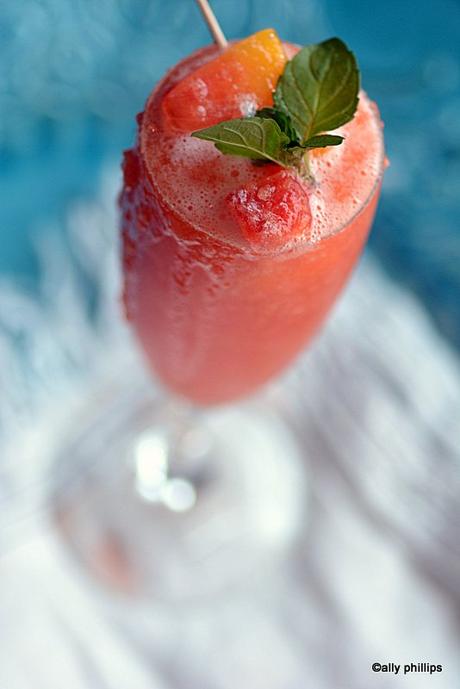 3 oz. Dole Fresh Frozen Peach Slices, partially thawed
¾ oz. peach schnapps
4 oz. champagne
1 oz. fresh sour
½ oz. grenadine syrup
½ oz. simple syrup
¾ cup ice cubes
Ingredients
Instructions
Notes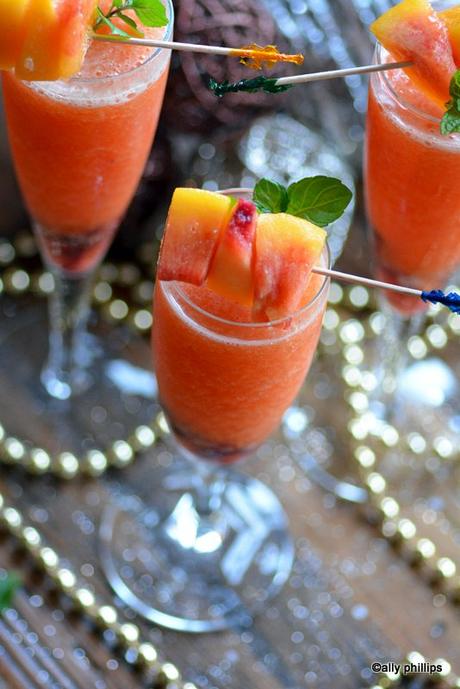 comments