For quite some time I am analyzing and reviewing team collaboration apps. Previously, I discussed how Asana and Wrike are different. After that, I went ahead with Bitrix24 alternatives. I began my research with Basecamp, and now I got a chance to try yet another team collaboration app: Paymo.
Initially, I thought Paymo has something to do with payments. Well, no. It's not remotely close to helping you with payments. Paymo is a simple project management application. Features like task management, time tracking, invoicing, and such, are its core components. Paymo primarily caters to small and medium business owners to manage their teams, projects, and also the finances. All in all, Paymo ensures you spend lesser time in administrative works and focus more on operations.
A Romania-based web application, Paymo has over 150,000 users across the globe. Whether you are a freelancer or a business owner, you won't need to worry about tracking your team. Paymo will do that for you.
Paymo has some interesting features to check out. Let's have a quick look at the features of this tool. To explain all the features, I will use a demo project that Paymo suggests to get a better understanding of the functionalities.
Paymo Features Highlight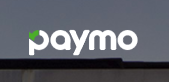 Paymo will let you take a tour of the entire features list. So before you sign up, you can get an overview of what to expect from this tool.
The free signup is the first convincing pointer. Usually, I tend to signup almost after few seconds of scrolling if it's free.
Management is the core functionality of Paymo: Project Management, Task Management, Resource Management, File Management, and Time Management. Apart from this, other features include Project Accounting, Team Collaboration, Reporting, Invoicing, and Integrations. Time to dig into the features.
Project Management
Like I said, I will use a demo project called "Paymo Walkthrough."
The moment you signup, you will receive a welcome email from the CEO. Such personalized emails often play a pivotal role in deciding whether to continue with the tool or drop it off then-and-there.
Coming back to the features, your dashboard will look something like this: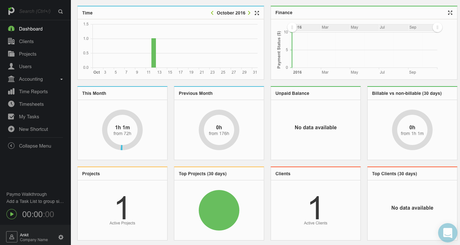 You can create Tasks within your project, add Milestones, track progress through the TimeSheets, add files, initiate discussions and also get an overview of all the activities in the Activity Feed.
Tasks:
Every task has a checkbox. You can check it off when it's done. Mostly, tasks are arranged chronologically. However, you can alter the order by just dragging and pulling it to required position.
Milestones:
This feature lets you know where you stand with all your projects. For instance, below you can see my project "Paymo Walkthrough" project is delayed. In the given time span I created only one project, and I have not yet completed it.

So I added a new Milestone named "Completed Review" which is now 'completed.'
This way, you can create significant milestones for your company and have them listed down here.
Timesheets:
You can easily track your work on a daily, weekly, monthly or agenda basis. Your monthly calendar will look something like this: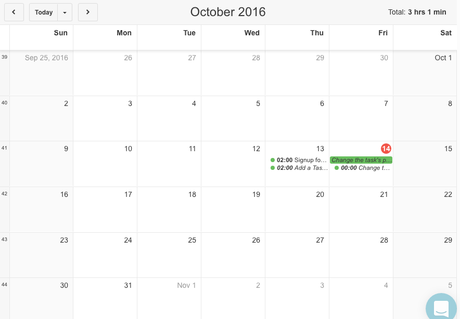 You can add new time entry as well as task entry. From hours to minutes, you can set up everything so that your timesheet gives you an overview. For instance, according to my timesheet above, the total time I have spent in this demo project is 3 hours and 1 minute. Honestly, that's the kind of precision that speeds up the work.
Files and Discussions
You can get an overview of all the files that you have attached for you and your team members while working on this project. Similarly, the Discussion tab will show you the list of discussion threads in case you need to look up for some information.
Activity Feed:
This is the place where you get all the details on who created which task and who did what next. In my case, I was just trying out the feature. Your activity feed will look almost like this, only that you will have other user names too!
Another feature that comes handy in project management is "Project Templates." If you run all your projects in a similar way, then 'templates' can help you save a lot of time. You can save a new project as a template that you can re-use later.
Paymo's Kanban Style reminds me of Trello. You can create a workflow and determine the sequences and steps to be followed. The work progress is transparent to everyone involved in the project. Not just this, you can easily customize your boards to suit your project needs. Don't like the Kanban style dashboard? You can always shift back to the Classic mode.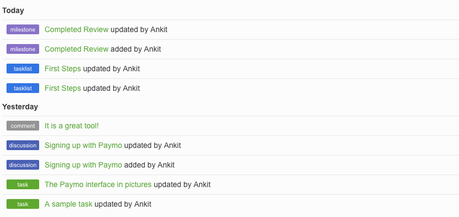 Many times you might find yourself confused as to which project is being done, which is completed, and other such factors. Paymo lets you have a bird's eye view of all your projects. You can see which projects have been billed and which are not, how much time each project has incurred and the project status.
The last feature that makes project management seamless on Paymo is the detailed project data. You will get a snapshot of the entire details of all your projects.
Now we are aware of all the basics that we can do on Paymo. However, we are still to explore the payment and accounting part. We will come to that a little later. As of now, let's have an overview of all the features of Paymo in details.
Using Paymo we can save hours of administration and be more productive. The rich feature set offers everything we need, from invoices to advanced timesheets. Great tool. ~ Teun Lassche, T.H. Lassche Webdevelopment
Team Collaboration
Irrespective of your team size, you will always need to communicate with your team members for better work results. Paymo helps in sharing, discussing and being more productive within your team.
The Detailed Task View option makes it easy to see who is doing what in your team. Starting with the project details to the billing amount incurred, everything can be viewed. You can also decide who in your team should be notified if and when a comment is posted.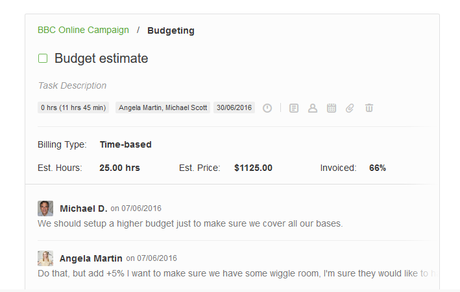 I have already mentioned about file sharing. The sharing is extremely secured, and you can have unlimited storage options as well.
Along with discussions, many times you create 'notes' that are relevant to the task or project. Sometimes you wish to keep these notes to yourself, and other times you share it with your team. Whatever you decide, Paymo gives you the liberty to do so.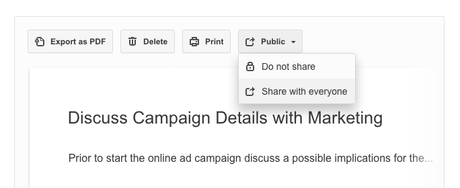 Time Tracking
I have already discussed the time sheet. Here's a detailed approach to that-
You can record the time you spend on each project for later reference. This is called the 'Web timer' which you can start and stop as and when needed. Do note that time span less than a minute cannot be tracked. I call it a web stopwatch. You can either keep it docked like the image below or detach and minimize it while it is running.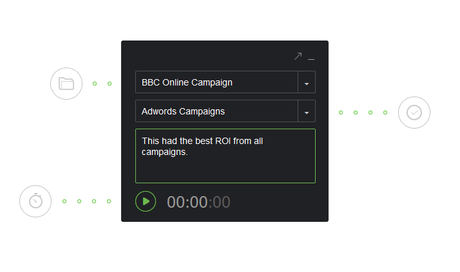 Sometimes you might forget to log in to the web app of Paymo. Here's another solution for you. You can download the desktop app and record your work time. The desktop works offline as well, making it hassle-free to track work.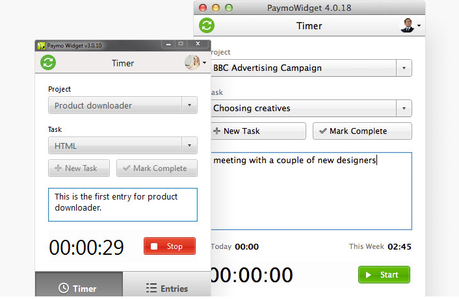 No one works like a robot at a stretch. You are bound to take breaks. To suit your small power breaks and naps, Paymo lets you set idle time so that your clock doesn't run unnecessarily. The app is available on Windows and OS X.
I would say that Paymo is the only software out there that tracks time so accurate. It helps me to improve my company's workflow and to give exact reports to my customers. ~Stoyan Daskaloff, SliceCrowd Ltd.
If you are a paid user of Paymo, you will enjoy the benefits of tracking time automatically. The more manual labor goes off your shoulders, the better! The desktop app tracks your work that you do on the machine- effortlessly. If you are a multitasker and juggle between a lot of works, you might forget to clock in. Paymo has it sorted out for you.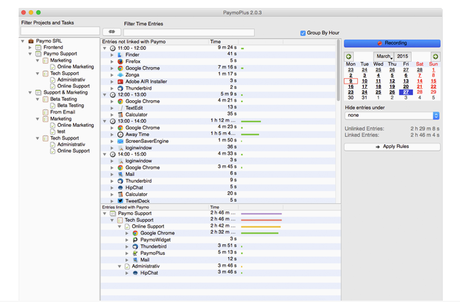 You can make changes in your work offline via mobile apps. It gets synchronized automatically the moment you are connected to the internet.
Team Management
I have already mentioned how Paymo is more about managing everything seamlessly. There are three types of user roles:
Admin, who has the privilege of accessing all the projects as well as the company settings.
Project managers can see information only about the projects they have created.
Users can only access projects that are assigned to them.
You can click on the profile of a user to take a look at their performance statistics. Apart from that, the Activity Feed keeps you up-to-date. You can scroll back to read about Activity Feed.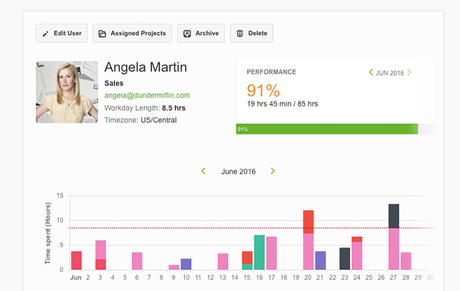 Timesheet Reports
Tracking time, setting time, calculating time- all comes down to reporting. Paymo offers a robust timesheet reporting feature. You can create customized timesheets for your organization easily.
You can create live reports that show your timesheet data real time. Else, you can create a static timesheet report that shows report of a particular project at a particular time. All the information can be customized. With the advanced settings, you can decide what information you want to showcase in your report, like Projects, Tasks, Display Costs, entry notes, etc.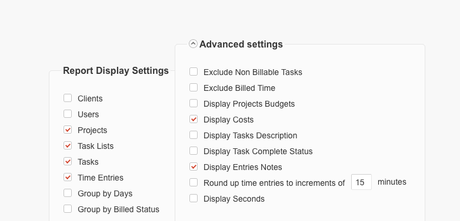 The time reports can be represented as a bar chart or pie chart. You can share the reports, not just within your organization but also externally, for instance with clients.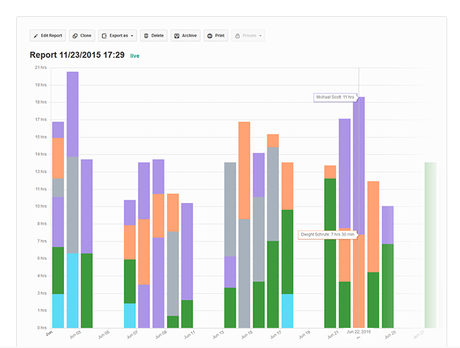 And now, we get into the best part of this tool.
Not many team management app allows you to do accounting details like billing, invoices, etc. Paymo... Click To Tweet
Smart Invoicing
You can create an invoice for all your projects. For your internal projects, you can choose "non-billable" option. Paymo allows you to create an invoice of an accurate estimate based on your tasks, and hourly/flat rates to share with your clients.
Flexible Billing Rates
While some of your clients want you to work on an hourly basis, others want to go for a monthly model (fixed amount, with several breakups). Paymo lets you create different rate scales for different projects as per your needs. You can create a default hourly rate for every new project or decide it as per the client's project or task or your employee.
You can record all your expenses that you incur for a project and add them to your invoice. Many times, you need many external add-ons that are not pre-decided but necessary for your project. You can include all these expenses in your invoice separately.
Paymo has integration with Payflow from Paypal, Stripe, Authorize.Net and PayPal. You can directly get the payment from your client. Once your invoice is paid online, Paymo automatically marks it as 'paid.'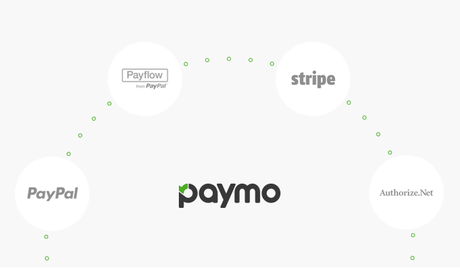 You can convert your timesheets into invoices in a click. You can create invoices in multiple languages and currencies for your clients.
Paymo Add-Ons
The dedicated app for desktop and mobile will always keep you a step ahead with your tasks. You can easily complete your tasks within the given deadline, right from your smartphone or your desktop.
Paymo Widget
You can use the Windows or Mac widget to stay ahead of the curve. Use the time-saving and tracking features like stopwatch, Time Sheet Editing, and Idle Detection to do more.
Paymo Plus
If you work on more than one project at a time, then Paymo Plus is for you. You can start this app and let it run in the background while you go ahead with your tasks. You can download the Paymo Plus app on your Windows or Mac desktop. At the end of the day, all you have to do is to match the applications/windows tiles to the correct project/task.
Paymo Mobile App
Without a mobile app, things seem like stalled. Paymo will not disappoint you here. You can download the mobile app for Android or iOS phones.
Paymo Integrations
Paymo makes workflow seamless and facilitates the way you work. To do so, Paymo integrates with various third party applications.
Hubstaff Integration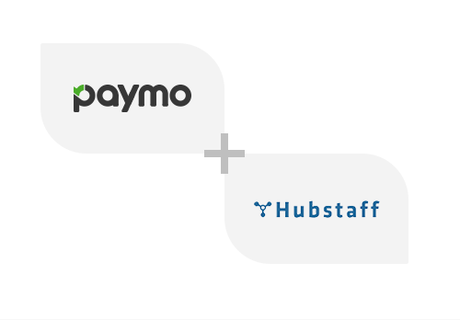 Hubstaff is a time tracking application. It helps to sync time with Paymo, and manage teams effortlessly. The application is nonintrusive, letting you and your team work uninterrupted. It has a smooth run on Windows, Linus, and Mac OS.
Zapier Integration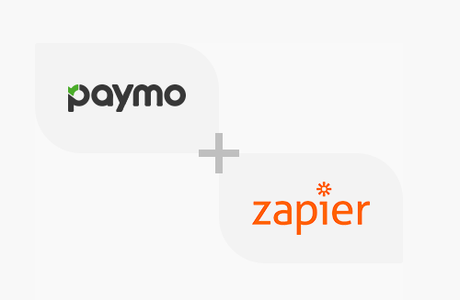 With the integration of Zapier, you get to use all the other apps like Google Apps, QuickBooks Online, Slack, Xero, etc.
Paymo API
Paymo is a RESTful API and uses JSON/XML for serialization. Accepted request types (HTTP verbs) include: GET, POST, PUT, DELETE
The base URL of Paymo's API is SSL only. There is no way that it can be used over an unsecured http:// protocol.
For more details, you can check here.
Paymo Pricing
Paymo has a very simple and straightforward pricing plan to start with. Afer the 15-Day Unlimited trial, the paid plans start at just $8.95/user/month.
In the Free plan, you get almost all the features.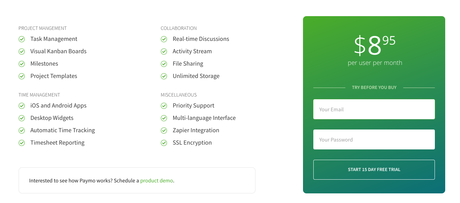 The customized add-ons plans are as follows:

Paymo for Non-Profits
Paymo offers to support the non-profit organizations or individuals who are doing something good. Each nonprofit organization or individual is eligible for a 50 percent discount or a discount up to 80 percent if you are willing to mention Paymo's name as your supporter on your website.
Not all can avail this discount. You will need to prove that you are genuinely involved in social work. For more details, check here.
Lifetime Free Paymo Subscription
Paymo knows how to reward its users for their loyalty and trust. Thus, if you can write a review for Paymo in any one of the platforms mentioning how Paymo has helped you, you can save $60 that will be credited to your Paymo account. You will need to write a review on Capterra, Alternativeto, G2 Crows or Chrome Web Store. Each platform has a separate requirement.
To win lifetime free subscription, you will need to write a review on all the three platforms.
The Paymo Affiliate Program
Paymo gives you the opportunity to make money as well through its affiliate programs.
10 percent recurring commission for your efforts.
If more than 15 users come from your site and purchases a subscription, you get paid $13.4 every month for the entire duration of the client (28-36 months).

To know how Affiliate program on Paymo works, see here.
Paymo has been the top choice for a marketing agency Phoenix the Creative Studio. The company recently turned up at the Canes Lions Festival, the biggest creative and design festival in the world. In this festival, their "Cannes Survival Kit" was an instant hit. The best part is, it was Paymo that helped this Montreal agency beat the big boys at the Cannes Festival of 2016. Read the full story from Fouad Mallouk, the company's president on Paymo's official Blog: How Paymo helped a Montreal Agency play with the big boys at the Cannes 2016 Lions Festival.
Paymo is steadily making a mark for itself in the overcrowded app market. The features and pricing are tailored to suit everyone. If you haven't yet tried Paymo, start using it now for FREE. Users love this tool, and I'm sure you will too. Let me know in comments if there's anything more to this tool that I have left unexplored.