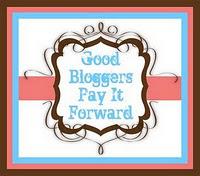 Jo-anne at Blooming Lovely passed this lovely Blog Award onto me today. I am really touched to be honoured this way, so Thank You very much x
I now pass this award on to the following five lovely bloggers:

Cooper & Lola

,

Lace Top Designs

,

Timeout Crafting

,

This Little Place

,

Crafty Kaz's Cards


The rules for accepting this award are as follows:
1. Mention the blogger who gave you the award
2. Link to their blog
3. Pay It Forward to 5 bloggers.