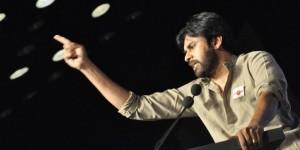 Pawan Kalyan entered into politics launching his new party 'Jana Sena' today at Novatel amidst his Fans and supporters. Pawan gave a lengthy speech explaining reasons behind his Political entry and pain he has undergone because of state bifurcation issue. Here are live updates posted in our twitter account during his speech.
Pawan Starts off Emotionally with Balagangadhar Tilak Saying "Illemo Dooram…"
'I am not interested in POWER', says POWERSTAR
"Naa TELANGANA gurinchi adagadaniki meerevaru" – Pawan kalyan, as an answer about allegations made by Telangana poticians who asked Pawan to apologize for Telangana people.
"Cinemaala meeda aasakthi potondi" – Pawan Kalyan
"hanumantha Rao gaaru Rahul gandhi Pelli cheskoledani cheppaaru kaani Brahmachari ani cheppaledu" – Pawan Kalyan, For allegations made by Congress leader V Hanumantha Rao regarding his marriages.
"Jagan garu jail lo unnaru .. cbn meedha nammakam ledhu ani naatho kondaru seemandhra leaders annaru.. nijalu chepali kadha" – Pawan Kalyan, stating what some Seemandhra Leaders told him during Samaikyandra movement.
"Mr Rahul Gandhi You have to learn from your Grand Mother Indira Gandhi about leadership" – Pawan Kalyan
"I,Pawan Kalyan will make sure Congress will never win a Seat here" – Pawan Kalyan
"I don't know if I'll contest in upcoming elections" – Pawan Kalyan
"I am coming for Integrity and Social responsibility for Two States" – Pawan Kalyan
"Congress Hatavo Desh Bachavo Jai Hind" – Pawan Kalyan
Pawan Kalyan completely targeted Congress party in his explosive speech directly referring to congress high command Sonia Gandhi, Rahul gandhi, Digvijay Singh and others. Pawan Kalyan covered most of the allegations made by other politicians on him and warned he won't spare them if they target him for his personal issues.