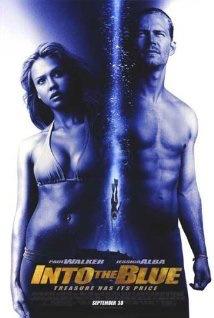 Director: John Stockwell
Writer: Matt Johnson (Screenplay)
Starring: Paul Walker, Jessica Alba, Scott Caan, Ashley Scott, Josh Brolin, James Frain, Tyson Beckford, Dwayne Adway
Plot: A group of divers find themselves in deep trouble with a drug lord after they come upon the illicit cargo of a sunken airplane.
There may be spoilers the rest of the review
Verdict: Deep Sea Dribble
Story: Into the Blue starts with a plane going down during a storm where it crashes into the ocean lost at sea. Now we meet our main characters Jared (Walker) a diving instructor who takes tourists on dives, Sam (Alba) who works with sharks on a tourist sea life. This makes us have a madly in love leading couple. We meet treasure hunter Bates (Brolin) who Jared once worked for and is always ready to offer Jared a job back. When hot shot lawyer friend Bryce (Caan) turns up with new flame Amanda (Scott) Jared finds himself with a new boat as the four go out and enjoy the sun, sea and the dive.
The friends discover the plane from the opening scene and a shipment of drugs leaving the friends to decide to try and figure out what to do with the discovery. Jared and Sam convince the other two to explore the area for historical treasure before reporting the plane where the friends discover treasure that will make them rich beyond their wildest dreams. Everything takes a turn an hour into the film when Bryce & Amanda try to sale the drugs back to the dealer Reyes (Frain) who ends up forcing them into retrieving his drugs in 12 hours or he kills everyone he loves.
Into the Blue is clearly a film that ended up going on too long, mainly because we have a good hour of the story where we just see our four characters diving and deciding whether to search for the treasure or not. Literally no villain is introduced until around the hour mark which makes us lose a lot interest in what is happening. Once the villain is introduced we end up with a good action thriller that keep you guessing that does have a few questionable fights. I feel if you cut around half the opening pointless diving out we would have a much more interesting film. (6/10)
Actor Review
Paul Walker: Jared is the experienced diver who wants to go into treasure hunting with his girlfriend Sam, when his old friend joins them on the island of the Bahamas they go in search a good time where they discover a treasure. Jared is an honest man who will protect his men but is also ambitious. Paul does a good job showing he could be a leading man in the industry with this role. (7/10)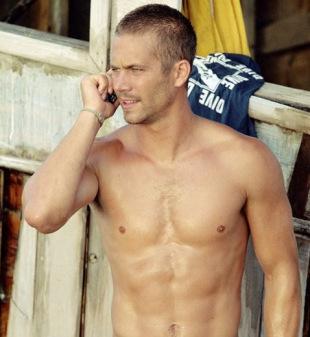 Jessica Alba: Sam is Jared's girlfriend who works in the world of sea life where she gives talks on sharks to tourist. She is an experienced diver too where she ends up helping in the treasure hunt but on the honest side of the law. Jessica brings her beauty to the role where she gets to play the good girl girlfriend. (7/10)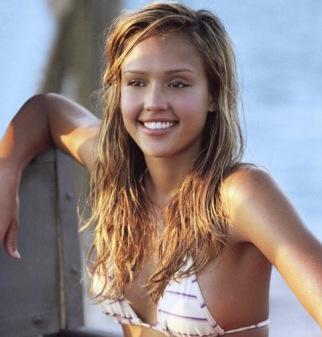 Scott Caan: Bryce is the lawyer friend of Jared & Sam's who comes to the island with a new fling for a good old catch up with his old friends. He is very crazy with his money where he has got to the level where he does spend to impress, he makes the bad decision with his new fling to try and deal with them about the rugs they have discovered. Scott ends up playing that friend that always gets you into trouble well. (7/10)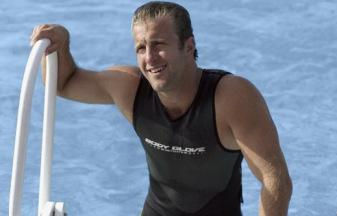 Ashley Scott: Amanda is the free styling girlfriend who is a loose cannon from the start, she likes to party and could easily be the reason why everything gets out of hand. She doesn't think about the others with any decision she makes. Ashley does a solid job in this role being the almost villain in the piece when it comes to dealing with the three friends. (6/10)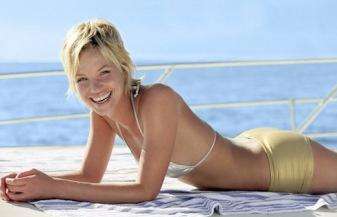 Josh Brolin: Bates is a fellow treasure hunter who doesn't always play by the rules when he is working on ideas, but he does have honor when it comes to fellow divers. Well his surface looks like an honest guy but he really is working with Reyes. Josh brings the role of the nice guy villain to the forefront showing he was ready to start making a serious impact in Hollywood. (7/10)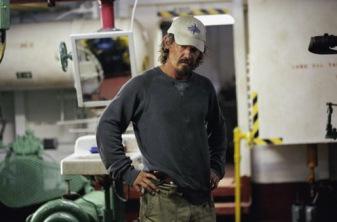 James Frain: Reyes is the drug dealer who plane has crash landed in the ocean, he ends up blackmailing Jared into bringing him is drugs back in 12 hours or he will kill everyone he loves. James only appears in one scene where he does make an impact. (6/10)
Support Cast: Into the Blue has a supporting cast that includes the drug dealers and their men along with the honest folks of the island that help Jared, they all become generic without making a really impact in the final story.
Director Review: John Stockwell – John brings us a solid action thriller that does have a few longer than needed scenes but will satisfy the fans of the stars. (6/10)
Action: Into the Blue is very generic even if they try to make parts under water fights and chases which doesn't quite work. (5/10)
Thriller: Into the Blue doesn't pull you in until the final half of the film where things get a lot more interesting. (6/10)
Settings: Into the Blue uses the Bahamas as its setting which works for the idea behind the film perfectly. (10/10)
Suggestion: Into the Blue is one for the action fans to try, I do think the fans of the stars will enjoy but I know for a fact I would rather watch Fool's Gold again. (Try It)
Best Part: Final kill.
Worst Part: First half.
Believability: No (0/10)
Chances of Tears: No (0/10)
Chances of Sequel: Has a sequel
Post Credits Scene: No
Similar Too: Fool's Gold
Oscar Chances: No
Box Office: $18 Million
Budget: $50 Million
Runtime: 1 Hour 50 Minutes
Tagline: Temptation is bliss
Overall: Underwater action film that nearly drowns before being saved but left adrift
Rating