Just got a call from
Paul Geremia
 , asking me to "trumpet" his upcoming gig at 
Johnny D's
, s
o I am trumpeting this national treasure, I hope the club is filled.
17 Holland Street, Davis Square, Somerville, Tuesday, October 9, 8pm. 
$10 cash at door 
For those unfamiliar with the club, it seats somewhere around 275. Dinner tables are at stage level and tiered, making for unobstructed sight lines. The sound is excellent, as is the full bar.
Paul's other New England engagements:
10/13 - Stone Soup Coffee House - Pawtucket, RI
10/20 - Roaring Brook Nature Center - Canton, CT
10/27 - The Bull Run - Shirley, MA
11/03 - The Vanilla Bean - Pomfret, CT
Called a "national treasure," Paul Geremia is perhaps the greatest living exponent of the East Coast and Texas fingerpicking and slide guitar styles. Here he performs "Tootie Blues," from the newly released DVD "Guitar Artistry of Paul Geremia." More info.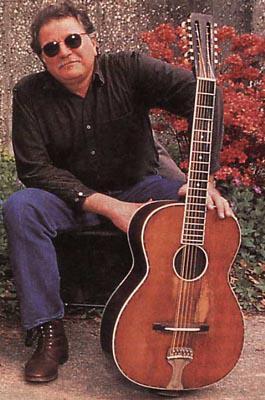 For almost forty years, Paul Geremia has survived solely by the fruit of his musical labours. Having abandoned all other means of support in 1966, he has been traveling far and wide ever since, performing in every capacity from street singing to club and concert bookings, throughout the U.S.A., Canada and Europe.

In the years since, Geremia has built a reputation as a first rate bluesman, songwriter, a "scholar" of early jazz and blues, and one of the best country blues fingerpickers ever with his tools - six and twelve-string guitars, harmonica, piano and a husky soulful voice - and with an innate sense of the humor as well as the drama of the music, he keeps traditional blues fresh and alive with his performances.
Combining his interpretation of the earlier music of people like Blind Lemon Jefferson, Robert Johnson, Blind Willie McTell, Scrapper Blackwell and Blind Blake, with his original compositions, he has created a style which is very much his own and which has received accolades in the U.S.A. and Europe, too numerous to mention.
Geremia's background isn't typical for a bluesman. He is a third generation Italian-American who, as he laughingly puts it, "was born in the Providence River Delta". Growing up in a family that moved across the country and back numerous times weaned his appetite for music, history and travel, which served him well later on.
During the sixties, Paul noticed that the music he had enjoyed playing on harmonica (his first instrument) was now referred to as "Folk Music" and was enjoying popularity. During his short time in agriculture college, he was mostly occupied with learning guitar and hitch-hiking to where the music was. He soon left college and hit the road permanently. He found paying gigs in coffee houses and "basket houses" in cities and at college campuses and made occasional forays South and West in search of the music he loved and what gigs he could find.
During these years, Geremia crossed paths with people whose influences were beneficial to his development and understanding of the tradition. He worked as opening act for some of the early blues "legends" thereby gaining an immeasurable depth of knowledge from people like Babe Stovall, Yank Rachel, Son House, Skip James, Howlin' Wolf, and many others, especially Pink Anderson whose career he helped revitalize.
Geremia has recorded ten solo albums, and has appeared on numerous anthologies and compilation discs. His superb recordings have made him a critical favorite and place him firmly among the legends who inspired and influenced him over the past four decades.